Falling for Christmas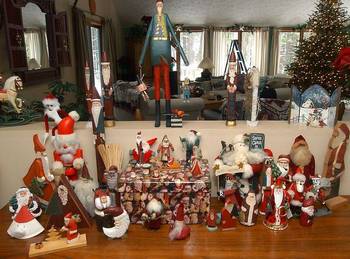 Call it "The Nightmare Before the Christmas Home Tour," a horror that would do even film director Tim Burton's fiendish mind proud.
On Monday night, a fully decorated 12-foot tree toppled in Linda Moore's living room. The tree was to be the centerpiece not only for the Moore family celebrations, but also for the home during Merrimack's first "Homes for the Holidays Tour" on Sunday to benefit Project Safeguard.
"Oh yeah, it crashed," Moore said.
The thing is, the Moores were a late edition to the tour, the fifth of five families who will take part. Linda and her husband, Greg, agreed to lend their home only because of an 11th-hour scratch.
Linda was approached by a friend, Pam Kenney, a member of the Mastricola Middle School parent-teacher group who's helping to organize the tour to raise money for the annual program of seminars that tackle drug abuse, bullying and other tough issues teenagers face.
Would the Moores graciously lend their home, Kenney pleaded?
"If you're desperate, you're welcome to use ours," Moore told Kenney, adding, "I've never even gone on one of these tours."
She didn't have to twist her husband's arm very hard.
"He's easy. He didn't mind at all. He said, 'go for it!' "
So, the decorations went up, the tree was trimmed, expert advice was heard – each home on the tour gets a designer and florist to help out.
And then – KABAM!
Glass icicles broke by the dozen. Some ornaments were lost, including one that had been in the family 24 years.
"I'm afraid to even touch this one," Moore said, showing off its mate, the only survivor of a set of four purchased in San Francisco.
But then, the troops rallied. The tree was undecorated and thrown out – its badly curved trunk, unnoticed when brought home, made it impossible to stand upright.
George Rosseau of Rousseau's Landscaping provided a second tree "practically for free," she said. Then the family – including two teenage boys, ages 16 and 14 – rolled up their sleeves and spent Tuesday night decorating.
"My oldest was very happy we got a new tree," Moore said. "He didn't like the first one."
By Wednesday morning, the new tree stood proudly in place, the largest of three that will be trimmed for the tour. The garrison-style home, with skylights, a cathedral ceiling and balcony, also was decorated, though the assigned experts were there to finish.
Interior designer Linda Tobin of Tobin (re)Decorating added some small touches to a dining area. She also had suggested that the kitchen be done in a candy-making theme, with a gingerbread house from Frederick's Pastries as a centerpiece. The gingerbread house will be raffled off on the day of the tour.
Meanwhile, Robin MacDonald of the Flower Loft, who had brought in poinsettias and garlands for the balcony and above windows, worked on the piece de resistance for the living room: a large, well, object that dominated the main wall.
Both Tobin and Moore had trouble describing it. A brown bough with spindly arms, it resembled something out of Burton's animated movie, "The Nightmare Before Christmas."
MacDonald was coy, saying that blinking lights and green trim had still to be added.
"It's just one of those things that has to be last-minute," she said. "You don't want to spoil it and let everyone know what you're doing."
Most of the decorations, however, were things the Moores put out every year, just arranged differently.
"Linda (Tobin) and Robin came in and did a different take on my stuff, and that's neat," Moore said.
Her stuff included a nifty little collection of Santa Clauses, including two figures of Jack Skellington, the King of Halloween who dresses up like Santa in "The Nightmare Before Christmas."
Now that's a horror Moore can embrace.
"I love that movie," she said.