FairPoint counting on big concession in union talks
Wage, benefit costs at heart of contract negotiations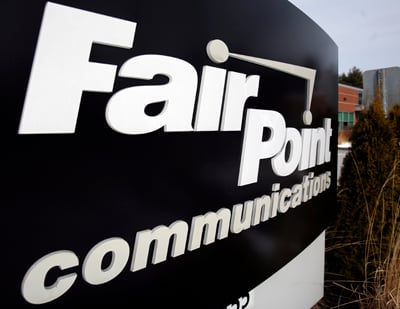 Despite cutting a fifth of its workforce since emerging from bankruptcy in 2011, FairPoint Communications is still counting on reducing labor costs through major benefits and wage concessions in labor negotiations with its unions in order to become financially stable.
The unions have responded by threatening to strike, perhaps as soon as Aug. 2, when the current contract expires. FairPoint has said that it would keep operating during any work stoppage.
Such a stalemate could further undermine the region's primary phone company. FairPoint has operated at a loss for the last three years and – despite writing off more than $1 billion in debt through Chapter 11 bankruptcy reorganization – still owes more than it has.
FairPoint, according to a presentation it made in March to investors, wants to turn its defined benefit pension plan into a 401(k) plan, discontinue post-retirement health benefits for current employees, cut its financial obligations if it lays off workers in the future, and change work rules "to allow more effective customer service."
The biggest concern for the unions – the International Brotherhood of Electrical Workers Systems Council T-9 and Communications Workers of America Local 1400 – are those work rules, which they say would enable FairPoint to replace them with non-union workers at will.
Already, the company has tried to outsource some functions in violation of the contract, they say, which has led to several disputes with the National Labor Relations Board, contend the union. FairPoint said it doesn't agree with that characterization.
In the current negotiations, "they want to be able to contract all work, so they could outsource it to India or anywhere else in the world," charges Don Trementozzi, president of CWA Local 1400. "They want to be able to eliminate the workforce at will. It's pretty unilateral."
Not surprisingly, FairPoint spokesperson Angelynne Amores Beaudry looks at it from a different perspective: "We have proposed to maintain and clarify work rules to speed deployment of state-of-the-art technologies, and response to customer issues in a way most convenient to them. The proposal in no way should be distorted to read that we want to eliminate the unionized workforce."
Workforce costs
Whatever FairPoint's exact proposal and its intentions, both sides agree that the dispute is about major changes to the status quo. That status quo is untenable, as the company's revenue declines and more and more customers cut the phone cord. Last quarter, the number of access lines declined 6.8 percent; the decline was 7.8 percent a year ago.
The company is trying to make up for the loss in several ways: increasing the build-out of fiber and increasing the sale of DSL services; taking advantage of recent state and federal deregulation to gain and retain more business customers; and utilizing federal funds for special projects serving hospitals, schools and governments.
While things seem to be improving, it has not been enough. Last quarter, the company posted a net loss of $32 million, an improvement over $47.4 million the previous year. In the three fiscal years following bankruptcy, the company posted net losses of $415 million in 2011, $153 million in 2012 and $103.5 million last fiscal year.
This is a company that has $31.7 million in cash and equivalents. And while it has more than $1.5 billion in total assets, it has almost $1.9 billion in liabilities. That leaves the company with a negative equity of nearly $340 million.
(While FairPoint has rural operations in 14 other states, 80 percent of its revenue comes through the former Verizon lines it acquired in the three northern New England states of Maine, Vermont and New Hampshire. Of its 3,155 employees as of March 31, 2,010 are represented by unions and 1,772 of those unionized employees are in northern New England.)
About half of the company's operating cost and its long-term liabilities are related to its workforce, which is why "executing HR strategy" is part of the firm's "four-pillar strategy" for growing cash flow, the company told investors in a presentation back in March.
At the top of that HR list – though not necessarily at the top in terms of importance, said Pat McHugh, FairPoint's New Hampshire state president – is pension reform. The company projects it has a $329 million pension liability and $590.4 million in post-retirement health care costs in its financial statements.
"We understand that without change the landline telephone company of the past cannot be the successful 21st century telecommunications company of the future," said Beaudry. "FairPoint can't reasonably expect to win and keep customers — especially in this increasingly competitive business – with the current benefit structures, and costs, built into our prices."
Of course pension projections can be off. Indeed, a 1 percent change in assumptions could throw the estimate off by $100 million. The unions say they are seeking more information and the company says they've already been given plenty.
The company said that it only wants to freeze the defined benefit plan. Existing workers won't lose what the company already has paid for. FairPoint just doesn't want to pay any more and wants new employees to participate in a 401(k). In essence, union workers would get the same package that non-unionized workers and management get.
"FairPoint's proposals include a comprehensive benefit package which is substantially similar to what most other employees have in our company, including medical, dental, vision, life insurance, short-term disability, long-term disability, 401(k), tuition reimbursement, adoption assistance, flexible spending accounts and bonus program," said McHugh.
'Pretty outrageous'
Health care benefits are probably the next biggest issue of contention.
"They want to give you the worst plan I've ever seen," Trementozzi said. "They want astronomical premiums, $15,000 out-of-pocket maximum deductibles. The proposal is pretty outrageous."
But FairPoint says that it just wants to make its benefits package more "mainstream."
At present, FairPoint pays 100 percent of health care premiums for its current and retired unionized employees, said McHugh. The company grants unlimited paid sick days, pays 100 percent towards a unionized employee's retirement plan and pays a contribution to a second retirement plan, he added.
The company and union are so far apart on benefits that they haven't even started talking about wages. FairPoint says it doesn't want to cut existing wages, and there is no disagreement there. The unions, however, say the company wants to institute a two-tier wage system, including starting some new workers at minimum wage.
FairPoint didn't confirm nor deny that contention. Instead, Beaudry said, "If our proposal is accepted, then the represented employees will have similar wages and benefits to other employees in the region, which we believe are well within the mainstream of companies in New England."
Currently, a unionized employee's wage and benefits package averages $115,000.
As NHBR goes to press, the rhetoric is heating up. If FairPoint gets it way, "it will be the death knell of employing locally vs. outsourcing to other states," charged Glenn Brackett, business manager for IBEW.
In one press release, the unions say that the company wants to make deep cuts so the company's "Wall Street hedge fund owners … can line their pockets."
"Much of the unions' press release is shocking and simply not true," responded the company in its own release. The company insisted it is bargaining in good faith, offering some 66 proposals back in April and only getting 11 counter proposals 10 weeks later.