Ex-Olympian shares his vision for a freestyle sports mecca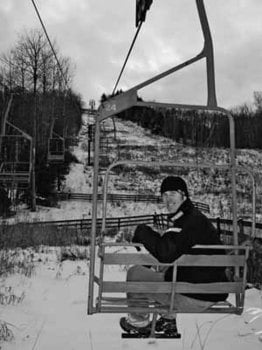 After years of decline, Whaleback Mountain in Enfield has sat idle like a beached humpback. But Evan Dybvig, a two-time former Olympic mogul skier, is hoping to change that.
Dybvig is planning on purchasing the former ski area that sits a stone's throw off Interstate 89 and turning it into a year-round training facility for skateboarders, in-line skaters, BMX bike riders and freestyle skiers.
"I've had this idea of creating a freestyle training facility for four or five years," said Dybvig. "When I found Whaleback was for sale, I researched it and realized it was an ideal location. The access from 89, the way the mountain is set up, it's really phenomenal."
For more than a decade, the 154-acre Whaleback Mountain recreational area was owned by Timothy Herbert, who finally was forced to close the operation in 2001.
Dybvig — a Bethel, Vt., resident who skied in the 1998 and 2002 Olympics — said he wants to build a 30,000-square-foot indoor park where people can safely learn the complicated and wildly creative maneuvers freestyle sports are known for.
"I'm looking to teach a safe progression. People can learn to do a flip indoors on a trampoline, then try it on a ramp and land in a foam pit, then try it outside on the mountain," he said.
More than just a park for extreme sports enthusiasts, Dybvig said the facility will offer programs all year, not just in the winter, providing jobs in the "off season" for winter recreation employees.
"The number of people we employ will depend on the number of programs we will offer. We're looking at hiring some of Tim's folks back. It's going to take specialized folks, qualified coaches, to teach the programs," he said.
Dybvig said the mountain's location – it's a familiar landmark to anyone driving along that stretch of I-89 – is "awesome," with some 19,000 cars passing by there every day. "The night skiing is an awesome sight," he said.
Dybvig's facility at Whaleback Mountain will not be New Hampshire's only indoor freestyle park. Rye Airfield in Rye is a 50,000-square-foot indoor skate park for BMX bikers, in-line skaters and skateboarders, and also offers lessons. Dybvig said his facility will differ by offering outdoor winter and alpine sports as well as indoor sports.
"It is imperative to have the alpine tradition as well as the freestyle. The way the mountain funnels down to one area naturally creates an amphitheater-like area and really lends itself to moguls, a halfpipe and racing."
Dybvig said it will take about $3 million, $1.5 million of which will be needed to construct the indoor facility, and probably more to do any earth-moving to construct outdoor features.
Sounding like a true Olympian, Dybvig is eager to start on the project.
Dybvig said he has reached a purchase and sale agreement with Herbert and is working to secure financing. He said he expects to close on the deal on May 1, 2005, and is working toward a fall 2005 opening.
"Tim wants to sell and we want to buy. To keep the mountain closed another winter would make opening that much more difficult. We want to fast-track this thing."