Evaluating N.H.'s expanded health plan options
Five insurers now offer coverage on the ACA exchange in the Granite State, so what are the choices?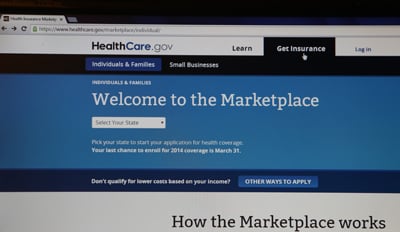 Last year, Frisbie Memorial Hospital in Rochester made a big stink over not being included in the provider network Anthem Blue Cross Blue Shield designed for products sold on the health insurance marketplace. It even filed an administrative complaint with the New Hampshire Insurance Department.
But by September 2014, when the department finally ruled against Frisbie, it didn't really matter.
"Things are going so much better," said Frisbie CEO Al Felgar. "The insurers can't play off the hospitals and doctors against each other."
Anthem is offering the same narrow provider network, with that same narrow network discount, but it isn't the only game in town anymore. Felgar has already penned contracts with Anthem's four competitors.
Year 2 of the Affordable Care Act is bringing competition for the first time into the marketplace in New Hampshire. And the results will be seen starting Nov. 15, when a three-month enrollment period kicks off for 2015 coverage.
Each of the five carriers on the marketplace offers a different network, a different set of plans and different selling points. Instead of the 14 plans offered by Anthem last year, there will be at least 61. That includes 21 group plans under The Small Business Health Options Program (SHOP) program, which offers generous tax breaks for businesses with fewer than 25 modestly paid employees.
In addition to Anthem, the new players will be:
• Harvard Pilgrim Health Care, a nonprofit that primarily focuses on the southern tier, will offer two sets of plans – one that includes all hospitals as well as Elevate Health, a limited network it is offering in tandem with Dartmouth-Hitchcock and the Elliot Health System.
• Assurant Health, a multibillion-dollar company offering a high-end, full state and national network, for individuals only.
• Maine Community Health Options, a federally funded co-op that captured more than 80 percent of Maine's marketplace in its first year, will offer a full statewide network.
• Minuteman Health, another federally funded co-op from Massachusetts, which will offer a low-cost alternative in every county except for Coos and Cheshire.
With so many choices available, this time every hospital (and primary care providers associated with those hospitals) are included on at least three networks. LRGHealthcare has signed with four so far, "but we are trying to reach agreement with all of them," said CFO Henry Lipman.
At deadline, the rates and details of the plans were released by three of the carriers: Harvard Pilgrim, Maine Community and Anthem. While the hospitals on the networks are known, none of the insurance sites have yet set up a live "find your doctor" site, though all have promised to by Nov. 15.
Rates have been filed with the state and are awaiting approval at the federal level. Although they all will appear on the healthcare.gov website on Nov. 15, at deadline, three of the five had published their rates and they are very competitive on monthly premiums.
According to an analysis by the federally funded nonprofit Covering New Hampshire, a 40-year-old nonsmoker, earning $34,470 annually would have to pay (after a federal tax subsidy of $197 a year) $279 for a Harvard Pilgrim silver plan on the health insurance exchange, $281 for a similar Anthem plan and $288 for a Maine Community Health Options plan).
There are other variables. Deductibles range from $250 to $325, co-pays are $20, $40 and 15 percent of the bill, with maximum out-of-pocket costs ranging from $4,000 to $6,600.
But the key question might be what networks will that man have access to?
While the hospitals on the networks are known, none of the insurance sites have – as of deadline – set up a live-button "find your doctor" site, though all have promised to by Nov. 15 (or at least this should be possible on the healthcare.gov website.)
While all this should be public Nov. 15, health care providers already know what they are going to get paid.
Reimbursement rates, said Lipman, are similar to Medicare, which is lower than the amount commercial insurers pay. And since some of the individuals now on the exchange left group commercial plans, that's not good news, as far as the hospitals are concerned. But since those who signed up on healthcare.gov were uninsured to begin with, it's seen that some sort of insurance is better than none.
"It all depends on the mix," Lipman said. "But whether it's slightly negative or positive for the hospital, it's a win for the patients to have a carrier."
Now they have their choice of five.
Anthem's offerings
Anthem is the biggest player, both locally and nationally. It is part of Wellpoint, a publicly traded health insurance behemoth, with 37 million members and about $70 billion in revenue. In New Hampshire, the company has 140,000 members, just short of 60 percent of the total market, with 56,000 individual policies (about 92 percent of the individual market).
Since Anthem was the only one on the exchange last year, it can at least give us an idea as to relative rates for 2015. The company expects a "modest" increase in premiums on group and individual plans off the marketplace and rates "very close to holding" for individual plans, according to Bob Benedetto, director of Anthem's small group and individual sales.
Group rates on the exchange will also go down, since Anthem decided to pass along some – if not all – of the narrow network discount this year, which should give businesses a little more incentive aside from the tax break to participate in the SHOP exchange.
Last year – when the SHOP program offered no such discount, less than 50 New Hampshire employers group took advantage, representing less than 500 workers.
Anthem will be offering roughly the same narrow network as last year: some 17 hospitals. It did lose Elliot Hospital, leaving it with Catholic Medical Center in Manchester, but it did gain Southern New Hampshire Medical Center, meaning it has both hospitals in Nashua.
Anthem also plans on offering the same number of plans on the exchange for individuals: four bronze, three silver, two gold and one catastrophic. And it will offer one level each for the SHOP plans.
"We feel we've struck a balance and can keep our rates affordable," said spokesman Christopher Dugan.
Harvard Pilgrim's plans
Harvard Pilgrim may seem small in comparison to Anthem, with a total of some 1.2 million members, but they are all concentrated in the area surrounding Boston, including New Hampshire, where it has 74,000 members, about 31 percent of the market. But all of that is through the group plans. Participation in the marketplace marks the first time the insurer will offer plans to individuals.
Harvard Pilgrim is the only other insurer that will intentionally offer a narrow network on the exchange: ElevateHealth, a partnership with Dartmouth-Hitchcock and the Elliott.
The idea is that the institutions will work together to improve quality and cut costs. Elevate debuted last year for groups off the exchange. About 100 employers offered the choice to its members, but Harvard Pilgrim wouldn't say how many employees took up the offer. The same discounts will be offered on the exchange to groups and individuals.
Harvard Pilgrim will also offer a full, statewide network on the exchange.
"We really wanted to offer a choice. We heard the backlash last time about the narrow exchange, so we are really happy to do that," said Beth Roberts, senior vice president of regional markets at Harvard Pilgrim.
Every hospital (with the possible exception of privately owned Parkland Medical Center in Derry and Portsmouth) will be on the full network, Roberts said. However, the full network will be limited to New Hampshire for individual policies. Group policies will have access to providers in Massachusetts, Maine, Vermont and Rhode Island.
Harvard Pilgrim should offer about eight plans in all, said Roberts – four individual and four group (one gold, two silver and a bronze).
Assurant's 'Lexus'
Assurant Health is part of Assurant, an $8 billion company publicly traded company, with almost a million lives covered in the United States. The Milwaukee-based firm has only sold individual policies in the state off the exchange, but with 3,000 it actually has 9 percent of the individual market, making it the second-biggest such carrier in New Hampshire.
Assurant's policies are high-priced compared to Anthem, said Ray White, who owns Cornerstone Benefits and Retirement Group in Bedford, "but we sold a ton of policies."
That's because it offered a preferred provider organization through the Aetna signature network, which includes providers all over the country. "That was big with business travelers, snowbirds – people who need access to specialized providers, like those at the Lahey Clinic in Boston," said White. "People are willing to pay to get the hospital that they want. If Anthem was selling a Chevy, Assurant was selling Lexus."
Assurant is offering policies on the exchange for the first time in 14 states, with New Hampshire the only one in the Northeast. The company will mainly do marketing through its agents. It will not be opening up an office in the state, and its spokesperson declined to be interviewed by NHBR.
Co-ops' coverage
That leaves the two nonprofit Consumer Oriented and Operated Plans.
Of the two, Maine Community Health Options (MCHO) fared better last year. Some 40,000 people signed up for coverage in Maine, about 82 percent of the individual market on the exchange. The co-op attributes its success to affordable premiums, which it says it can achieve through a chronic illness support program that "reduces impatient admissions and helps them stay healthier," said CEO Kevin Lewis. The company has $190 million in revenue with about 95 full-time equivalent workers.
The co-op originally planned to offer coverage in Rockingham, Strafford, Carroll and Coos counties, though it had put every hospital in the state on its networking the hopes of expanding, Lewis said. Expansion is limited via the ACA's capital requirements for co-ops.
But in late September, the U.S. Centers for Medicare and Medicaid Services approved a $67.6 million, 15-year loan for the co-op, slightly more than a similar loan that got it started in Maine.
The co-op, which was first out of the gate listing its rates, has opened an office in Concord, so it could be near state regulators, as well as Northeast Delta Dental, which the co-op contracts for pediatric dental care embedded in the plan, Lewis said.
Meanwhile, Minuteman's state-run insurance marketplace launch in Massachusetts fell flat last year, resulting in about 30,000 signups, a tenth of the amount expected, and most of them not subsidized by the federal government. Minuteman only signed up about 2,000 of them.
"It was a rough year," said Minuteman CEO Tom Policelli, but this year will be different.
Its rates have actually gone down in Massachusetts, undercutting competitors, so "once the website is up and people are allowed to go shopping," Policelli is hopeful for a surge in signups.
Policelli boasted of the company's frugality, noting that it supplies its offices, including the one just opened in Manchester, with used furniture. The good news about last year's slow start, he said, is that it the co-op has plenty of its initial startup capital, so unlike Maine Community it won't need to borrow any additional money.