Erie unit gets a hand in sanitizing market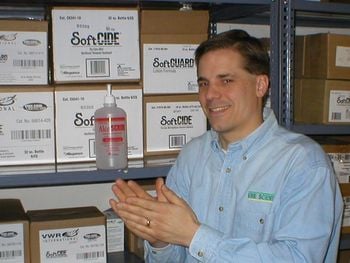 Before he started working for Portsmouth-based Erie Scientific four years ago, Michael Vadeboncoeur admits he hadn't paid much attention to germs, bacteria and proper hand sanitation.
He'd worked as a direct mailing marketing specialist, but Vadeboncoeur, now product manager for Erie Scientific's Erie Handcare division, has been duly educated and is an activist when it comes to keeping his hands clean.
"I learned early on that not all germs are bad and not all bacteria are bad. But in seasons like this, when germs travel easily, the main thing is to sanitize," says Vadeboncoeur as he shows off the Erie Handcare line of products, which are gaining market traction in the health-care sector.
AlcoSCRUB Instant Hand Sanitizer is one of Erie Handcare's hottest products (which includes soaps, hand creams and cotton gloves) and one that, Vadeboncoeur says, has a 99.99 percent "kill rate of bacteria" such as E. coli and salmonella because of its 62 percent concentration of ethyl alcohol.
Frequent hand washing with soap and warm water is the preferred method of sanitizing but, as Vadeboncoeur explains, alcohol's impressive bacteria kill rate when it comes to inhibiting the spread of common colds, influenza and even SARS, is why, following years of research, the Centers for Disease Control decided to recommend using alcohol sanitizers when it published guidelines in October 2002.
This was no minor recommendation, and for companies such as Erie Handcare, Vadeboncoeur says, there has been an increasing demand for instant hand sanitizers both in the domestic and international markets.
"AlcoSCRUB is definitely the fastest-growing product in our hand care line. It is not our biggest seller, but it may be soon," Vadeboncoeur says.
As this reporter found out, the AlcoSCRUB gel works without using water and within 15 seconds one's hands are dry and completely sanitized. Vadeboncoeur also says that the CDC prefers gel-type liquids over those that are water-based due to the fact that gels "don't roll off your hands and lose effectiveness."
AlcoSCRUB is not solely about sanitation. Because "alcohol ingredients at this percentage tend to be drying to your hands," especially during winter months, the latest versions of AlcoSCRUB contain Vitamin E and aloe ingredients to enhance hand softness.
A growing market
Erie Scientific's offerings are part of the larger line of bioscience-related products developed and manufactured by Hampton-based Apogent Technologies, a publicly traded billion-dollar firm that is about to be acquired by Portsmouth-based Fisher Scientific International Inc. in a deal valued at $2.7 billion.
Based in Portsmouth since 1978, the core of Erie Scientific's business has been in developing and manufacturing glass laboratory products — such as microscope slides — glass diagnostic devices, clinical and hand care products. The firm has 340 employees, $75 million in annual sales and satellite offices in Puerto Rico, Switzerland, Hong Kong, Hungary and Germany.
Erie Scientific's entry into the sanitizing industry came about when it purchased Stahmer Weston Scientific, another local company, in 1999, to compete in a marketplace that includes industry giants Johnson & Johnson and Steris.
The clinical and industrial markets for hand-care products is huge and growing — Vadeboncoeur estimates it to be about $500 million annually — and includes workers in hospitals, health clinics, schools, food processing, research labs and law enforcement. (Some of the firm's local clients include Wentworth-Douglass Hospital in Dover, Path Labs and Portsmouth Regional Hospital)
"The market for hand care is very competitive, and there are literally thousands of manufacturers of hand-care products," Vadeboncoeur says. "Because most hand-care products are manufactured in extremely bulk quantities with ineffective or cheap ingredients, Erie Handcare targets those customers who have tried other products and yet they still have chapped, irritated hands."
While nurses, doctors, lab technicians and food-service workers know the importance of clean, sanitized hands, children don't and, they are often the easiest conductors of illness. It was during the 2002-2003 school year that Jennifer Morton, school nurse at Eliot (Maine) Elementary School, decided to conduct a study to determine the correlation between clean hands and childhood sickness by using AlcoSCRUB.
Morton says the control and product groups were carefully monitored, and the results were surprising even to Morton, who as a pediatric nurse for two decades knew how important sanitation was for children who convey germs and bacteria with ease.
"We have a lack of sinks (at the school), but by using alcohol-based sanitizers along with teaching the kids why it was important to clean their hands, we decreased illness-related absenteeism by 43 percent," Morton said. Her study is so significant that it will be included in a forthcoming issue of the Journal of School Nursing.
Erie Handcare has begun entering the Canadian market and plans to broaden its sales focus into the dental and veterinarian fields.
Almost all of its sales are currently handled by distributors, but Vadeboncoeur says the company also is developing internal sales plans to increase direct distribution. But don't look for Eric Handcare products on consumer shelves anytime soon. "We've looked at it (the retail market) for a while, but it requires a whole different approach we aren't ready for yet."
For his part, Vadeboncoeur practices what he preaches. He keeps bottles of specialized sanitation liquid in the office, at home, and even in his car for use in most germ-acquiring situations that laymen might oversee.
"Who has touched this handle?" Vadeboncoeur asks himself when he grabs a gas station pump.