Entrepreneurship lures New Hampshire veterans
Business ownership initiative stands as a national model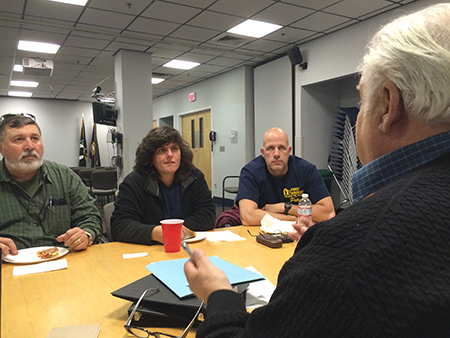 "I made a half million in sales just today," Albert Tansey told his fellow veteran entrepreneurs, who promptly burst into applause.
Tansey, president of Tansey Electric in Manchester and the director of the local chapter of the Veterans Business Owners Initiative, had reason to be pleased with himself. And his support group, meeting at the VA Medical Center on Nov. 3, had reason to be pleased as well.
Tansey, who joined the group when it started three years ago, used its resources to help him land a special U.S. Small Business Administration loan for veterans. The loan allowed him to transform himself from journeyman electrician to the owner of a thriving business with six employees.
Then, a week before Veterans Day, he found out he won three federal contracts – for work at the Portsmouth Naval Shipyard, the Rhode Island Naval Station and at Pease International Tradeport for the Air National Guard.
He will be hiring two veterans, one from Vietnam the other from Iraq, with the possibility of getting tax credits for doing so.
And last, but certainly not least, he planned to subcontract out some of the work to Peter Frechette, a Barrington carpenter who was sitting across the table that Monday night.
Frechette quit his job at the Portsmouth shipyard in February to devote himself full time to NH Best Builders, his two-year-old business.
"I didn't know anything except how to swing a hammer before I started coming here," said Frechette. "And now I'm in charge of my own business."
A lot of veterans are in charge of their own business these days, and there are a few programs to help them as well as to encourage all businesses to hire vets. But there are not many, they aren't well known and they tend to come and go, depending on the vagaries of the political wind. They are certainly underutilized, though groups like VBOI and the SBA would like to change all that.
But despite those hurdles, veterans in New Hampshire are forming loads of businesses.
According to last count – in 2007 – there were nearly 14,000 veteran-owned firms in New Hampshire, resulting in $6.7 billion in sales. That's about 10 percent of the firms in the state, slightly higher than the national percentage. They account for 5.6 percent of all sales in the state, the fifth-highest percentage in the nation.
'Streetwise' program
A decade ago, when Gerry Pinsky, director of self-employment services for the U.S. Department of Veterans Affairs in New England, founded the VBOI in Massachusetts, many doubted that veterans could run their own organization.
They shouldn't have been so surprised, he said. The qualities that make a good warrior, also make a good entrepreneur – drive, determination, discipline, focus and the desire to accomplish the mission.
To become members, VBOI members go through a free boot camp of sorts, an 18-week module taught in New Hampshire by Myron Steere, a retired chief financial officer. Steere covers many aspects of starting and running a business, from developing a business plan to dealing with regulations and taxes.
In addition, other groups sponsor free educational activities for veteran entrepreneurs. SCORE doesn't charge veterans for its workshops. The SBA holds free roundtables in New Hampshire and, with Syracuse University, offers the Operation Boots to Business program for veterans, their spouses and their offspring.
There's also a national Entrepreneurship Bootcamp for veterans with a service-related disability who served after September 2001. That program will fly veterans to participating college campuses (such as the University of Connecticut and UCLA) for a couple of weeks after eight weeks of online learning, all at no cost to the veteran.
But the VBOI is a little different, said Pinsky. It's more "streetwise," and graduates get to be part of a select microlending support group that can provide loans of up to $2,500 to its members.
The VA considers the group a national model, Pinsky said. There is talk of starting up another chapter in White River Jct., Vt. And the New England group recently filed for nonprofit tax status, enabling it to provide bigger loans – in the $10,000 range – if enough donations can be raised for a matching grant of up to $25,000. In order to get that funding, the group would have to open up membership to non-veterans, but Pinsky doesn't mind.
"We want to give what we learned to others," he said. "It is just another example of veterans giving back to the community."
Support all around
The veterans in the group definitely see themselves more as givers than takers.
For instance, Tansey – a self-described naval electronics surveillance "spook" in the Mideast during the 1980s – has taken advantage of veterans loan fee waivers. He said he appreciates the federal set-aside requirements that helped him win his first big federal contracts and will look into tax credits for hiring. But he bristled at the very thought that he would hire a vet for that reason.
"I'm doing it to help other veterans. I'm not looking for a handout," he said.
His sentiments are echoed by Mark McCabe, who worked on aircraft carriers during the 1980s. The Sub Zero Ice Cream & Yogurt franchise that he and his wife Rita started up last September in Nashua now has 36 employees in two locations, and they are looking to open up five more in the next year.
Shark Tank, a competitive reality TV show for entrepreneurs, sold the couple on the Sub Zero concept – using liquid nitrogen to flash-freeze the cream and flavor of the customer's choice – so the two acquired the company's New England franchise. The fact that Sub Zero's CEO is in the Air force Reserve and gives a discount to veteran franchisees, didn't hurt either.
The VBOI walked the McCabes through their initial SBA veterans loan, but the benefits of the organization far exceed the information and resources they receive.
"We tease each other, help each other, make each other know that you are not here by yourself. That's why I come. It's something to look forward to," said McCabe.
They help each other in more tangible ways as all, added Rita McCabe, who lists the relationships: "Al was our electrician, insurance is from Dick, our washing machine was fixed by Paul …"
Dick is Dick Trask, a former drill sergeant who now is a partner of New England Asset Advisors in Hampton, which advises businesses and individuals on insurance and financial planning. Paul is Paul Lanouette, owner of MAPS Alliance Repair Service in Epping.
Then there is Eric Ham, a principal of BitFrost, a Penacook life coaching firm, who helps Steere teach those 18 weeks of
modules, and Kathy Kuzmick, owner of Zaedyus Therapeutic Massage in Nashua, the newest member of the group.
"When I leave here I'm all pumped up, until I get home," she joked. "Seriously – I wouldn't be able to do this without this group."
Sometimes, however, the urge to give goes a little too far.
When Pinsky brought up the news that the VA needed some help building housing for veterans in Bedford, Frechette broke in eagerly, "you are talking about a volunteer type of thing, right?"
"No, said Pinsky, reminding them what they were there for. "I want you to bid on it, for business and for profit!" nhbr
Bob Sanders can be reached at bsanders@nhbr.com.