Employers learn to accommodate needs of 'kinship caregivers'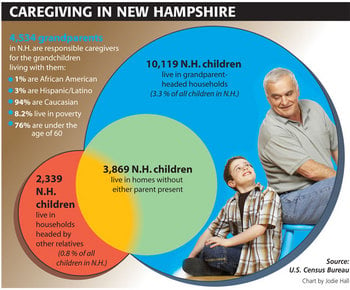 Marty Dumont was thinking about semi-retiring four years ago. He had visions of spending more time with his wife Carlene, playing a little golf and doing some fishing. Instead, both are still working after having taken on the challenge of raising two of their six grandchildren.
"I think I'll be working full-time at least until they're 18 just to save some money," said Dumont, 57. His grandchildren are now 13 and 11. "This wasn't in the plan, we weren't really prepared for this, but you just make changes."
Pauline Smith jokes about spending 50 years parenting. After raising six children of her own, and caring for two of her 11 grandchildren periodically since 1990, the two moved in with her permanently 12 years ago when they were 4 and 5. The youngest just graduated from high school.
For Smith, caring for her grandchildren meant leaving her full-time position as a state toll plaza manager seven years ago when the two became too old for after-school programs but were too young to leave unattended.
"I had to retire early, and that's impacted what my pension will be for the rest of my life," said Smith, 67. "It's a tough thing, but you have to do it."
The Dumonts and Smith are only two of the growing number of grandparent-headed households in New Hampshire. According to the U.S. Census Bureau, 6 million children are being raised by grandparents or other relatives in homes without either parent present. In New Hampshire, more than 10,000 children live in grandparent-headed households – over 3 percent of all the children in the state. More than 2,300 children live in households headed by other relatives – almost 1 percent of New Hampshire children. The situation has become so prevalent that it has been given its own term: "kinship caregiving."
For the Dumonts, their new role as kinship caregivers meant postponing retirement indefinitely, while Smith found herself leaving the workforce before she had planned.
In both cases, however, the implications of their caregiving roles reach beyond their own families into the state's workforce, since some 76 percent of kinship caregivers in New Hampshire are under the age of 60 and 20 percent of the state's workforce is made up of people between 55 and 64, according to the Census Bureau.
There is no one reason children find themselves in the care of these "kinship caregivers" according to Thom Linehan, UNH Cooperative Extension parent educator and manager of NH RAPP, the Relatives as Parents Program.
Mental illness, incarceration, drug abuse, neglect and abuse, poverty or death are all circumstances that can lead to a child being cared for by another family member.
While the reasons may differ, the emotional challenges facing the children and the legal, emotional, financial and logistical challenges facing the caregivers are all shared.
Often, grandparents are charged with enrolling children in school or securing medical care – impossible tasks without authorization from parents or proper legal undertakings.
While friends embark on long-awaited vacations, caregiving grandparents find themselves among 20-somethings at school gatherings or taking part in counseling sessions.
"As difficult as this can be for any family," said Linehan. "You have to realize this isn't a problem – this is a family."
Number of challenges
So far, it appears employers in the state have been able to accommodate kinship caregivers in much the same way they've worked with working parents or workers charged with caring for elderly parents.
Martin Couture, a production manager for an electronics company in southern New Hampshire, has always worked to accommodate the needs of workers with young families. Currently, however, he has three employees who are caring for their young grandchildren.
"At first I was taken aback. These folks are not people I would have expected to have to take time off because of a sick child," Couture said. "But what are you going to do? These people are doing what they need to do for their families – it's hard enough on them. They're good workers, and I don't want to lose them, so we do what we can. So far, I don't see it becoming a problem."
For some employers, having to accommodate the needs of grandparents charged with caring for children is a small price to pay for a dependable and capable workforce.
"Carlene had already retired at one point, and I begged her to come back after the children came to live with her," said Lori Lander, store manager of J.C. Penney at the Fox Run Mall in Newington, where Carlene Dumont supervises the catalogue and credit department. "Carlene is cooperative and understanding of what has to happen on the business end, and she is wonderful. She's got the benefit of having experience as an employee and as a shopper, so she understands our customers' needs. Anything we can do to accommodate her is well worth it."
Although kinship caregivers and working parents share a number of challenges balancing the demands of their lives, there is one significant difference according to Smith.
"When there was a snow day or a child was sick, grandparents could step in and help," Smith said. "This is a whole new ballgame. There's not always someone else for us to call – we're it."