Electropac shows the world how manufacturing's done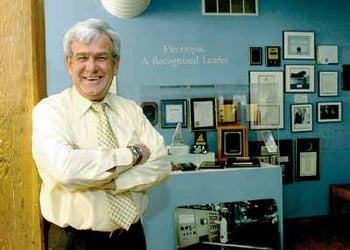 In the late 1990s, while circuit board manufacturers around the country were closing their doors as they fell victim to increasing offshore competition, one Manchester company managed not only to keep its doors open but to maintain its workforce and successfully adapt to the new climate of globalization.
In fact, Electropac Company Inc. – winner of this month's Citizens Bank Not Your Typical Business award — not only survived, it has thrived and is today one of the top 24 circuit board manufacturers in North America.
With the company's 30th anniversary less than a year away, Ray Boissoneau, owner and president, said that sticking to the basics is what has allowed Electropac to weather the bleak period. "It's about quality, service and on-time delivery. If you've got these three things, these fundamental basics, you're not going to lose your customer base," said Boissoneau.
With four manufacturing facilities – in Manchester, Londonderry, Montreal and Ontario — and a new, mass-lamination plant in Concord scheduled to open soon, Electropac is able to fulfill the needs of customers requiring circuit boards for computers, telecommunication applications, instrumentation, medical technology, machine tool control, automotive technology and military applications.
Electropac's diversity, coupled with a quick turnaround time, is essential for Lou Portal, senior planner and buyer for American Power Conversion in East Providence, R.I., and an Electropac customer for more than a decade.
"Working in new product development, it is essential to have a supplier that is flexible enough to keep up with our ever-changing needs. Electropac's intense commitment to meeting our needs has earned my respect and trust," said Portal.
A privately owned company, Electropac has been spared stockholder pressure and remained on a steady course during the early 1990s while other manufacturers chose to expand, often at the bidding of anxious stockholders. But Boissoneau focused on acquiring new technologies rather than increasing operations.
"We chose to maintain our stability," said Boissoneau, whose decision to expand deliberately rather than haphazardly allowed the firm to ring in the new millennium debt-free, sheltered from the storm of globalization.
Celebrating employees
Boissoneau's ability to apply his common-sense attitude to personnel management has yielded a loyal and capable workforce — 60 percent of his 225 employees have worked for Electropac for more than 15 years.
Such dedication was apparent on a recent Friday at the five-story Willow Street site.
Following a brief update on company happenings, Boissoneau took his spot at the front of the room, invited employee Debra Dicey to join him and, with some kind words, awarded her an engraved clock and a check for $5,000 in recognition of her 25th anniversary with the company.
For employees like Dicey it is one more example of why she looks at Boissoneau and her fellow employees as family.
"I walked in here 25 years ago and never felt the need to leave. Everyone feels welcomed here; it's like my home. It's an awesome place, and I'm going to be here until I retire," Dicey said.
Employees also receive stock equivalent certificates in Electropac when they reach their 10-year anniversary with the company. In addition, each five-year employment milestone after that is recognized by an additional monetary gift.
But Boissoneau recognizes that money is not the only way to say "thank you." He shares his appreciation by throwing annual Labor Day picnics, holiday parties for staff and their families and the occasional luncheon. In addition, Boissoneau tries to keep Electropac workers up to date on company happenings.
"Even during the downturn, I was always honest with them, keeping them as part of the decision- making process. We've always strived to maintain a sound, happy working environment, and the people that come through that door everyday are coming through because they want to be here."
For Boissoneau, dedication to those who have helped make him a success extends to the community in which his roots are firmly planted.
Right within the walls of the renovated shoe shop the company calls home, Boissoneau has created a museum showcasing the life that flourished within the brick walls long before the inception of Electropac. The "Boots to Boards" museum celebrates the history of the old brick building and is dedicated "to those who helped build our company, those who keep it going and to those who will be part of its future," Boissoneau said.
The first-floor exhibition is open to schoolchildren and individual visitors by appointment.
In addition to the museum, Boissoneau and Electropac remain dedicated to the Greater Manchester Chamber of Commerce, Heritage United Way, Easter Seals and the Manchester Historic Association. He also is active with the Manchester Enterprise Committee, Manchester School of Technology and a number of youth athletic organizations.
"I've always had a strong belief that when you are located in a community you have a responsibility to that community," Boissoneau said.
Such a philosophy, coupled with Boissoneau's business sense and dedication to customers and employees alike have earned the respect of Jeff Hickok, Citizens Bank commercial lender and Boissoneau's relationship manager for 30 years.
"Ray cares about his customers, employees and the community. He lives it. Lot's of people say it, but Ray shows it in his actions," said Hickok. "Anyone who knows Ray knows what a wonderful person he is and what a wonderful company Electropac is."