Electrical training center hailed at opening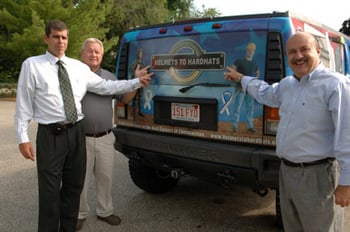 New Hampshire's new Joint Apprenticeship Training Council electrical training center, which officially opens this month in Concord, is being hailed by its founders as representing "the future of the electrical industry" in the state.
Co-sponsored by IBEW Local 490 and the National Electrical Contractors' Association, the training center is a state-of-the-art 8,080-square-foot facility with seven classrooms and a large lab designed to enable electrical training that can simulate conditions in the field. It provides apprentice and journeymen electricians with a hands-on, broad-based electrical training for all skills they will use in the field, ranging from pipe-bending and programmable logic control to emerging technologies, including solar/photovoltaics and wind energy.
Currently there are 60 electrical apprentices enrolled in the five-year training program.
"The facility enables us to provide the most advanced electrical training to our workforce," said IBEW Local 490 business manager Joe Casey. "Technological advancements within the industry, including solar and wind energy, have opened up a whole new world of opportunity within the industry. We are proud to provide quality classroom training as well as practical training, and in so doing, provide opportunity for young men and women so they can be productive citizens in the community."
According to Jack Jarvis, state director of the U.S. Department of Labor Bureau of Apprenticeship Training, "This facility is all about a commitment to quality training. It will feature green technology training, and is truly a green building. State-of-the-art equipment enables us to deliver the finest in electrical training."
The New Hampshire JATC training facility was designed by the architectural firm C.N. Carley Associates of Concord. General contractor was CCB Inc. of Westbrook, Maine. NECA member Catamount Electric and Alarm of Pittsfield handled electrical construction, which was handled by a field crew of between two and five electricians from Local 490.
Other primary subcontractors included mechanical contractor American Mechanical; roofing contractor Greenwood Industries; painting contractor, Eastcoast Spraying; and flooring contractor Merrimac Tile & Stone.
The IBEW's Casey said Helmets to Hardhats, a national organization that helps active-duty and reserve members of the U.S. military transition into civilian life by providing training and employment opportunities in the construction industry, has had active participation in New Hampshire's electrical training program and has been a major impetus for the opening of the new facility.
NECA's New Hampshire Division executive manager Glenn Kingsbury pointed to the "great pride that this training facility brings" to the IBEW and NECA. "It represents the future of the electrical industry in New Hampshire, which indeed is a bright one."