Edwin Garside of Optima Bank & Trust Company
2014 Financial Executive of the Year winner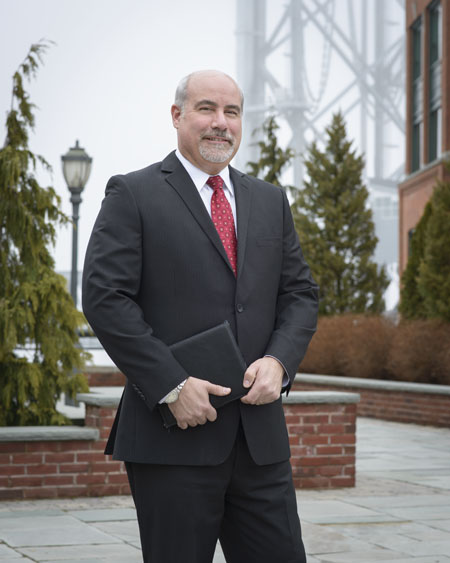 Ed Garside has been in banking his entire working life, starting out as a bank teller when he was just a 16-year-old high school student. But in the 30 years since, none have been as exciting or as rewarding as the last six years he has spent helping to start up Optima Bank & Trust.
When he was approached in 2008 about joining a new community bank on the New Hampshire seacoast, he had some reservations. After all, he had a secure job and benefits working as chief financial officer for Stoneham Bank, and had to decide whether to take a chance on an upstart bank that, for all he knew, could fail.
"I met with Dan and Pam Morrison, the founders, and it sounded like an incredible opportunity," he said. Like any good finance person, Garside is a planner, so taking the job was an uncharacteristic leap for him – but his wife Bianca encouraged him to do so, and ultimately "it was a great decision," he said. He started before the bank was even opened, and got to develop all its financial systems as a department of one. His duties included managing payroll, fixed assets, reconciliations, and accounts payable.
"It's good to roll up your sleeves and get refocused and get a better understanding of what your staff is doing," said Garside, whose staff now includes a controller and two accountants.
And his experience all those years ago as a teller has helped him understand what goes on in the retail side of the bank as well. Since it opened, Optima has grown faster than any other bank in the state. It has gone from eight employees to 55, and one full-service branch to four full-service branches and two loan offices – with another branch on the way. The bank has a low efficiency ratio of 2.5 percent, below the industry average of 3 percent, thanks to Garside's ability to take advantage of the latest banking technologies.
Garside is very involved in the Boston chapter of the Financial Managers Society, of which he is past president, and is also treasurer of The Music Hall in Portsmouth, where he is a frequent attendee.
The Methuen, Mass. resident – who has a double degree in accounting and IT – has two kids, Briana, 23, and Tony, 20, and enjoys organic gardening.
Q. What has been your proudest accomplishment during your career?
A. I have to keep coming bank to Optima Bank, because how can you top starting a bank? Very few people have that opportunity. To be a lucky individual to be part of this team from the ground floor has been great.
Q. What have been some of the biggest professional challenges you've faced in your career?
A. I am involved in the leadership of the local Boston chapter of the Financial Managers Society. Every four years, in rotation with the other chapters, we do a conference of educational materials and networking. I proposed almost two years ago to shake it up and bring it to New Hampshire, to the Wentworth by the Sea. I was the conference chairman and I had to put it all together – I've done it twice before in Boston, and I've had the experience working with the hotels and getting sponsors and speakers for the program, but it's kind of going out of your comfort zone on the financial side, because it requires becoming a marketing and a salesperson. Typically accountants don't like that sort of thing, but I enjoy it.
Q. What are your hobbies and personal interests?
A. A big one is organic gardening with my wife, Bianca. We have about a third of an acre, with a series of raised beds for our vegetable garden. I bought my seeds and we've already started the planting for the new year. I also enjoy strategic activities, such as fantasy baseball. I never was a big baseball person – I never even played it growing up – but I love the strategic part of it. I also enjoy the arts, whether it's programs my daughter is working on with her theater club, or going to The Music Hall with my wife and kids.
Q. What are some of the challenges and opportunities that you see on the horizon for Optima Bank?
A. We're going to continue to grow. We're looking to open another new full-service branch this year; the plan since the beginning has been to try to open one branch a year.
We're $300 million in assets, and there are a lot of local community banks around that are $300 million in assets and have been around for 100 years. We're going to continue to grow and build out to provide loans to the community to help it prosper as well.