Education split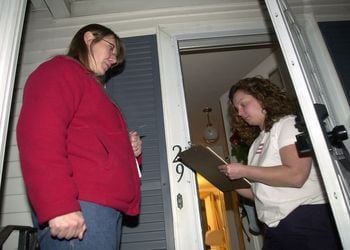 NASHUA – Melissa Theriault and her son Adam put on warm, red fleece jackets for a walk around their South Main Street neighborhood.
Adam wore a facemask that protected him from the cold December night.
Theriault carried a clipboard in her bare hands that she hoped other neighborhood parents would sign. It held a petition that opposed the school district's plan to send about 150 children who live near Sunset Heights Elementary School to the new north high school next year.
"It's too far away," said parent Donna Sanders as she signed the petition.
"Why do they want to send my child halfway across town when there's a high school right over there?" she said, referring to the Nashua High School south campus.
Theriault, the PTO president at Sunset Heights Elementary School, thanked her neighbor for her signature and reminded her of a public hearing at the school on Thursday night.
That public hearing at 7 p.m. will allow parents such as Theriault and Sanders to voice their concerns about the school district's plan to shuttle children from their neighborhood to the city's new high school off Broad Street.
Currently, all children who live north of the Nashua River as well as those who live within the boundaries of the Dr. Crisp Elementary School neighborhoods will go to the north high school. All other students living south of the Nashua River would attend the south high school by the start _the south high school by the start of the next school year when the city opens both schools to 9th- through 12th-graders.
Yet, without a change, Nashua High South is expected to have 2,263 students next year, while Nashua High North is expected to have 1,915.
School Superintendent Joseph Giuliano said more students living south of the river will need to go to the north school to keep the size of the two high schools roughly even.
The Sunset Heights neighborhoods were chosen because they are close to the bus routes that will pick students up from the Dr. Crisp neighborhoods and because it will preserve the demographic equality of the schools, Giuliano explained.
The Sunset neighborhoods chosen to go the the north school include those around Rivier College, Taylor Street and Allds Street.
The change not only affects high school-age students living in the neighborhoods. It also determines where younger students still in elementary school or junior high will go to school when they reach high school age.
Parents are worried about their children being separated from their friends when they go to high school. They are worried about extra long bus rides to an inconvenient high school. They are worried the school district is splitting up their sense of community.
"I need a better sense of what they are doing and if it's the right thing," said parent Kristy Donaghy, who has two children currently at Sunset Heights. "I need to know if my kids are going to get the same education they would at the south school."
Donaghy said she's concerned that every time the city's population south of the Nashua River grows, the school district will use the Sunset Heights neighborhoods to create balance between the two high schools.
"Realistically, I know someone has to be taken, I just need some more answers," she said. "I want to make sure my kids aren't being singled out and being sent to a school that may not be best for them. I need to know the long-term picture."
Giuliano assured parents that the two high schools, which near a cost of $143 million, will be equal in every way possible. There has been a concerted effort throughout the design and building process to make both buildings equitable in every way, he said.
"I believe both schools are going to be schools that perform very well," Giuliano said. "I think parents should feel comfortable in either one of the high schools. Both of them are outstanding facilities."
Still, it doesn't make sense to pull children from the Sunset Heights neighborhood who live so far away from the north school, said Theriault.
"There's got to be a better way. There has to be," said Theriault. "The kids that live in the south end should go to the south school."
Theriault, who has twins in the fourth grade, said she would like her children to go to the south high school when it's time to enter ninth grade.
"I disagree with my kids being on the bus for that long each day," she said. "There has to be a better solution."
The petition being signed by parents uses much stronger language.
The plan "has a devastating effect on these 150 Sunset Heights students and their families," the petition states. "Equity will come from the mix of classrooms between the buildings, not the extra time in senseless busing. These children deserve to be treated with dignity, respect and concern for their best interest, not like pawns in a chess game."
By the end of the night, Theriault had collected 13 signatures for the petition and thought about going back out for more despite the raking wind that made temperatures feel like they were in the single digits.
"If it's important to Sunset, it's important to me," she said.