Eastern's arrival could alter the banking landscape
Merger with Centrix expected to mean more small business lending, charitable giving, branches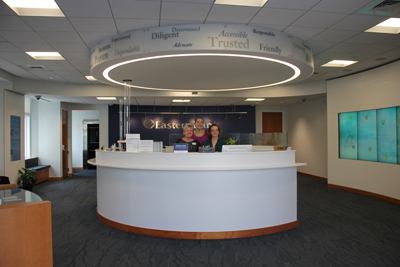 When the $134 million merger of Eastern Bank Corp. and Centrix Bank goes through as expected on Oct. 24, the presidents of the two institutions foresee:
• More lending and services to small businesses.
• Future expansion, perhaps in a currently underserved community.
• New bank branches that resemble Apple stores.
• A doubling of charitable giving to roughly $1 million a year.
Eastern Bank, based in Lynn, Mass., and serving the eastern part of that state, is the largest mutual bank in the country, with $8.7 billion in assets and some 90 branches. Centrix, a publicly owned bank based in Bedford and serving the southern tier and Seacoast of New Hampshire, is about a tenth of that size, with slightly under $1 billion in assets and eight branches.
But this is not another example of a large out-of-state bank gobbling up a small New Hampshire bank and spitting it out, starting with the leadership.
"This will be $10 billion community bank," said Joseph B. Reilly, president and CEO of Centrix. "These are good people with good intentions."
"The person who leads the organization is Joe Reilly, period," said Eastern President and COO, Bob Rivers. "He is still the leader."
Centrix began looking for a buyer back in June 2013. The board of the bank just didn't think that it could continue to compete with larger banks in an environment of rapidly evolving regulations and technology. Cybersecurity was particularly daunting, Reilly said.
Centrix put out its feelers later that fall, and by the end of 2013 it found three serious suitors, including Eastern, which jumped at the chance.
"We were interested in New Hampshire a long time ago," said Rivers. "Southern New Hampshire was closer to us than the rest of Massachusetts. It's closer than Cape Cod, even without summer traffic. It's a natural extension of our franchise."
Besides, said Rivers, there were not many acquisition opportunities in Eastern's home state and Centrix's performance matrices, he said, "are better than ours in many ways. There is not much we can do to make them better."
Centrix's net income last year was $7.7 million, or $2.37 per diluted share. Its return on equity was close to 9.38 percent. Eastern's net income was $61.5 million, with an ROI of 5.8 percent.
'Branch of the future'
Centrix eventually picked Eastern as its suitor, said Reilly, not just because it presented the best offer – $41 per share, all of it in cash – but because it matched many of Centrix's values, most particularly small business lending.
Centrix, as a commercial bank, is a top lender to small business in New Hampshire. It made 63 SBA 7a loans under $350,000 to businesses over two fiscal years, totaling $6.4 million, third statewide in the number of those loans, behind two larger banks, Northway and TD Bank.
In the same time period, Eastern made 1,419 such loans of $70 million easily outpacing runner-up Santander, which made 320 such loans totaling $22 million.
"We are the by far the top SBA lender in Massachusetts," boasted Rivers, and yet the bank's loan portfolio is only 60 percent commercial.
After the merger, Rivers and Reilly said, Eastern will be able to make some larger loans in New Hampshire as well (there was only one SBA loan over $350,000 made in New Hampshire by Centriz, for instance, whereas Eastern had 13, totaling $7.8 million.)
Eastern will expand services in other ways, the two presidents said. The bank has its own insurance and wealth management divisions as well as an international supplement. And as a retail bank, it would help grow Centrix's non-commercial side, with an increase in home and consumer loans.
Eastern also promises to install a more robust technological backbone. It recently hired a chief digital officer away from Capital One.
The company plans to add new branches as well, not so much to expand its territory, said Reilly, but to fill in Centrix's current footprint. Such a move would probably be done organically, not through acquisition, at least over the next two years.
Brick-and-mortar expansion has not been the norm in an era of smartphone banking, but Rivers thinks that the two can go hand in hand.
He said he sees the "branch of the future" as more like an Apple store, where staffers work off iPads and touchscreens are on the wall, offering information and even financial literacy video games.
Eastern converted an existing branch in Cotuit, Mass., on Cape Cod to such a format, and it plans to open another in Lawrence, on the Northern Essex Community College campus. This one will be built from scratch, as the bank continues to test new prototypes.
The Lawrence branch will serve another purpose – reaching out to an underserved community that has not seen a branch opening in two decades. "We're doing it not just because it's right, but because it's smart," Rivers said. "This country's minority population is changing. Sixty percent of startups are by first-generation Americans. If we are not cognizant of that, we will be irrelevant."
Reilly said Centrix was thinking along the same lines, wishing to open up a branch in some poorer sections of Manchester.
"We had been thinking of trying to do a better job serving the Latino community, for instance, but we didn't have the resources," said Reilly.
10% to charity
But before the bank expands, it will have to contract. No branches will be closed – there is no overlap with Eastern, since both banks are in different states. But there will be reduction in the back office staff in Bedford, reducing the number of full-time equivalent positions from 135 to 85. About 15 of those 50 reductions have already been accomplished through attrition, and a few might get positions in Lynn, if they were willing to move or accept a lengthy commute. But that would still mean 30 to 35 layoffs.
Both Centrix and Eastern say they are working hard to place each of those people laid off. Reilly said he is making calls himself to contacts throughout the state to get their resumes actually read.
"I think I have to take personal responsibility," said Reilly.
And that comes to the last point of agreement between the two institutions. Although Centrix is a commercial bank and one of the few publicly traded banks in the state, it has been known for its community involvement since its founding in 1998. So has Eastern, even though it is much larger and has a history dating back to 1818.
"No one owns us but our customers," said Rivers of Eastern's status as a mutual.
The trend has been for mutuals to go public because they need the capital or because management wanted to cash in, Rivers said.
But Eastern's former CEO, Stanley J. Lukowski, personally left "$50 million on the table" by resisting such offers, Rivers said, and that kind of ethos runs through the current management, starting with CEO and Chairman Richard E. Holbrook.
"Going public would tear apart the very fabric which holds us together," Rivers said. "It is the values that keep people with us."
Indeed, he said, employees stay with the bank as long as they want – there is no mandatory retirement age – and many of them do. Ten percent have 25 years or more of experience, River said
That ethos is also reflected in the bank's unusual commitment to community organizations. Eastern gives away 10 percent of its net income, according to Rivers – a figure repeated in the bank's merger filing with the Federal Deposit Insurance Corp. Much of that is provided though the bank's $85 million foundation.
Last year, it gave away a total $5.5 million
"That's way above what others give. Most give around 3 percent," Rivers said.
Actually, according to the latest report of the Committee Encouraging Corporate Philanthropy, corporations donated on average only donated 1 percent of their pretax profits in 2012.
River said Eastern doesn't just respond to requests for donations. It does it's own research in a particular area each year (this year health care, last year K-12 education) and seeks out organizations to fund.
"We show up at an organization's door and give them a check," Rivers said. The bank also pays its employees for some 40,000 hours of community service.
Reilly has heard this before, but he still shakes his head and smiles. Centrix currently gives away "mid six figures" a year to community organizations, he said. "We do a lot, but we would have to double what we do to keep pace with that," said Reilly.
That would roughly translate into $1 million a year.
At the thought of this, Rivers didn't blink an eye. The total might even wind up being more, he said. After all, the bank is trying to make a good impression in the Granite State.