Dyn co-founder Hitchcock resigns as company's CEO
Will remain on staff; Baum to oversee operations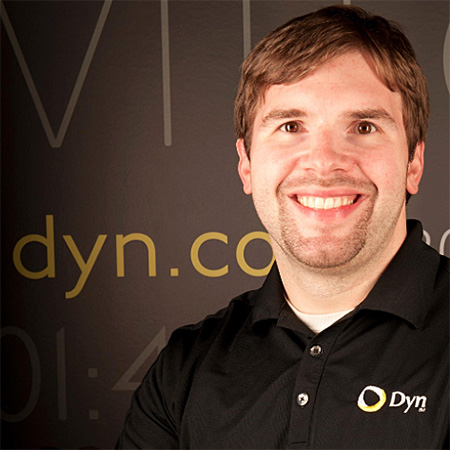 Dyn co-founder Jeremy Hitchcock is stepping down as the high-profile Manchester-based Internet performance management company's CEO.
The announcement came just one day after private equity firm Pamplona Capital Management LLP invested $50 million that will enable the cloud technology company to expand, either organically or by acquisitions.
Hitchcock will remain on Dyn's board and will remain a full-time employee title of "founder," according to the website TechCrunch. Executive chairman Jim Baum will take over day-to-day operation of the company, TechCrunch reported. Baum, previously CEO at Netezza and Endeca, told TechCrunch he would not be taking the title of CEO.
Hitchcock told the Globe that the company is not currently searching for a new CEO.
Hitchcock, a Manchester native who attended West High School, told The Boston Globe that, over the past few months it became clear the firm would require a new leader with better skills for running a large organization.
"When I looked at the opportunity that we have, the mechanics and the machine of the company — that is not my skill set," Hitchcock told the newspaper.
Dyn, located in the Manchester Millyard, helps major companies, such as Visa, Twitter and Netflix, analyze and enhance their cloud-based traffic. It also helps with decisions on how to chose various internet providers and integrate them.
It expects to surpass $100 million in annual sales this year. The company has made several acquisitions over the years and expanded its product offerings.
The investment announced Tuesday was the first of Pamplona Capital Management's new $1 billion technology, media and communication fund, launched by a decade-old London and New York investment firm that manages more than $10 billion in assets.
Dyn, which is privately owned, employs 400 people, with three-quarters of them in New Hampshire, mostly in Manchester, though it also has a small office in the Hanover area. It has an option to expand at its current location, Hitchcock told NH Business Review on Tuesday.
The company said it has grown 70 percent in the last few years and expects to surpass $100 million in annual recurring revenue later this year.
The company has acquired 11 other companies since its founding in 1998.
It received a $38 million capital infusion in 2012.