Dying in Vein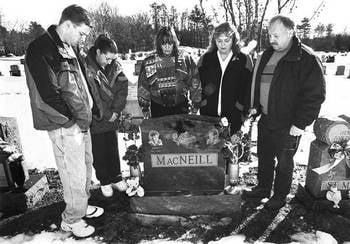 Terry MacNeill of Dracut, Mass., is the last person to see herself as a righteous hero.
"Activism is not at the center of my life. A broken heart is at the center of my life," she says. "I am a mother in pain. And when you're in pain, you only have two choices. You can sit back and let it kill you, or you can do something."
Eight years ago, just weeks before his 23rd birthday, Shawn MacNeill died of AIDS. Shawn's brother, Brian, has AIDS and hepatitis C. Their mother is one of thousands across the country who believe their hemophiliac loved ones were killed by tainted blood products that remained on the market for years after they were known to be dangerous; products that parents
continued to infuse into their children believing they were prolonging and improving their lives.
n an attempt to show a stranger who her son was – and could have been – Terry MacNeill gently fingers through a neatly organized collection of family photographs. They show her boys as cherubic babies, curious toddlers and proud teens on their way to the prom.
But there's one photograph that stands out among them as ironic and, in retrospect, haunting. It's a black-and-white glossy taken in the late 1970s showing Terry, Shawn and Shawn's older brother, Brian, in what is obviously a hospital room. Everyone is smiling. The boys, then about ages 7 and 8, look like they're grinning for a toothpaste commercial. They look adorable, happy and far from sick. And right alongside, with an equally winning smile, is the boys' doctor, who Terry felt blessed to have caring for her severely hemophiliac sons. The photo was in fact an image used to promote the doctor and his clinic; a favor Terry was more than happy to do.
About this story
The whole message was, "Look at how well these boys are doing. Look at how healthy they are," says Terry. But ultimately she felt betrayed by those she trusted to care for her children. It took Terry, a woman who believed in God and believed in goodness, a long time to absorb the enormity of that betrayal, which had disastrous results.
The MacNeill boys were severe hemophiliacs from birth and were infused with medication from infancy on, first by doctors and then, starting at age 5, by their mother. "I had no idea I was a carrier until after Shawn was born," she says. "I knew nothing about hemophilia. But I learned. I read everything I could about it."
But some things you can't learn from reading. "People think hemophiliacs bleed because they get hit or they fall. But what they don't know is that some of them can bleed because they had a bad day at school, they're nervous about a test or because they're happy."
As it would be for any mother, the death of one son and the gloomy future and daily suffering of another is a source of never-ending grief for Terry. But it's not the kind of grief that lies heavy and silent on a mother's heart. This grief, Terry's grief, is a tortuous wail born of anger and frustration.
She believes Shawn's harrowing death and Brian's inevitable short lifespan could have been prevented. And she isn't alone. Most mothers, fathers, siblings, children and wives of the thousands of young hemophiliacs who contracted AIDS and hepatitis because of tainted blood products believe that, too.
The first inkling of that betrayal came to Terry on a night in 1983 when the phone rang at 8:45 and the voice on the other end of the line was her sons' doctor.
"When the doctor calls you 9 o'clock at night you know something's up. "He asked if we had used blood-clotting factor with specific lot numbers, which he named. When I said we had, he said, 'It's OK if you used them. Keep doing what you're doing.' But I wondered."
Whatever seed of suspicion might have been planted in Terry with that phone call was pushed to the back of her mind. After all, this was her sons' doctor. It wasn't until two years later that her boys were officially diagnosed as HIV-positive. Shawn was 12. Brian was 13. "I felt sickened inside," said Terry. "But I still trusted these doctors. They told us that only 1 percent of hemophiliacs actually come down with full-blown AIDS and being HIV-positive did not necessarily mean they would ever get AIDS. And the doctors advised us to keep infusing with the blood-clotting factor – the factor that we now know was deadly. And there was always the thought that someday there would be a cure and that my sons would live long enough to get that cure."
But Shawn MacNeill did not live that long. And he didn't live long enough to graduate from college or to marry his fiance. He didn't even live long enough to be treated with the AIDS cocktail (protease inhibitors) and so became a human skeleton before his mother's eyes, before dying in her arms in 1996, just a month shy of his 23rd birthday.
But we get ahead of ourselves here. Three years before Shawn wasted away to 70 pounds. Three years before his skin literally rotted from his arms, like – and this is his mother's analogy – an overcooked turkey, Terry started to learn the horrific truth – that her son had been poisoned by the very concoction that was supposed to save his life, the very concoction she infused in his veins to keep him strong and healthy.
"I used this stuff on my sons 20 times a month – in the middle of the night, during the day. And I didn't know. None of us knew."
That's when Terry began to figure out that, "I was keeping AIDS in the refrigerator next to the milk and butter.
"And for what?" she asks, quickly supplying her own answer: "Corporate greed . . .
What Terry began to hear was that the drug companies producing Factors VIII and IX had knowingly collected blood plasma from high-risk groups. She heard they paid prisoners to donate blood and plasma. And she heard they willingly accepted plasma from the downtrodden and drug addicted to manufacture the blood product that was seen by many as the miracle treatment for hemophilia.
Terry was hearing that even after these drug companies knew that the products might be tainted, they continued to be sold to hemophiliacs here and in other countries. "But there was a part of me that just didn't want to believe this. I am a religious woman. I am a religious educator."
But Terry has come to believe that her sons and the other hemophiliacs were just "written off" because people assumed they would just die anyway. The fact is, however, before these viruses were introduced, a hemophiliac could be expected to live a pretty normal lifespan.
Then Terry met Mary Lou Murphy, who had lost two of her hemophiliac sons within 10 months and was part of the Committee of Ten Thousand, an advocacy group for hemophiliacs with HIV/AIDS. The group helped her pay her mortgage one month when medical bills ate away at the family budget. At the same time, she began to learn more about the tainted clotting factor.
The Committee of Ten Thousand had a lot of information about the blood-product holocaust Terry was finding impossible to ignore. Yet she said, "I still could not believe that my sons in Dracut, Massachusetts, who never hurt anyone, (were given) a product that contained three fatal illnesses – AIDS, hepatitis B and hepatitis C."
But by 1992 the last of Terry's denial evaporated. Shawn was getting sicker and sicker. He had frequent bouts of pneumonia and was beginning to get weak. "By the time he graduated from high school with honors, I knew he was dying," she said. "He was determined to graduate with his class even though he had double pneumonia. On the day he got his diploma his temperature was 103 degrees. The next day he was in the hospital."
Terry said she waited until her son was out of high school before she was willing to come out about his disease. "All I could think of was Ryan White and the harassment he suffered when people found out he had AIDS." Also by that time Terry, primarily through the Committee of Ten Thousand, had seen enough evidence to convince her of the travesty that befell her sons and the thousands of other hemophiliacs infected with HIV. And the caretaker mother was transformed into advocate.
"I filed a lawsuit against the pharmaceutical industry, but was shut down right away because the statute of limitations had run out. The blood shield law – which essentially says that blood is not a product, but rather a service – did not allow the suit to go through. I mean there wasn't even existing paperwork for this kind of thing. They had me fill out an accident form. An accident form for a tainted product that killed your kid? There just was no precedent for this kind of thing. We're talking about a blood product that was left on the market for years after there were suspicions about it. I can see maybe a year with someone saying, 'We're looking into it.' But six years. We had that product in our refrigerators for six years. We infused our children with this poison for all that time."
Since Shawn's death, Terry has worked tirelessly to fight the drug companies and confront governmental agencies about their roles in this tragedy. Her labor is an outlet for never-ending grief. What she really wants she can't get – her dead son back and her living son healthy. Instead she's fighting for accountability and lives to see the day those directly responsible for killing her son will be thrown behind bars.
Terry has brought her activism to the streets. She has become active in the Committee of Ten Thousand, has lobbied, protested and testified in Washington to get the Ricky Ray Hemophilia Relief Fund signed into law and funded so that the surviving infected hemophiliacs and the families of those who have perished get some monetary compensation for the lives that have been lost.
She has also started the Brian and Shawn MacNeill Pediatric AIDS Foundation and is working to get a memorial built to honor those who have perished in this horrific manner. And she still worries about Brian, even though he now has a wife of his own. Brian and Meredith were married in May 2003. The couple lives with Terry and her husband, Larry. But having a home of their own was never really an option given Brian's disabilities. He suffers severe arthritis in almost every joint in his body from the multiple bleeds he's endured during his lifetime as a hemophiliac. And then there's the AIDS. He's not on an AIDS cocktail because the severity and specific type of his hemophilia prevents that. But he does use retrovirals. He's pretty stable, and in fact holds down a part-time job in a bank. But his mother fears that hepatitis C – which eventually leads to liver failure – will kill him as it has many of the other hemophiliacs in this situation.
Brian's hemophilia would make him an unlikely candidate for a liver transplant, and there is no other cure. Terry MacNeill fully expects Brian will succumb one day too, and then her grief will double.