Durham weighs limits on downtown student housing
Planning board looks to place restrictions multi-unit housing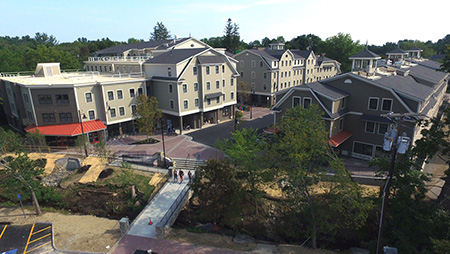 The recent surge in development of student housing downtown has prompted officials in the town of Durham to consider new restrictions on its construction.
According to Foster's Daily Democrat, the Durham Planning Board is weighing a proposal that would prohibit multi-unit residential housing for non-related individuals in the central business district. The board proposal would continue to allow downtown multi-unit housing for families.
Currently, multi-unit housing is allowed as a conditional use in the central business district. Such housing must have 600 square feet of habitable space for residents who are not related, among other stipulations.
Town Planner Michael Behrendt told Foster's that the town has seen "so many units of student housing developed in recent years that a lot of people in the community are concerned that it should be tightened further. With the amount we've had and the potential impacts town wide, some people are saying 'Why is it still allowed at this point?'"
Within the last five years or so, some 2,000 beds have been added off-campus in Durham, with about half downtown in the Madbury Commons development and similar projects on Main Street. Many of the projects have multiple uses, such as retail on lower floors and housing above.
The zoning change would affect only new construction, but that has some property owners concerned, particularly because they believe restricting the types of future uses allowed downtown could lower property values.
The board, which will continue its deliberations on the issue on Wednesday, Feb. 8, is also considering a proposal that would allow senior housing within mixed-use buildings in the central business district as a conditional use, the newspaper reported.