Durham OKs ordinance targeting student housing
But critics say doubling square-footage will have 'unintended consequences'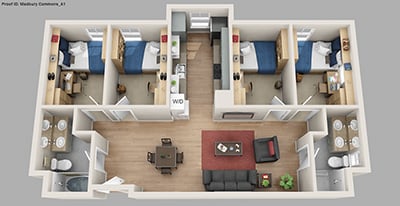 The Durham Town Council on Monday unanimously approved an ordinance that is expected to slow the development of student housing in the town.
The ordinance, proposed by the town's planning board amendment, will double from 300 to 600 square feet the minimum habitable space per resident, but only in the three zones where student housing is allowed.
According to Foster's Daily Democrat, Durham Town Planner Michael Behrendt said the town hoped the ordinance would help slow down the number of student housing complexes being built in the town.
"There has been a tremendous number of new beds … since 2008 that have been approved and built, or are presently under construction," Behrendt said. "The gross additional beds approved and under construction now in Durham is 2,371. I think there is a real concern within the community that we are setting the market out of balance."
In the last year, two new student housing projects have been approved: the 126-unit Madbury Commons and the 52-unit Orion Student Housing.
While Behrendt praised the ordinance, Foster's reported, several property owners and developers took issue with it.
Among them were Shawn McCauley of Colonial Durham Associates, developer of the proposed Mill Road Plaza project, who said the ordinance "reads as an anti-development ordinance. You just want to stop it rather than try to work with it to create something that's manageable. You still have properties in the town that are in dire need of redevelopment."
In addition, the newspaper reported, Ashlee Iber Amenti, executive director of the Workforce Housing Coalition of the Greater Seacoast, said she is concerned that the new standard "will have unintended consequences."
"It should be recognized that this zoning change could impact others. There are many adults that by choice or by financial need choose to live with other adults who they are unrelated to. This increase in square footage could negatively impact the cost of housing available to them," Amenti said.