Dressing for success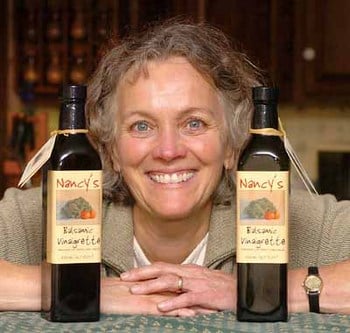 There probably aren't many places in the world where the social worker wife of a minister can turn a homemade salad dressing into a classy high-end food product that now sells in some of the finest emporiums in New England.
But that kind of thing does happen in New Hampshire. Just ask Nancy Brown of Hopkinton.
For Brown, what began as a special recipe to serve friends and family when they gathered for dinner has in four short years become a burgeoning business that she hopes will have a positive impact on the community – someday even creating good, decent-paying jobs.
"My expectations were pretty minimal when I started out, but they're not anymore," she said. "What we've learned this past year is that this is a product that people really like, and it's a product that sells very well in the right market."
Brown first made her special balsamic vinaigrette when she was preparing dinner for some guests some years ago.
"It's made with olive oil, fresh garlic, mustard and some secret ingredients," she said. "Everyone raved about it, and said, 'You ought to bottle this.'"
At first she didn't, but about three years ago she made several bottles of the vinaigrette to give out as Christmas gifts. Her husband, The Rev. Billy Brown – a United Church of Christ minister and certified pastoral counselor in Concord – gave one to a colleague, who is vegetarian.
"He said it was the best thing that's ever happened tofu," Brown said. "So he started buying from me on a monthly basis."
The next summer, another Hopkinton resident started a local farmers market and asked if the Browns wanted to sell some of their extra garden produce.
"I asked, 'What about balsamic vinaigrette?' Because people continued to encourage me to try to sell it," Brown recalled. "So I naively just made a batch of this stuff, and I sold out every bottle I made."
Made in New Hampshire
Brown continued selling the vinaigrette all summer, and she did the same at a small Christmas crafts fair in town.
By that time, Brown was beginning to understand why people enjoyed her homemade recipe, now called "Nancy's Balsamic Vinaigrette."
"People liked the idea of it being homemade, that it was made by somebody they knew. And they really, really liked the product," she said, particularly the fresh ingredients.
Around that time, a friend urged Brown to attend a "Made in New Hampshire" show.
"That's when I had to get really serious," she said. "It was about finding bottles, and I made my first big purchase, which was a pallet of bottles. In fact, just finding the right bottle took forever. I knew what bottle I wanted and I tried an Internet search. Then I saw the bottle in a store. It had balsamic vinegar in it made by Stonewall Kitchen, which is a natural foods company based in Maine, although it actually started in Portsmouth. So I called them and spoke to someone and they gave me the name of this Italian company that makes the bottles and they have an office in Miami."
The Brown family gave Nancy's business a $10,000 loan. With it she bought 1,370 bottles at 90 cents each.
Then Brown found a licensed commercial kitchen and made up her recipe with the help of family and friends. One friend – Colin Callahan, an art teacher at the St. Paul's School in Concord – did a painting, took a digital photograph of it and designed a label for "Nancy's Balsamic Vinaigrette."
At the "Made in New Hampshire" show, Brown collected business cards while her husband, their 14-year-old daughter Elizabeth and other supporters made up hundreds of tiny salad bowl samples.
"Every time somebody bought a bottle I'd ask where they were from and if there was a shop in their town where they thought they might want to sell it," Brown said. "So I collected lots of names of stores that way. After that I just hit the road with bottles and pricing information, and developed around 25 retail stores around the state."
Within weeks, "Nancy's Balsamic Vinaigrette" was on shelves in places like Zeb's General Store in North Conway and Calef's Country Store in Barrington.
Now she's getting ready for a similar New England exposition in Portland, Maine.
"Right now, I'm looking for a distributor and a co-packer, somebody who has an automated kitchen where they make their own product but have extra time when they're not using their kitchen (for us to use)," she said. "If I can't find a co-packer, then the other option is to borrow a lot of money and build my own kitchen."
Her immediate business goal is to expand into flavored balsamic reductions – syrupy mixes that can be put on meats and other foods.
But her long-range goals incorporate her newfound business acumen with her experiences in social work and her personal beliefs.
"How do you justify making a salad dressing that makes a lot of money, but that nobody needs? I mean, it's good and healthy and people like it but nobody needs a $10 or $12 salad dressing," she said. "Well, from my faith tradition, one of the things we talk about is how our deepest passions come from our gifts, and where do they fit with one of the world's greatest needs?
"My passion has always been cooking and if you're not doing that to feed the poor, what can you do? And I thought, I know the world needs good, quality jobs. And I thought, I would love to create a business that not only produces a quality product but quality employment that pays a decent wage so people can support their family and recognizes that work is not always the most important thing – that sometimes it's showing up for the 2nd-grade play. I wanted to have a work environment that's flexible enough to allow those kinds of things to happen."
As Brown should know by now, in New Hampshire anything's possible.