Downward shift in N.H. corporate pay reflects national trend
The average pay of corporate executives among the top public companies nationwide didn't go up last year, and so far New Hampshire publicly owned firms seem to be reflecting the trend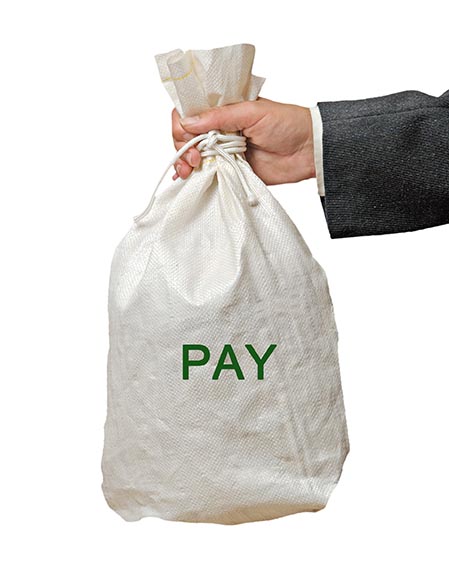 The average pay of corporate executives among the top public companies nationwide didn't go up last year, and so far New Hampshire publicly owned firms seem to be reflecting the trend.
Indeed, of the latest three proxies to be filed with the U.S. Securities and Exchange Commission by New Hampshire publicly traded companies, the pay of top executives at two of the firms went down substantially, while the pay for the leaders of the third firm hardly increased at all.
The top five executives at White Mountains Insurance Group, the most profitable public company in the state, received a total of $21.4 million in 2012 — which, while nothing to sneeze out, was $9 million (30 percent) less than the year before. The company – officially based in Bermuda, but run out of Hanover – reported in February that its book value per share (its preferred measure of value) rose 8.6 percent in 2012, though its earnings of $207.4 million were far lower than in 2011, when the company's profits soared to $800 million.
CEO Raymond Barrette took the biggest pay cut. His $1.2 million compensation package, sans any equity compensation, was down from the $3 million he made in 2011. Among the other executives, CFO David Foy was paid $4.8 million, a $500,000 raise, T. Michael Miller, CEO of subsidiary OneBeacon earned $6.3 million, less than half of his 2011 compensation, Allan Waters, CEO of subsidiary Sirius Group was paid $5.4 million, a $400,000 decline, and G. Manning Rountree, director of White Mountains Capital and president of WM Advisors, which handle the company's investment portfolio, made $3.5 million, another $400,000 decline.
The 7-member board of directors, which votes on executive pay, were paid a total of $2.9 million. Lowndes Smith, who also chairs the boards of OneBeacon and Symetra Financial Corp., earned more than $1 million for his services.
Compensation of the top executives at Nashua-based iCAD Inc. were paid a total of $1.9 million, down from $2.1 million. CEO Ken Ferry made about $940,000, down from $1.2 million, followed by CFO Kevin Burns, ($499,000, compared to $567,000), and Stacy Stevens, vice president of marketing ($453,000, a drop of nearly $6,000). The company's seven-member board earned a total of $217,000.
iCAD lost $9.4 million, or 87 cents a share, in 2012, which was an improvement over 2011, when it lost $11.6 million.
The three top executives at New Hampshire Thrift Bancshares, parent company of Lake Sunapee Bank and The Nashua Bank , made a total of $1.38 million, up slightly from $1.29 million in 2011. Chairman Stephen Ensign earned $617,000, a $24,000 decline. He was followed by CEO Stephen Theroux ($552,000, up from $470,000 last year) and CFO Laura Jacobi ($213,000, almost $30,000 more than in 2011).
The salaries reflect a slight increase in the company's earnings from $7.8 million in 2012, up from $7.7 million. Just last week NHTB announced it will acquire Central Financial Corp., the holding company of Randolph National Bank, a Vermont bank with assets of $170 million, in a stock transaction worth $14.4 million. The combined company will have $1.45 billion and operate 38 locations in New Hampshire and Vermont.
As previously reported, the top five executives at Sturm, Ruger and Co. earned $8.6 million in 2012, nearly a 30 percent pay cut, despite a year of explosive growth. However, Hampton-based Unitil's executives all received a raise.
On Monday, The New York Times reported that median pay among the CEOs of the top 100 companies was $14 million, up 2.8 percent. The Times report, however, emphasized that cash bonus and perks jumped while equity pay dropped.
The highest-paid CEO, according to the Times, was Lawrence J. Ellison of Oracle, who made $96 million, some $20 million more than he earned in 2011. However, less than a majority of the shareholders approved his compensation package in an advisory "say-on-pay" vote.