Downtown project reveals Concord's possibilities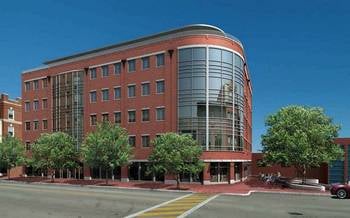 Michael Herrmann, owner of Gibson's Bookstore on Concord's South Main Street, is one downtown retailer who finds it "pretty exciting" that the long-vacant Sears building next door to his store is being replaced by construction of several floors of office space, a restaurant or two and retail shops on the street level. There also will be a three-screen movie theater and a 510-car parking garage.
"Just the fact that there are going to be dozens of people working right next to us is going to mean increased traffic in the neighborhood for everybody, not just us," said Hermann, who has owned the independent bookstore since 1995.
The former Sears building, just north of the store, had been vacant for more than a decade and the big empty structure contributed to a sense of disconnectedness between the stores to the south of it and the commercial center to the north, Herrmann says. "This will get us reconnected to the rest of downtown," he says of the Capital Commons project.
The public-private partnership, years in the making, involves more than $16.5 million in investment by the city in the parking garage, street improvements and landscaping. The private developer, Michael Simchik of Portsmouth, has committed an estimated $12 million to the project, which is scheduled for completion next spring.
It will, he says, contribute still more liveliness and diversity to a downtown that already has the loyalty and enthusiasm of a great many Concord residents and businesses.
"If I found everybody was negative about downtown Concord, I probably wouldn't be doing a project there," said Simchik. "I think most people are very positive about it. People who are in downtown Concord want to stay downtown."
A downtown 'bridge'
Tenants of the six-story, 102,000-square-foot building will include some familiar names, as well as some anticipated newcomers to the Concord region.
The AG Edwards financial firm will take the entire top floor, while the fifth floor will be occupied by the McLane, Graf, Raulerson and Middleton law firm. Simchik said he is talking to four different restaurants about the street-level location, where he expects to end up with either one large or two smaller restaurants. About 13,000 square feet is planned for retail activity.
The Port City developer, who did a similar project, 100 Market Street, in Portsmouth, says his present focus is entirely on Capital Commons.
"I tend to do things a little differently," he says. "Many developers do two or three (projects) at a time. I don't do that. I do one project at a time and get it stabilized before looking at taking on another. My way of looking at a project may be a little studious. I take more time to get involved."
Getting a sense of whether a development will work in a given community requires more than a knowledge of demographics and marketing data, he says.
"Every situation is totally different," says Simchik. "Until you really understand and know a community and talk to the people in the community, you really don't know if a project is going to come together," he says.
The project also combines commercial and cultural activities in the city's center. Red River Theatres, occupying one of the two lower levels in the Commons, will seat a total of 300 in three different theaters for showings of art and independent films, especially those made in New England.
Having alternative and independent film fare next door makes the building a particularly appealing neighbor, said bookstore owner Herrmann.
"It's pretty much going to be a version of a movie theater that will be a lot like independent bookstores," Hermann said. "They'll show classic, quirky and unusual films and that dovetails very nicely with what we do." It also brings downtown redevelopment activity significantly closer to the city's foremost venue for musical and theatrical performances, the Capital Center for the Arts.
"We're going to be the bridge between the cultural and the legislative and commercial sides of town," says Simchik. That should only boost what some in the city already see as a growing trend in the Capital City, a leisure and recreational life on nights and weekends.
"For years, people called it 'Concord in a coma,' because there was no nighttime activity," said Ken Lurvey, the city's economic development director. Concord, he said, has survived the coma.
"I can leave my office, and frequently do, after a City Council meeting at 9:30 and 10 o'clock and sometimes on my way home I'll want to go and get a bite to eat and you can hardly find a parking space. It's busy Monday night, Tuesday night, Wednesday — all week long. Because we do have some good restaurants and we do have some good lounges that have entertainment, live music."
With another restaurant or two on South Main Street and the arts cinema, evenings and weekends could become even more lively in a capital city that offers activities other than legislating and lobbying.
Long-term objectives
Parking, transportation and land-use issues are among the concerns of Concord 20/20, a citizens planning group that has spent the past several years conducting forums and addressing issues related to the future of a city that covers 54 square miles of central New Hampshire.
The group's goals are "all related to trying to make sure that Concord's land use planning is in sync with its transportation needs," said Susan Leahy, president of the organization.
One long-term objective has to do with the eventual widening of Interstate 93 where it bisects the downtown area. Concord city officials and Concord 20/20 hope to persuade state and federal authorities to move the highway about 20 feet to the west to give city residents access to the river once again. A more immediate goal has to do with the city's frequently updated master plan and a change in zoning patterns.
"If we really want the community to develop for the best in the long term to achieve the vision the community has for itself, our zoning has to be a lot more flexible than it is," said Leahy. Many areas of the city could benefit from zoning that permits a variety of uses, she said.
To Hermann, the fact that there's a major development project in downtown Concord is an encouraging sign in a city that has seen a proliferation of chain stores in and around the mall on Loudon Road.
"I think there's a place for big box and chain stores, but there has to be an appropriate balance," said the book dealer. "I think Concord has gone too far on the fast track for the development of the big boxes. I think this is a way of redressing the imbalance."