Downtown Manchester landmark gets new life as commercial space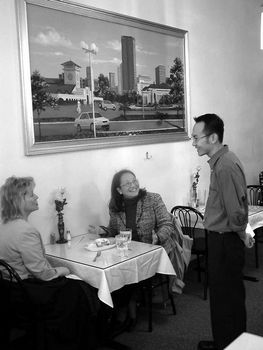 The building that housed one of downtown Manchester's most popular stores is open for business again, though not to sell clothing or accessories.
The newly renovated McQuade's building had a grand reopening earlier this month as rehabilitated historical and commercial space housing four new downtown businesses — The Chair Gallery, That Look Salon, Xilox 1 Shoe Store, Little Saigon restaurant — and the offices of Manchester Wolves Arena Football.
The building was purchased and renovated by The Anagnost Companies for a total of $2.7 million, including $2.4 million in loans made available through the city from the U.S. Department of Housing and Urban Development and the Community Development Block Grant program. The top two floors of the three-story building will be leased as office space, said Dick Anagnost, developer of the project.
McQuade's closed in 2002, ending a decades-long run as the leading anchor store for downtown shopping. William McQuade, whose father Elias founded the business in 1939, joined Mayor Robert Baines for the ribbon-cutting ceremony for the new stores. Baines hailed McQuade for keeping the business downtown for so many decades "through good times and bad. "
"We had a wonderful organization and wonderful customers," McQuade said after the ceremony. "We had a great run."
One of the tenants is Little Saigon, the city's first Vietnamese restaurant – and it has quickly become a hit with downtown diners.
"It's so good the first day they opened, they ran out of food," said Anagnost. "They had to go to their vendors to get more food and bring it back."
The steady stream of patrons since suggests Vietnamese cuisine may have a lasting popularity with both American-born residents and the city's large and growing Vietnamese population.
Owner-manager Sam Tay came to the United States from Bien Hoa, Vietnam, 13 years ago. He has worked in a number of Chinese, Japanese and Thai restaurants, as well as in his uncle's Vietnamese restaurant in Vermont. Pho soup, egg rolls and varied seafood dishes are among the popular entrees at Little Saigon.
"My food is healthy," Tay said. "People love it."
Novelty may also be a factor in the restaurant's popularity. "It's very new to Manchester," Tay said. "People have been eating Chinese, Japanese and Thai food for a while. Maybe they like to try something new."