Downtown Dover project clears key hurdle
$20m Robbins Block redevelopment to add up to 90 new apartments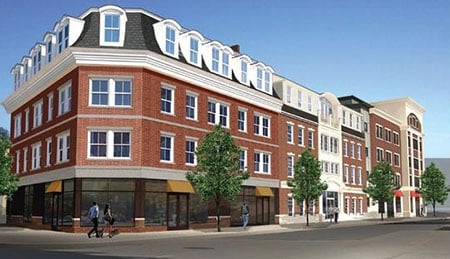 The planned $20 million redevelopment of the Robbins Block in downtown Dover took another step toward reality with the city council's approval earlier this month of the term sheet for the mixed-use residential and commercial project.
Proposed by Kostis Enterprises and designed by Portsmouth-based DeStefano Architects, the project calls for replacement of the existing buildings at 104-120 Washington St. with up to three new structures. The new four- and five-story buildings could have up to 90 new apartments above first-floor commercial space.
The project would likely be built in phases. The first phase calls for a new building along Washington Street between Chestnut and Locust streets with up to 25 one- and two-bedroom apartments, the newspaper reported.
The second phase calls for a similar building that would complete the block between Chestnut and Locust streets. Kostis said it plans to apply for property tax relief, made possible by provisions of a state law the city recently adopted. That provision would maintain the Robbins property's existing $2.1 million valuation for five years, beginning when first new building is finished.
In return, developers would agree to minimum valuations for the property of $5 million starting in 2022 and $8 million by 2027.