Down payments remain biggest roadblock for homebuyers
Zillow analysis says high rents prevent many from saving enough to buy a home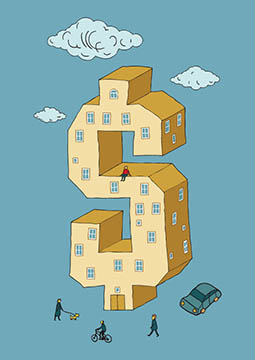 Renting is less affordable than paying a mortgage on a monthly basis, but down payments are a barrier to many first-time buyers, according to an analysis of the nation's 30 largest metropolitan areas by Zillow.
With the majority of renters in the largest metros putting about 30 percent of their monthly income toward a rental payment, saving money for a 20 percent – or even a 10 percent – down payment is extremely difficult, the analysis found.
First-time homebuyers and millennials are left trying to find other ways to break into the housing market, turning to friends and family for financial help. In 2014 alone, 13 percent of home purchases were bought using a loan or gift from friends or family for the down payment, according to Zillow.
Adding to the problem, rental affordability worsened in 28 of the 35 largest metros over the past year, and mortgage affordability worsened in just 18 of them.
According to a third quarter Zillow analysis of U.S. rental and mortgage affordability, residents of the Boston market face a median monthly mortgage payment that requires 22 percent of monthly income. But renting is substantially more expensive: 35 percent of the median income pays the median rent in Boston. However, to purchase a home in Boston, a 20 percent down payment is $76,220.