Dover brewery raises a glass to community
Microbrewery combines quality with a local farm-to-table focus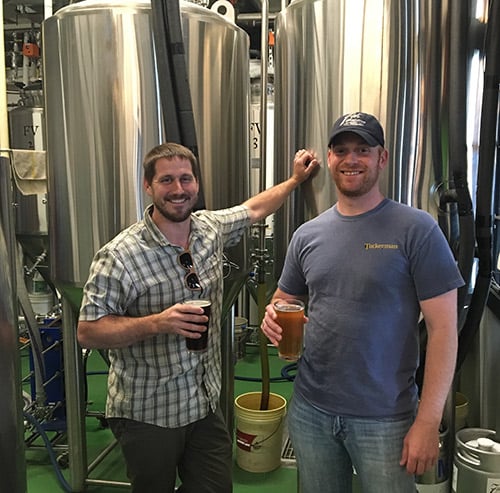 The 7th Settlement brewery offers many choices of handcrafted beer and food in Dover, but most of it all it offers a lesson in top-to-bottom sustainability.
Founded by David Boynton and Josh Henry, 7th Settlement opened its doors in November 2013. The journey was almost a full decade in the making as the former home brew devotees wanted to combine the best of microbrew quality with a local farm-to-table focus. One of those goals was to revive the importance of local pubs to their community (the company name pays homage to Dover's status as the country's seventh-oldest continuous settlement and oldest in New Hampshire).
"A pub is a public house and community gathering place," said Boynton, who handles financial strategy and the front of the house side of the business, while Henry is the brew master. "The bigger story is the support we have from people who love having a community pub that connects a great sense of place and history."
It also explains the company motto: "don't buy beer from strangers."
The focus on sustainability and creating an ecological network of local farmers was intentional. Boynton had 10 years of experience in outdoor education management before pursuing an MBA in organization and environmental sustainability from Antioch University. Both Henry, a construction industry veteran, and Boynton knew that a lot of pub ventures floundered due to undercapitalization, but they leveraged support through a multi-faceted approach of presales and crowdfunding, which led to a community loan for creating jobs.
The Washington Street facility was largely built with recycled mill windows and wood panels fashioned at a Lee millworks.
"The financial side of sustainability in a business comes relatively easy if you're looking for long-term resilience and focus on the ecology and people of the community," Boynton said. "You can create a closed-loop food system with our local farmers and suppliers. This gets you beyond superficial sustainability and allows you to have a local impact because it's the easiest way to cut down on transportation, reduce carbon footprint and strengthen the local economy."
Some 65 local and regional farms and fishermen supply 7th Settlement. Spent grain from the making of its award-winning beers is sent back for feed to a farm in Lee. Boynton said it's a challenge to get brew-specific quality grains and hops locally, but they are talking to area farmers to potentially grow and supply.
Boynton said he and Henry have already developed an entrepreneurial exit plan for their company. "We want to sell the business to our employees (35 and counting) because they are putting all their heart and soul into this," he said. "As owners and managers, we are actually working for them."