Dog found shot at city work site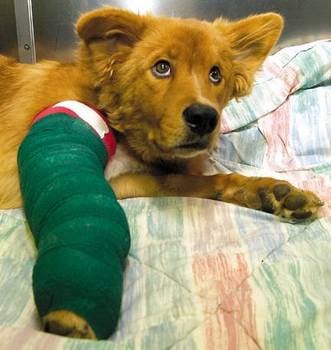 NASHUA – A dog with a .45-caliber gunshot injury faces a potentially unsettling medical prognosis today.
Veterinarians will see if they can repair the golden retriever-chow's shattered elbow joint. Otherwise, the year-old male must have his right foreleg amputated.
Workers at a construction site found the dog Monday morning. Jack – as his caretakers have coined him – had no tags or collar, so his true identity and owner are unknown.
"If it can be repaired, it will be," Judith Surdam, a veterinarian at Animal Hospital at Ferry Road, said of Jack's elbow.
Surdam and police hope Jack's owner comes forward. Police also want information on who shot the animal.
A .45-caliber shell casing – used in a handgun – was found at the site, located in a commercial zone on Southwood Drive, near the Marriott Hotel on the north side of the city. The bullet ripped through the dog's leg.
"It's not a hunting weapon, if you will. The location doesn't lend itself to hunting. It appears someone did this on purpose," said police Lt. Bruce Hansen.
No one knows exactly when Jack was shot, or where. The shell was discovered at a distance from the dog. The wound was fresh, about a day old, Surdam said.
He had a companion at the site: a dog described as some sort of mixed breed, but one essentially similar to Jack. He may be from Jack's litter, said those who have seen him.
This other dog is in good shape, and was staying at the Humane Society of Greater Nashua, right next door to the Animal Hospital at Ferry Road.
Despite his hurt elbow, Jack was in relatively good condition. Surdam and staff had wrapped his leg in a green Christmas bandage, and an IV, inserted into his rear leg, was covered by red gauze.
Jack received initial treatment for shock, and has continued on antibiotics and pain medication. He at first shied from human hands, but now accepts attention.
He's definitely come around to his caregivers. He released a delicate whimper, one of joy, when various employees stopped by his cage.
Surdam expects to drive Jack today to Animal Hospital of Nashua, where she and the staff will again review the extent of his injury. A decision on surgery or amputation will be made. The hospital will cover the cost of treatment.
Amputation may seem harsh, but it's a viable option should his elbow be beyond repair, Surdam said. "He can get up and walk on three legs," she said.
Police officers, meanwhile, have many questions.
"We want to know if the dog was shot at the site – not to mention cruelty, and the discharge of a firearm in an urban area," Hansen said.
Jack wasn't neutered, and was slightly thin. Other than the gunshot injury, Jack showed signs that "maybe he wasn't in the best of care, but he's not neglected," Surdam said.
Construction workers spotted Jack with his friend near some heavy equipment. The other dog ran away, but the workers contained him inside a storage shed business until the police animal control officer arrived.
If the dogs don't reunite with their owner, the hospital and Humane Society will find new ones.
Surdam, who earned her veterinary medicine degree at the University of Pennsylvania, said she treated many dogs with gunshot injuries while working in Philadelphia. But Jack is her first such victim in New Hampshire.
A golden retriever was shot last month while hiking with its owner at a nature preserve in Amherst. It later died. The owner suspects a hunter fired the shot.
And a loose dog was shot and killed this March in a Bedford park by an off-duty police officer who claimed the animal attacked him; the owner denied the charge.