Doctor joins city's health emergency team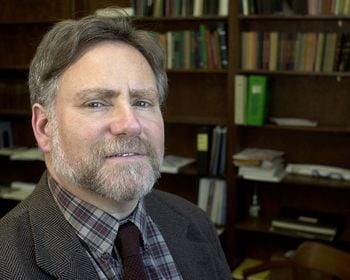 NASHUA – Dr. Paul Etkind's job can be compared to being a medical detective: chase and catch bad, icky things.
These bad guys are germs.
Etkind, a former assistant state epidemiologist for Massachusetts, is the latest addition to the Division of Public Health and Community Services as the division increases its abilities to handle public health emergencies.
"You never know what the next phone call is going to bring," he said about his new job as city epidemiologist.
Etkind, 51, is the second staff member hired to help the department enhance public health preparedness for emergencies. The first hire was administrative assistant Talia Lanzillo.
The positions are paid through a five-year grant from the U.S. Department of Homeland Security.
The division expects to get nearly $400,000 a year of federal funds, which includes a salary of $88,467 for the epidemiologist and $31,090 for the administrative assistant.
Stefan Russakow, the director of the city's public health division, said the grant is paying to build staff and the necessary infrastructure to handle emergencies.He still hopes to hire a part-time deputy division director with a medical background.
The grant has paid to upgrade communication with staff in the field, such as cellular phones and a portable computer, along with public health reference materials, training and $3,000 worth of personal protection equipment.
Medical providers are required to report 55 diseases to the state Health and Human Services Department, everything from the typical, such as a hepatitis strain, to the unusual, anthrax.
Russakow called Etkind the "tip of the spear" for handling potential outbreaks and understanding the spread of diseases here.
Certainly, infectious diseases have become higher profile in recent years:
n Anthrax delivered by mail made many people jumpy in 2001.
n The fatal SARS disease erupted in Asia and Canada and paralyzed whole cities for a time last winter. It is expected to return.
n Early in the flu season, lines of people rolled up their sleeves to get an inoculation.
n One instance of mad cow disease has appeared in Washington state.
n And an 18-year-old girl from Bennington died over the weekend from bacterial meningitis.
Etkind will review the information, too. He will have a better understanding of the local issues and how to direct resources to handle an outbreak.
Etkind has spent his career in public health. He received a master's in public health in infectious diseases/medical entomology from Yale in 1976, then studied tick-borne diseases that helped understand an unusual breakout of a disease on Nantucket, Mass. He also received his doctorate in public health later in his career from Yale.
Etkind became an epidemiologist with the Massachusetts Department of Public Health, where he worked for 26 years before retiring earlier this year. He worked for a brief time with the Association of Schools of Public Health in Washington, D.C., but for family reasons returned to Massachusetts.
Etkind said going from the state level to working in a local setting presents challenges and opportunities.
"The rubber hits the road at the local level," he said.
For someone who tracks down icky things, Etkind has a sense of humor. On his first day of work, his tie was decorated with a microscopic photo of anthrax.
A medical detective is a dramatic description of the job, he said. In short, the job focuses on collecting and analyzing disease and health-related data and then directing appropriate medical care to deal with outbreaks.
Etkind's task in the short term is introducing himself around, getting acquainted with the city's medical providers, pharmacists, dentists and hospital staff.
He also will be part of the division's representation on the city's Emergency Preparedness Committee.