Disciplinary action taken by school after donkey's death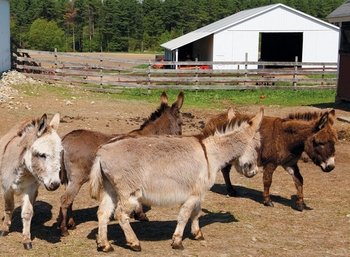 HUDSON – Investigations by school officials and police into last month's death of a donkey at the Alvirne High School farm have resulted in disciplinary action to several faculty members but no criminal charges being filed, police and Superintendent Randy Bell said this week.
"Sally," one of several miniature Mediterranean donkeys that are among various livestock housed at the farm as part of the school's agriculture, forestry management and veterinary science programs, reportedly died at the farm in mid-April after being ill for a time, according to police Sgt. Donna Briggs.
"We were asked by the superintendent to look into the matter, which we did," Briggs said. "Officers conducted an investigation and decided that there was nothing that warranted the filing of criminal charges in this incident."
Bell said he contacted police shortly after he learned of the donkey's death and events surrounding it. "I asked them to look into whether there was any neglect or cruelty involved, and they decided there wasn't," he said.
Although police leveled no charges, Bell said his own internal investigation yielded evidence of inappropriate behavior and a lack of communication between faculty members that prompted him to take action.
"I have issued what I feel is appropriate disciplinary action to some faculty members," Bell said. He declined to identify them or specify what type of discipline was handed out, except to say that none were suspended or fired.
"Nobody's losing their job," he said. "Misjudgments were made, and I think they were dealt with appropriately."
Bell said he also looked into reports of faculty members' alleged inappropriate handling of veterinary medications that may have taken place while the sick donkey was undergoing treatment. treatment. A review of how the drugs are stored and administered, he said, led to some changes.
"Going forward, I'm requiring a fully developed set of policies and protocol for the care and use of medicine," he said.
A woman who answered the phone at the animal industry division of the New Hampshire Department of Agriculture, Markets and Food, which oversees and regulates programs such as Alvirne's, said her office did receive a complaint following the donkey's death, but they were unable to investigate.
"The individual making the complaint wanted to remain anonymous," the woman said. "We couldn't conduct an investigation based on an anonymous complaint."
Alvirne's farming and agricultural program, one of the largest of its kind in the state, is part of the Wilbur H. Palmer Vocational-Technical Center. Its facilities, which resemble a typical working farm, feature a house where the farm manager and his or her family live, a large red barn, several smaller buildings and acres of farmland and forest where students learn hands-on skills.
Richard Lutz is the current center director. The farm manager is Jessica Edwards, who took over this year for the retiring Ray Marcotte.
The Palmer center also includes programs in accounting, banking, engineering, multimedia, mechanical drawing, biotechnology, building trades, culinary arts, horticulture and early childhood education. The wing in which the programs operate is named for "Web" Palmer, a longtime teacher and center director, who retired in 2001 after a 38-year career.
Bell said that since the investigation, he's been working with farm management to overhaul policies and communication processes and the recent incidents haven't shaken his long-held confidence in those who manage the farm.
"I had great confidence in these people before, and that confidence has been confirmed," he said.
Dean Shalhoup can be reached at 594-6523 or dshalhoup@nashuatelegraph.com.