Dinner theater to benefit Wilton church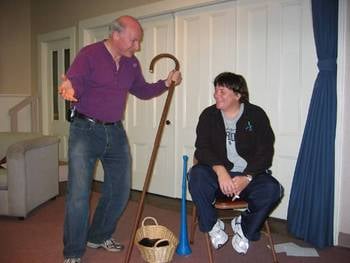 WILTON – About 25 years ago, the Rev. Gerald Scribner, then pastor of the Second Congregational Church, decided to try something different in the way of fund raising.
"People want to forget their tensions and relax," Scribner said in an interview about 10 ago. Things haven't changed much since.
Each spring and fall for the past two and a half decades, members of the church and their friends have presented two one-act comedies, along with a dinner.
The idea began as a haunted house, but as Scribner found out how many people liked to act, it turned into a theater project.
This year the meal is roast beef "with all the fixings," according to director Jim Cutler, who has been with the program since 1984.
"We always do comedies," Cutler said. "When you find something that works, you stick with it."
The two plays this year are "Once Upon a Beginning," and "Foiled by an Innocent Maid."
Cutler called the first play "stories of the Bible; Adam and Eve, Noah and his wife, Samson and Delilah, told from the point of view of the snake. It is very funny."
The snake is played by Mary Sue Jensen.
The second play is "an old fashioned meller-drama," Cutler said (the publishers spell it that way). The maiden, played by Diane Houston, tries to save the baby from the evil villain, played by Dwight Sowerby.
Cutler has been directing the plays for about eight years, he said, since Scribner's departure. "Directing this group of people is easy – they are all big hams. I just have to rein them in a little. They are all great actors."
Two of this year's cast members, Sowerby and Lorraine Strube, are Lyndeborough selectmen.
"I joined about five years ago," Sowerby said. "I recruited Lorraine a couple of years after that."
Strube called acting "a great stress reliever," and Sowerby agreed.
"Dwight has this wonderful evil laugh on stage," Strube said.
Other cast members who have been involved since at least 1994 include Nancy Cutler, Marilyn Warner and Jane Herlihy. Other performers this year are Corinne Cutler, Victor Bass, Scott Greenleaf, Sue Jean and Mike Degan.
No one is quite sure whether the plays are in their 24th or 25th year of production. But everyone agrees they are a good way to raise money for the church and have fun at the same time.
This fall's performances will be held Friday and Saturday at 7 p.m.
Tickets are $12. Reservations are suggested, since seating is limited in the Parish House dining room, and the plays frequently sell out. For information, call Sue Jean, 654-2255, or the church office, 654-9045.