Development guru helped reshape city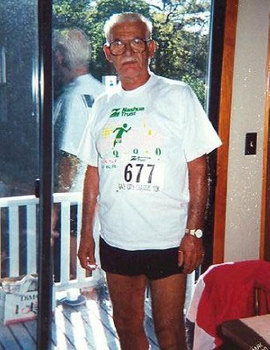 NASHUA – Anthony Matarazzo used a blend of real-estate savvy and his Italian-American charm to help build modern Nashua, but well into retirement age on a Florida beach, he showed that his lifelong feistiness could be put to other uses.
As described in a yellowed clipping from the local newspaper, Matarazzo chased down a thug who had grabbed a purse from a woman watching a show at a boardwalk bandshell in Daytona Beach, Fla., tackled him and held him for police – who found "a seven and a half inch knife" in the thug's pocket.
Matarazzo was well into his 70s at the time.
"That was Tony," said George Bruno, a Manchester attorney, reminiscing about his longtime friend. "He had untiring energy – untiring!"
Matarazzo, 88, died Monday after a short illness. His name lives on in a variety of businesses and his building at 25 Main St., as well as in his son, Anthony Jr., a state representative who runs the Matarazzo Real Estate company.
His life was, in many respects, the classic tale of immigrant America.
Although he was born in the Italian neighborhoods of the North End of Boston – on July 4, 1920, which explains the gusto with which he always celebrated Independence Day – his family took him back to the olive farm in Chiusano, Italy, when he was 6.
He grew up in Italy, but at age 16 he returned to the U.S. alone and taught himself the real estate business. In 1985 he came north of the state border, buying what was then open farmland along Daniel Webster Highway in south Nashua.
The city was starting to recover from the shocking loss of the textile mills, and was poised for growth. Matarazzo quickly became part of that growth, buying, developing and selling properties from Pepperell, Mass., to Milford and beyond.
"He bought and sold, and bought and bought and bought," said Angeline Kopka, who sold Matarazzo his first house on where Chili's restaurant now stands, and later became friends with the family. "He was self-taught but one that knew a value, and what could be done with it. . . . He would buy a property, improve it, make it something better. "
"If he told you something and he gave you a handshake, you could depend on it. He was a real gentleman," she said.
"He learned free enterprise by doing it, and he got very good at it," Bruno said.
With his wife, Rose, and eventually their three children, the Matarazzo clan became part of the local scene. He was a devout member of St. Patrick's Parish, 29 Spring St., and many civic groups.
The family owns many Nashua Telegraph clippings, telling of everything from the way he single-handedly torn down a decrepit downtown hotel in order to replace it, to his many appearances as founder of the Italian-American Club of Greater Nashua.
"When we came here, really there were very few Italians; the community wasn't prominent at all," said his daughter, Gelsa. "He really developed the prominence."
"He loved America, he was so proud to be a citizen of this country, but he never forgot his roots," said Bruno, also the son of Italian immigrants. "Sometimes it was hard to understand him because of his thick Italian accent."
Matarazzo was an enthusiastic supporter of the Democratic Party, a firm believer in higher education for his family, and charitable almost to a fault, say those who knew him.
Another Matarazzo enthusiasm was bowling. Early in his career he built a bowling alley, now long gone, on south Daniel Webster Highway, and near the end, in 2007, he bought the closed Bowlmor Lanes in Milford so they would stay open.
And the Italian equivalent, bocce, also drew his attention.
"He actually built a bocce ball court – at all the family celebrations we played bocce," said Gelsa Matarazzo. "My father was very good."
Perhaps that's because there were lots of celebrations: Matarazzo liked being in a crowd of friends of family, especially if dancing was involved.
"He was an expert at the Chicken Dance. He would pull people onto the dance floor and celebrate with them," said Bruno.
But always, to the end, there was a serious side.
"He taught us that if you say you're going to do something, you're going to do it. It was his work ethic; he really brought that to us," said his daughter.