Developer does his part to refurbish downtown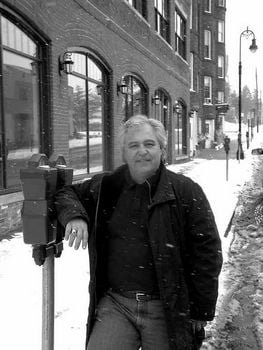 Ben Gamache has had one wife, four children and an indefinite number of loves in his life. Fortunately for his marriage, his other romances are in bricks and mortar.
"I fell in love with the building," the 46-year-old real estate developer said as he describes his latest project, the former Manchester Music building, directly across from the Red Arrow diner on Lowell Street. When he purchased the 14,000-square-foot building last September, he said, "I didn't know what I had bought. When I started taking off the façade, I could see the arched windows."
What he had uncovered were the showroom windows for Model A Fords back when the wide two-story structure housed Cavanaugh Brothers Motors, a Manchester auto dealer in the early part of the 20th century. Gamache would soon discover still more about the building's long history and varied uses.
"In the mid-1800s, it was a livery stable, kind of like a taxi stand," he said. "They would go out and pick people up. Or if you had a little money, you could park your horse and buggy there and walk to your office."
The wagons and carriages were kept on the lower floor, while the horses were housed on the upper level. The same pattern was followed after Cavanaugh Brothers purchased and remodeled the building in 1915, installing the large showroom windows on the street side of the first floor.
The brothers kept a few cars in the showroom and the rest upstairs. Repairs and maintenance were done in the rear of the first floor, Gamache said.
"They moved the cars up and down on a freight elevator, just like they used to do with the horses," he said.
That history, like the brick walls and the arched windows, was well hidden by the siding that covered the building through its Manchester Music days. Gamache is now rehabbing the building for office use upstairs, with plans for a restaurant on the lower floor, once home to the horses and horseless carriages.
He has uncovered and restored the brick exterior and worked both inside and outside the building to restore what he calls the "original grandeur" of the old building.
"I like historic buildings," he said. "I'm a little bit of an antique-type guy."
He sandblasted the interior walls and, where bricks had to be replaced, he brought in older bricks "so it wouldn't look like a new building," he said. Lights have been replaced and new panes installed to match the arched window frames. While adapting the space to its new uses, Gamache nonetheless wanted to preserve the look of the Cavanaugh Brothers building in the heyday of the Model A.
"In 2005," he smiled, "it looks almost like the same building."
'Destination point'
Gamache has signed up Securitas, a security company headquartered in New Jersey, as one of the building's upstairs tenants, while another of the offices will be occupied by The Bridge Community Church of Manchester. He is still negotiating with prospects for the two remaining offices, as well as with restaurant interests for the ground floor.
He anticipates an "upscale restaurant" there, just two doors up from Richard's Bistro and within shouting distance of the Black Brimmer at Elm and Lowell and The Wild Rover, the Irish pub on Kosciuszko Street.
Gamache finds the diversity in dining styles and entertainment venues a wholesome stimulus to the social and economic life of the center city.
"Lowell Street has become a major attraction to different age groups," he added, noting that Baldwin's and McGarvey's restaurants on Elm Street also are close by the intersection with Lowell. On any given evening, he said, "happy hour" might be under way for the predominantly young crowd at the Wild Rover, while a more mature clientele is settling in for a quiet dinner at Richard's.
"There's a younger crowd eating at Baldwin's and another group dancing and enjoying themselves at the Black Brimmer," Gamache said. "McGarvey's has a different crowd. All that activity creates more business for everybody."
Business on that section of Lowell Street is especially good for Gamache, who owns a pretty good chunk of it.
His properties include the Wellington Trade Center, two connected buildings housing offices and a retail store, along with the adjoining lot, where parking for events at the Verizon Wireless Arena provides yet another source of income. He also owns the building at Bridge and Lowell where Moe's Italian Sandwiches, 23 residential units and his own office are located.
A lifelong resident of the Queen City, Gamache sees Manchester as a place where young people no longer complain of sidewalks "rolled up" when business hours are over.
"All these attractions actually keep people in Manchester from 8 in the morning 'til they're done dining and dancing at night," he said. He also credits the city for putting in new sidewalks and improved lighting to encourage more pedestrian traffic after hours. The arena has helped draw people into the city and the continued surge in passengers at the city airport has Gamache convinced that a growing number of people from outside New Hampshire see the Queen City as something more than a stop on the way to the lakes or mountains.
"Manchester's getting to be a destination point. Many people are coming here to live, work and enjoy themselves and bring up their kids," he said.
And the kids, coming of age, are not as quick to leave the city for greener or more lively pastures. "Fewer and fewer young people are moving out of Manchester," Gamache said. "They want to stay and bring in their friends."
Commercial calls
Now a resident of the city's affluent North End, Gamache grew up on the west side of Manchester, where he got involved in real estate at an early age.
He began collecting rent at residential units owned by his father, Bert Gamache, when he was 16. He also worked in his father's plumbing and heating business. At 18 and fresh out of high school, the younger Gamache bought his first property, a six-unit apartment building on Lake Avenue.
"I bought it for $35,000," he recalled, with a $26,000 mortgage from a local bank and a $7,000 second mortgage from the seller. With $2,000 of his own money down and some challenging bills to pay, he became one of Manchester's youngest landlords.
"I was able to refurbish the building from what my father taught me in the trade over the years," he said. And he continued working in his father's business as he paid his bills, collected rent from his tenants and saved for future investments.
He continued to acquire residential properties until 1998, when he decided to focus on the commercial side of the real estate business.
"Between myself and a couple of partners," he said, "we had about 1,800 apartments in the city." Gamache now owns 10 commercial properties, including the 220,000-square-foot Manchester Mills building in the south end of the Millyard. The building he is now renovating at 62 Lowell St. cost $450,000 to buy, and he estimates he will have spent $650,000 in renovations by the time he is done this spring.
Financing doesn't appear to be a problem for him these days, though he notes banks are generally more cautious about investments in commercial than in residential properties.
"With residential, a tenant moves out, you put an ad in the paper and it rents again. It's a little more risky in the commercial market."
The risks, he said, are part of the adventure. "It's a whole different kind of work. I find commercial a little bit more intriguing and exciting."
And he hopes future tenants and customers will find his part of Lowell Street a little more "intriguing and exciting" when his latest project is completed this spring.
"We hope to get everybody in there between April 1 and June 1," said Gamache. "Hopefully, we're on the way to attracting more people into the area."