Design work begins on Blue Cross building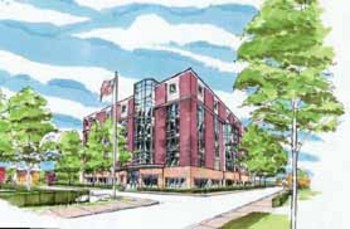 Engineers and architects from The H.L. Turner Group Inc. in Concord have begun working on the designs of the long-awaited retrofit of the former Blue Cross and Blue Shield of New Hampshire building in Concord.
The six-story, 120,000-square-foot structure has been vacant for nearly a dozen years. Developer Steve Duprey is planning an approximately $8 million renovation project.
Located at the corner of Pillsbury and South Main streets, the renovated condominium office project will feature nearly 500 parking spaces, a 3,000-square-foot fitness center, a café and a shared meeting room to which each tenant will have free access.
An accessory building on site will be leased to a day care center for $1 per year, with the provider giving first priority to the children of people working in the building.
"The recycling of existing buildings is one of the best examples of sustainable design," said Gerry Blanchette, senior vice president of engineering for Turner. "All of the natural resources and energy expelled to develop the site and to construct the six-story building shell do not need to be replicated."