Dennis Delay: a remembrance
NH economist long shared his insights in an 'easy-to-understand' way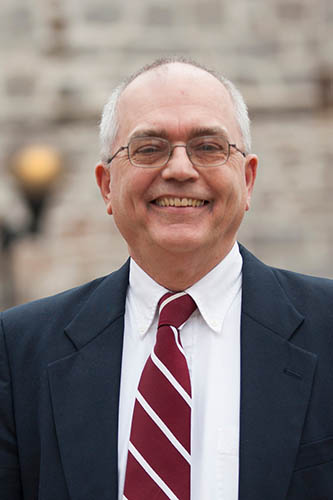 When I started the reporting for NH Business Review's annual economic summary of 2015, the first person I called, as usual, was Dennis Delay, one of the best economists in the state.
He would be out all week, I was told. That was unusual because he was almost always available and eager to help. But deadlines are deadlines, especially when trying to get a story out before the holidays. I had just missed him.
I will continue to miss him.
Delay died on Dec. 18 of a chronic and fatal non-cancerous lung disease. His death at 65 took many of his closest friends by surprise, because Delay didn't really go on about his illness. Indeed, he never really drew attention to himself, either personally or professionally, even though "he probably knew more about the New Hampshire economy than everybody" – high words of praise from the mouth of Russ Thibeault, my other major go-to economist over the past two decades or so.
Thibeault, founder of Applied Economic Research in Laconia, was always the entrepreneurial one, with clients to serve. Delay was more the institutional guy, starting out with Public Service of New Hampshire, where he churned out annual economic reports using often-overlooked statistics – like how many homes and businesses were requesting new electrical service.
Later, he worked for the Workforce Opportunity Council, and when he died he was the economist at the NH Center for Public Policy Studies, where he had worked for nine years.
The center's director, Steve Norton, said he hired Delay as a "bridge from the policy world to the business community," a role he successfully undertook, but he also branched out to explore such issues as crime and the retirement system.
But the biggest surprise was his sense of humor, said Norton.
"He had credibility because of his calmness and his straightforward approach to policy conversations – the fact that he was very humble, and he had a very impish wit, something you don't often get with economists," Norton said.
'A practitioner'
Delay also was the New Hampshire forecast manager for the New England Economic Partnership (NEEP).
His latest and last NEEP report, published last October, was chock full of macro statistics and individual jobs-related news from a variety of firms, whether it be a company in Lyme awarded a 10-year, $20 billion defense contract or the buyout of a small robotics firm in Nashua, resulting in 20 jobs heading across the border.
But Delay rarely got lost in the weeds, usually presenting a broad picture.
"He was very good at ferreting out obscure stats and interpreting them in a way that made sense," Thibeault said. "He wasn't a theoretician, but a practitioner. He was interested in the economy of the state – what's good about it, what's bad about it and what he should do about it."
He didn't have an agenda, recalled Stuart Arnett, who counted on Delay's economic reports back at PSNH when he was the state's economic development director from 1998 to 2006.
That's when the state was doing well compared to surrounding states. "His reports showed that New Hampshire was in such a competitive position, it became part of the state's marketing material, but it was credible because it was a clearly objective piece."
'A deep knowledge'
More recently though, Delay was troubled by some of the state's economic trends, said Dean Christon, executive director of the NH Housing Finance Authority, who worked with Delay on a housing report published three years ago.
Two concerns were the state's aging demographics and the outmigration of its population. The state housing stock however was built for a growing younger population, with regulatory barriers restricting growth.
"He not only had a really deep knowledge of the state's economy. He kind of knew what made us tick as a state," said Christon.
Another of Delay's major contributions was his stress of the importance of manufacturing to the state's economy.
David Juvet, vice president at the Business and Industry Association, recalled an "aha" moment when, during a tour of local factories, Delay discussed how manufacturing was potentially the largest contributor to economic activity in the state.
He later worked on a key BIA report on advanced manufacturing, as well as the state's strategic plan, which also touted high-tech manufacturing.
"We've come a long way," Juvet said. "A decade ago, if you brought up manufacturing, people would look at me like manufacturing is dead. I don't think that's the perception anymore. It has become a major issue. He was the one who illustrated that to me."
Before Delay died, he did see a bit of a comeback in the number of manufacturing jobs in the state. In his last forecast, he predicted that manufacturing jobs would grow at a slow but steady 0.2 percent each year, and that manufacturing output would increase at a faster rate.
But even more important than Delay's economic insights was his ability to "share them in a way that was easy to understand," said Thibeault, whether it be to executives, lawmakers, journalists and, as a frequent radio and television panelist, the general public. "We all understand the state's economy better because of Dennis and his work."