Demystifying solar
Are homebuilders and consumers warming up to rooftop installations?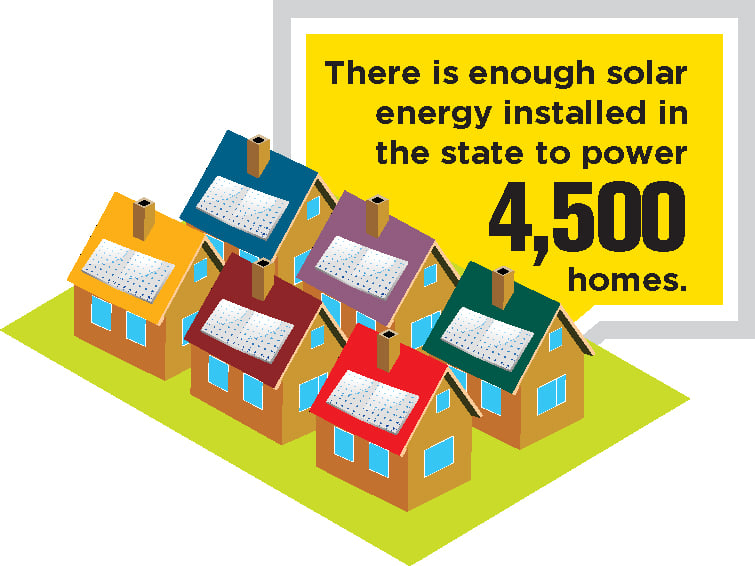 The growth of solar power in New Hampshire has been exponential – roughly doubling over the past two years — but it may have some homebuilders scratching their heads.
In 2015, 730 people were employed in the solar industry in New Hampshire, and not all (though probably most) were in con­struction. There are about 23,000 construction jobs. It's no wonder contractors are not seeing an overwhelming demand for solar — yet.
"Rare to the point of none at all," said Russ Collins, owner of Home Innova­tions Corp. in Epping. "It's still a niche."
Even Paul Morin, the president of Tark­ka Homes, who is working on his own solar technology for commercial build­ings, says that only about one in 10 of his residential custom homes even asks about solar.
"They might mention it in a halfheart­ed way," Morin said. "How much would it cost for you to toss it in there?"
But it's all bound to change. The price of solar panels has plummeted, as have installation costs. With two major sub­sidies – the federal tax credit and the state renewable energy rebate – still in place, rooftop solar is not only an environmental but economical alter­native.
Expect the growth in the near fu­ture to be in residential rooftop, since the laws and regulations lifting a state net metering cap favor residential over commercial.
One reason the cap was reached so quickly last year was a new metering law made it easy for a few big projects to take up most of the net metering ca­pacity. Going forward, projects of more than 100 kilowatts will only be allotted a fifth of the new 100-megawatt capacity.
So while there is little room for more large projects, there is still room for so­lar panels on the roofs of some 5,000 homes and small businesses in the next year. After that, the new net metering rules are likely to be less generous to residential solar, so the rush is on.
​Homebuilder considerations
There is no required certification for in­stalling solar in New Hampshire, though there is in other states. However, there are voluntary solar programs. ReVision Energy, for example, gets its staff cer­tified by the North American Board of Certification Energy program.
There are local code requirements, which are "all over the place," said Kate Epsen, executive director of the state's Clean Tech Council. While some towns require an engineer sign off on it, some towns don't require inspectors at all. Ep­sen said she was attempting to formu­late a model code for towns to follow – voluntarily, of course, "because this is New Hampshire."
The signoff usually has to do with snow load requirements, since the panel does add extra weight to a roof.
The state does require that any electri­cal work be done by a licensed electri­cian, but what exactly constitutes elec­trical work? Hooking up the solar panel to your home's wiring system? Ground­ing the railings that hold the panels and the footings? Installing the railings and footings themselves?
Some building inspectors have inter­preted a recent NH Electricians' Board ruling in the affirmative to all of the above, meaning that electricians actu­ally have to drill holes in the roof to put in the footings. This causes two prob­lems: Some contractors could void a roof guarantee unless the work was done by a qualified roofer, and then there's finding an electrician able and willing to do it.
"Real electricians here don't want to do roof work," said Jack Bingham, owner of Seacoast Energy Alternatives. "A company that hires subcontractors doesn't have the luxury of telling them what they are going to do. They tell us what they are willing to do."
But if the panels are not grounded properly, it could result in injury or fire. The state Legislature tried to weigh in, but backed off when the Electricians' Board promised to issue its own clari­fication: Electricians would no longer have to install the footings, and would only have to in­stall the railings if it is a re­quired part of the ground­ing system.
Some rails are now made out of fiberglass for this very reason, explained Steve Rancourt, a Pelham electrician. Others have separate components that have to be wired together. The installer can install the components, and then the electrician can put them together.
But Pablo Fleis­chmann, co-owner of Green Energy Options, a solar store in Keene, thinks the requirements are "ridiculous." Yes, the electri­cian has to do the proper ground­ing, he said, but there is no reason he has to actually attach it to the roof.
"They can ground it after the fact," added Bingham. "Until then, they are just a hunk of metal."
Financing the project
But rooftop solar is more than rails and footings. It's selling the promise of en­ergy delivery – often with a long-term financing
arrangement – part utility and part bank.
Traditionally, local installers sell their systems outright, with an estimated "payback" period to recoup the invest­ment. Some had enough to front the cash. Others take a home equity loan or go to a bank and ask for a loan based on utility savings. Some banks have been reluctant to do that.
"We try to work with local banks," said Fleischmann. "But we have to explain to them the economic value of the asset. It seems pretty straightforward. You loan $15,000 and you save $150 a month on your electric bills, but not a lot of fi­nancial institutions are willing to accept that."
Some financial products cater to roof­top solar. For instance, ReVision Energy offers a loan that advances the cost of the federal tax credit and state rebate, interest-free for a year, followed by an­other loan that covers rest of the cost with 2.99 percent interest rate. That way the homeowner pays nothing up front, and his or her monthly payments are supposed to be roughly what was saved every month. At the end of that loan, the homeowner gets the electricity for free.
"Our take on it is that the homeowner should own the benefits of that ar­ray," said Dan Clapp, New Hampshire general man­ager for ReVision Energy.
But at the start of 2015 – with the entry of SolarCity, followed shortly by Sun­run, two publicly traded solar giants – another op­tion became available. The company, not the home­owner, owns the array and leases it either by charging the homeowner a month­ly payment, or selling the homeowner power for a set amount per kilowatt-hour.
SolarCity offers both options, but primarily sells power, starting at slightly under the utility rate, with a 2.99 percent increase every year 20 years – lower than the amount electrical rates have in­creased in the past.
"This way, you don't have any money up front, you save from day one and your house isn't on the line," said Lee Keshishian, SolarCity's vice president of East Coast regional operations. "And you don't have to deal with long-term maintenance. You know exactly what you are paying for electricity for the next 20 years."
Sunrun offers a 1.99 percent interest rate, or a straight monthly payment, which similar to stretching utility bills throughout the year.
Consumer protections
But is leasing a better deal for the homeowner?
"Leasing is a terrible idea," said Judi Farr, owner of Farr Better Ideas, which sells systems with other companies.
Banks, she said, may be reluctant to refinance your home when you are leas­ing out your roof to a third party, and it could interfere with the sale of your house as well. Electric rates have actu­ally decreased recently, and if that con­tinues, "you might be paying more."
In addition, it is the installer, not the homeowner, who collects the rebates, the federal tax credit and the deprecia­tion off their taxes.
Even more important: leasing ties your energy future to a third party, added Bingham.
"I have always thought solar was an opportunity to free oneself from a high­er power," he said. "With leasing, you are paying someone well into the future. If buying panels feels like buying a car, leasing feels a lot like a mortgage."
In fact, SolarCity's agreement includes about 18 pages of fine print following the disclosure page, which guarantees that it will service the system for the next 20 years.
The growth of companies like Solar­City has brought scrutiny in some states, including Arizona, which passed its own solar consumer protection law. But there have only been a few documented com­plaints. Still, the Solar Energy Industries Association issued its own Solar Busi­ness Code.
"In New Hampshire there have been no complaints," said James T. Boffetti, se­nior assistant attorney general in charge of consumer affairs.
"Consumer protections can't hurt," said Epsen.
And what do you do with your panels should they need to be serviced?
"It's getting so mainstream that it's al­most the same as you would do for your car," Epsen said. "You'd find a good me­chanic."