Democratic Legislature can find some common ground in governor's budget, but only some
Points of contention include business taxes, family and medical leave plan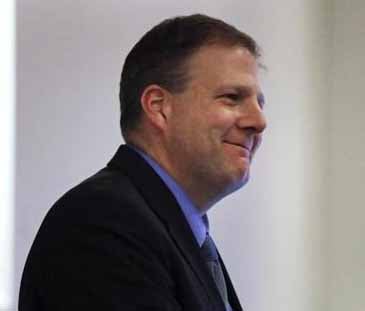 Gov. Chris Sununu's budget address did not offer many details on matters of especial concern to New Hampshire businesses, but there were a few glimpses of his priorities: support of continued business tax rate decreases; a voluntary family and medical leave program; support for sports betting; a lot more spending on school building aid; alleviating the state's workforce shortage; and some funding to help landlords get rid of lead paint in their buildings.
Lawmakers have already started to act on some of those areas, with some actions apparently in sync with the governor and some in almost the opposite direction, setting the table for major negotiations and perhaps even a possible stalemate.
There is certainly room for agreement on the governor's proposal for one-time $63 million funding for school building aid. Less than an hour after the speech, the House passed – in a voice vote without debate – House Bill 196, which turns the $50 million ceiling on such spending into a floor, effectively ending a near decade moratorium on any substantial school construction aid. Such a change will not only be important to school districts, but to the construction industry.
Both branches of government also appear to favor taking action to alleviate the workforce shortage. The governor said he favors spending $32 million to help pay the college loans of students who agree to work in New Hampshire, an expansion of a program that was begun last year for those who in the regenerative medicine field.
On Thursday, Senate approved a program that would match up employers that want to give $1,000 a year in student loan relief to graduates. It has no state funding, but could in the future.
Lawmakers will also likely welcome Sununu's support for $5 million of funding for the lead remediation fund. That is just $1 million less than the amount in grants to landlords that was dangled by lawmakers last year in order to win support for a new tough lead remediation law at the start of the session. But at the last minute, lawmakers changed that grant into a limited loan guarantee program.
On the other hand, lawmakers in both chambers have moved forward to return the rate of business taxes to levels that were in effect last year and eliminating future scheduled decreases.
"High taxes come at the high cost of the erosion of our state's economic competitiveness. We should not, and cannot turn back now.," the governor said in his address. "A healthy business cycle is predicated on certainty. Our businesses small and large order many of their affairs according to our government's long-term plans – it is irresponsible governance for the legislature to ping-pong core tax policies every two years."
This is obviously going to be a major point of contention in the months ahead.
The same could be said for the governor's bi-state family and medical leave insurance plan, which he said he would include in the budget, releasing enabling language for the plan later in the afternoon.
Under the governor's plan, private employers and employees could voluntarily join a plan the governor hopes to negotiate with state workers in conjunction with Vermont. However, the state employees union in Vermont has already said its members prefer to join a plan working its way though that state's legislature.
Meanwhile, the NH House Labor Committee on Wednesday recommended passage of a mandatory paid family leave program financed though payroll deductions that critics decry as an income tax. At deadline, the Senate passed a similar bill on a 13-10 part-line vote a few hours after Sununu's budget address.
The governor said his plan "will help create a truly voluntary paid family medical leave plan that will never create or require an income tax."
By putting the plan in the budget, Sununu is almost inviting lawmakers to do the same. Lawmakers may not have enough votes to override the governor's veto of a stand- alone family and medical leave program. But vetoing a bill and vetoing a budget are two very different things.