Demand high for Great Bay Community College high-tech manufacturing students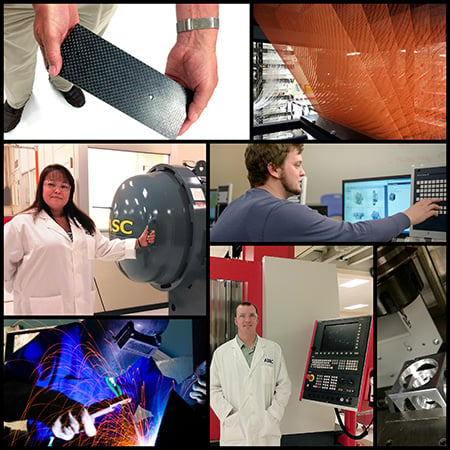 From the lighter, stronger jet engines of the future to turbines that transform wind and water into green energy to prosthetics that change patients' lives — advanced composites are emerging in the world's leading markets and driving demand for highly skilled manufacturing technicians.
With a focus on technical and academic training, Great Bay Community College is meeting that demand with the opening of its Advanced Technology & Academic Center in Rochester and expansion of manufacturing training and education programs covering everything from composites to advanced welding to precision CNC machining.
GBCC will add 10,000 square feet to ATAC by spring, continuing its growth as the only advanced composites manufacturing training center in New Hampshire, offering specializations like 3-D weaving, bonding and finishing, resin transfer molding, composites repair, nondestructive testing and more.
"We need to graduate at least 200 students a year to meet demand for a growing [advanced composites] workforce," GBCC curriculum designer Debra Mattson said. "Most of that need is local, but we're also getting calls from as far away as North Carolina and Michigan. They're looking for people with the exact skills we're teaching."
The advanced manufacturing industry has spoken highly of GBCC advanced manufacturing graduates in general, with hiring rates as high as 100 percent for some classes.
Diverse offerings
In addition to composites training, GBCC's labs at ATAC, SIG Sauer in Portsmouth, Spaulding High School in Rochester and the Seacoast School of Technology in Exeter feature 3- and 5-axis CNC machining (including simulation classrooms for beginners), advanced welding processes, 3-D printing and design technologies. Labs contain the same cutting-edge equipment found on professional production floors, facilitating seamless transitions from classroom to career.
GBCC also recognizes the need for strong foundational and "soft" skills in any successful workplace. To this end, the tuition-free, 60-hour WorkReadyNH program is available to eligible students at all NH community colleges. WRNH helps job-seekers and career builders improve math, reading, information-gathering, communication, team-building and problem-solving skills. Its assessment and training services enable students to earn two nationally recognized certificates, while helping employers identify qualified career candidates.
With technical programs from eight weeks to two years in length, plus weekend, evening and online class options, training can be customized to meet needs of students and employers alike. And while many students are hired immediately after program completion, credits are stackable toward more advanced training.
"Our students can continue to learn while they earn, as a number of opportunities are available for those who choose to continue their education towards a degree or advanced certification," said Mattson.
And it's making a difference
"Our students are obtaining well- paying high-tech careers after their training here," Mattson said. "It's affecting their lives — and those of their children, their families."
AMPed NH
GBCC and its six sister colleges are part of NH's Advanced Manufacturing Partnerships in Education, a
statewide initiative that unites the colleges with more than 200 industry, state- and federal- agency partners to offer industry approved education and training. Under a $20 million USDOLETA TAACCCT grant, advanced manufacturing labs at each of the colleges were opened or overhauled with state-of-the-art equipment.
Five ways NH community colleges serve employers:
1. Their diverse selection of more than 30 advanced manufacturing certificate and degree programs was designed in partnership with industry, ensuring delivery of relevant skills across myriad disciplines.
2. Programs customized to meet specific employer needs can be offered online, on campus or on the worksite.
3. In-class visits, industry tours and the AMPed NH Student Online Suite (offering an online networking community, ePortfolios and more) put employers in touch with potential employees.
4. Career-focused training at the colleges reduces on-the-job training time once students are hired.
5. Staff can connect eligible students and employers with resources for traditional financial aid and funding from the
Workforce Investment Act and NH Job Training fund.
"My current position is with Safran USA. The skills I learned at Great Bay prepared me 110 percent for this position and to expand in this position, where the sky is the limit. The faculty is amazing. They do all they can to help you succeed. I never thought in a million years I'd be going to college … If you want to make a change in your life, you have to get out there and make it happen, and Great Bay Community
College is going to help you do it."
— Kerri Uyeno, single mother of three, hired immediately after finishing six-month composites program at Great Bay Community College