Demand continues to rise for senior living projects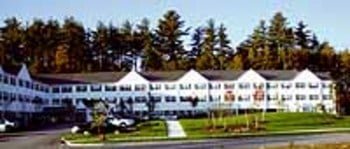 Today's retirees are more well off than their parents were. They're also healthier and living longer. As a result, many in their 50s, 60s and beyond are making a choice about where they want to live. With nearly 220 independent and assisted living communities already in New Hampshire and more on the way, the Granite State is poised to create a golden opportunity for its citizens in their golden years.
As the retirement-age group grows both nationwide and in New Hampshire, senior living communities also are growing in popularity.
"We've seen tremendous demand in the last five years," said Ken Holmes, principal of Henniker-based North Branch Construction, a general construction firm that has built several retirement communities around the state. "We've built more in the last five years than ever before."
White Rock in Bow, an independent living community for those 55 and older, is an example of just how popular these types of neighborhoods are. Phase I was completed last December, and the 73 units were sold out before construction was completed. The 43-unit Phase II won't be completed for a couple of months and it, too, has been sold out.
Based on these situations, North Branch and designer/developer Green Mountain Group of Burlington, Vt., are hoping to start Phase III by late fall 2003.
Retirement living can be broken into three major categories based on the services offered and the needs of the residents:
– Independent or active retirement communities, designed for those who require little or no regular personal or medical care. They offer services, such as property maintenance, community dining and activities.
– Assisted living, facilities that provide broader medical and personal care services like bathing and medication and meal-preparation assistance.
– Nursing homes, essentially hospital- or state-run long-term care facilities for those requiring 24-hour medical and personal care and supervision.
The popularity of this type of housing stems from a variety of factors, not the least of which is cost.
White Rock, like many retirement communities, has set aside units for seniors with restricted incomes. Quail Hollow in West Lebanon, another community being developed by the Green Mountain Group, has 114 apartment units that range from $500 to about $1,000 per month.
"The cottage units, similar to a townhouse, range from $1,600 to $2,000," said Charlie Brush of Green Mountain.
It would be difficult to find units in that price range closer to Boston, according to Holmes.
Services, support
More than just an apartment complex or master-planned community for those over 55, senior-living homes themselves are specially designed for mobility and convenience.
"They are designed to be 'user-friendly' with wider doorways to accommodate a wheel chair if necessary, grab bars in the bathrooms, and for detached homes, built on a single story," Brush said.
Dan Redfoot, a housing specialist with the American Association of Retired Persons, said that, given the choice, most retirees would choose to stay in their current home, but active retirement neighborhoods and assisted-living communities are a popular option. It's the services offered at retirement developments that provide "an alternative to nursing homes," said Redfoot.
Available support services, like meals and medical care, while retaining some level of independent living, can make all the difference.
Many communities provide services that are scalable, meaning that residents pay for as much or as little as they use.
"At White Rock, the services are much more flexible and resident-driven vs. a more medically driven model at a nursing home or even an assisted-living facility," said Brush. "All our services are available a la carte. We let you design your own lifestyle."
The state is encouraging the development of these types of communities, as are towns themselves. While residents gain from preserving independent living as long as possible, the towns that allow such facilities within their boundaries also reap benefits.
"Many communities are looking to bring such developments in their towns because an elderly tax base doesn't burden the communities, primarily in the form of building schools," said senior planner Ben Frost of the Office of State Planning. "Also, as citizens age, communities are trying to find ways to keep them in the same towns they've lived in for years by building senior housing."
He added: "These types of developments will become really important in the future."