Debate over logging takes root in North Country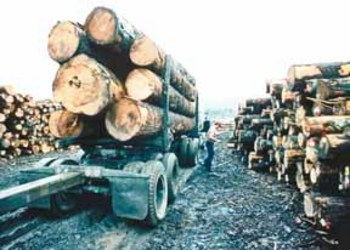 Is logging threatening the future of the Great North Woods? That's the question two key industry groups will try to resolve with a study of recent timber-cutting patterns.
The New Hampshire Timberland Owners Association and the Society for the Protection of New Hampshire Forests hope to settle a debate over whether recent logging is damaging the forest. They'll also look at the economic issues behind the logging.
"We need to get a better handle on the forces influencing accelerated harvesting," said Charlie Niebling, Forest Society vice president for policy and land management.
Niebling said clear-cutting in Coos County, especially near Berlin, could hamper the forest's productivity by leaving a bad mix of types and ages of trees.
"What is happening to the forests of the North Country right now does not bode well for the future of the land base, and the economy and wildlife that depend on it," he wrote in a letter to the Coos County Planning Board last July.
But NHTOA Executive Director Jasen Stock said the concerns are overblown.
"People cry that the entire North Country is being logged off and you're going to have a moonscape up there. That's just not going to happen," he argued.
The debate boiled over at a Coos County Planning Board hearing in January.
"If there's anything we believe in Coos County, it's people have a right to do what they want with their land," said Coos County Planning Board member Fred King, trying to assuage industry fears of a legislative crackdown.
"The problem is the future," King, who's also a state representative, said. "Where's the fiber going to come from in the future if it's all getting cut today?"
King noted a sharp increase in the county's anticipated revenue from logging. That number has held steady at about $242,000 per year for the last three years. Notices filed by loggers suggest it could leap to as much as $1.7 million this year.
An overreaction?
Local residents say you don't need to look at paperwork to see the acceleration in logging. They point to a patchwork of newly cleared areas in Success, just east of Berlin.
"They've shown up this winter as the snow came," said certified forester Julie Evans at her house in Milan, which offers a sweeping view of the forest. "They're starting to hook together so they're more visible."
Many observers say the cutting is driven partly by rapid changes in land ownership. Big timber companies once controlled large areas of the Great North Woods. In recent years these companies have sold off their land, and some parcels have been bought and sold multiple times.
Retired forester Brad Wyman said it gets harder and harder for each new owner to make a profit. "When the land gets sold it seems very frequently to get sold to the very highest bidder," he said, "at prices that leave very little option than to cut heavily."
But defenders of the industry charged critics were overreacting.
"What you're using for comparisons here is totally ridiculous," said Tom Dillon, head of the TR Dillon logging company.
Referring to the $1.7 million in projected timber tax, he argued loggers routinely overstate the amount of wood they plan to cut because they're penalized if they underestimate their take.
"You're trying to make something out of something and you're using the wrong formula," he said.
Dillon forester Ted Tichy bristled at the suggestion that the company is buying land only to strip and resell it. "We're trying to make a long-term solution and a business out of it," he said of the company's land in Success.
Elected officials from Berlin, the home of a large pulp mill, were anxious about any regulation that could hamper the mill's ability to buy wood.
Berlin Mayor Bob Danderson argued the mill is a linchpin of the North Country's economy.
"That mill, these timber-cutters affect a lot of different industries in this county," he said. "They buy equipment, they have fuel, you have tires … there's a lot of people affected."
In recent years, neighboring states have tried to outlaw timber liquidation — that is, the stripping and quick resale of land.
A new law in Maine, for example, restricts the size and density of cuts on land that's going to be resold within five years. But critics charge such measures only promote bad forestry.
"If I have a hundred square feet of trees on my property," said Jasen Stock, "and I'm required to leave half, and half are really nice and half are kind of junky, well, guess which half is going to go? You can't legislate good forestry."
Niebling of the Forest Society said he agrees it's difficult to write good forestry laws.
"I don't presume to have the magic solution," Niebling said. Still, he doesn't rule out some form of regulation. At the January meeting, he expressed hope that environmentalists, loggers and others could work together to find an answer.
"What's wonderful about this state is the willingness of people to pull together around a concern and find elegant solutions that are unique to New Hampshire," Niebling told the crowd.