Day in court looms for execs of Cabletron's largest remnant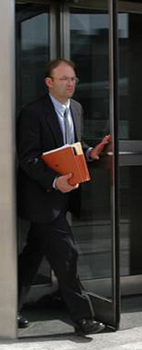 Piyush Patel, the former chief executive officer of Cabletron Systems who engineered the 2001 division of the company is one of the few high-ranking executives involved with the split-up not facing charges of securities fraud.
None of the remnants of Cabletron — once the state's largest employer – is still a public company, and all but one of them have long left New Hampshire. However, the fallout continues from the split-up five years ago.
Early next month, in U.S. District Court in Concord, five executives of Cabletron's largest spinoff company — Enterasys Networks – are scheduled to go on trial to answer charges that they used third-party companies to wildly inflate revenue during and right after the spinoff. Earlier this month, the U.S. Securities and Exchange Commission charged six top executives of the other spinoff – Riverstone Networks – with similar behavior in a civil complaint, with the possibility of criminal charges to follow.
Both alleged conspiracies began in June 2001 while the companies were still part of Cabletron. Indeed, the behavior echoes allegations that were hurled at Cabletron in a class action suit, which eventually was settled. But what is unclear is whether these allegations will end with Riverstone and Enterasys or continue up the pyramid of top executives at the original company, Cabletron, itself.
Patel – whose attorneys did not return phone calls for this article – was the hand-picked successor of Craig Benson, a co-founder of Cabletron who went on to serve a term as governor.
Cabletron brought Patel on board in 1998 after it acquired Patel's California company, YAGO Systems, for $200 million. Patel became CEO in 1999, and proposed that Cabletron be split into four companies to increase shareholder value.
As the high-tech bubble imploded, only two of the spinoffs became public companies — Riverstone, a shadow of YAGO, and Enterasys, a revision of Cabletron.
Also in the top management at Cabletron at the time were David Kirkpatrick, the chief financial officer, and Enrique P. Fiallo, who pleaded guilty to fraud charges at Enterasys, Romulus S. Pereira, who is charged with fraud at Riverstone. While Kirkpatrick was named in various class action lawsuits he has not been charged by any federal authorities.
Enterasys case
In an interview with New Hampshire Business Review shortly before the spinoffs became public companies, Patel boasted that both spinoffs were "meeting and exceeding" expectations.
But it wasn't long after both companies issued their IPOs in 2001 that those expectations were shattered. Both companies, facing SEC investigations, restated their revenues substantially, their stock plummeted and investors faced major losses a few years later after the companies went private, Enterasys via a sale to private investors and Riverstone through the sale of its assets to Lucent Technologies in a bankruptcy sale.
It is in that bankruptcy court that Patel's name has surfaced again. He negotiated a deal with RNI Wind Down Corp., Riverstone's bankrupt shell, to set aside $650,000 to defend Patel against any legal action against him. In previous filings, Patel's attorneys revealed that Patel himself had been a target of the SEC investigation that may or may not be continuing.
In the Enterasys case, the company's first CEO, Fiallo, pleaded guilty in September 2004 to charges of inflating revenue, joining former Enterasys vice president Gail Spence Luacaw, who pleaded guilty the previous month, ex-assistant controller Anthony Hurley and former executive Gary Workman, who pleaded guilty to wire fraud in May 2004.
Contesting the charges in the November trial are former Robert Gagalis of Rye, the former chief financial officer, and former finance executive Bruce D. Kay of Yarmouth, Maine, both of whom were charged in May 2004. The former chief operating officer, Jerry A. Shanahan, now living in Ireland, Robert G. Barber of Durham, Hor Chong Boey, a Malaysian national, was working at the company's Singapore office, were all charged in March 2005.
According to the federal indictment, Enterasys invested in several third-party companies in exchange for agreements by those companies to buy Enterasys products. It then allegedly hid those transactions from shareholders in order to boost sales for the first quarter after being spun off of Cabletron.
When the company restated its sales for the quarter ending Sept. 1, 2001, revenue fell from $240 million to $157 million. News of the investigation into the transactions and the restatement caused the stock to plummet. In one day, the per-share price dropped from $10.80 to $4.20, or a total of approximately $1.3 billion in value, according to the indictment.
While all of the Enterasys defendants will be contesting the charges, they are not expected to present a united front.
For instance, Shanahan has asked in court to sever his trial from the others' because, he claimed, Barber's earlier SEC testimony incriminated him. In that testimony, Barber said that he accelerated a deal with Worldlink Technologies – in which a $6.3 million investment resulted in sales of $5.3 million in products – at Shanahan's request. Barber testified Shanahan didn't know why he wanted to close the investment deal earlier, but he assumed it was because "he needed the revenue."
The trial was supposed to take place in March 2006, but it was delayed because of a dispute over the prosecutors' aggressive stance concerning Enterasys' reimbursement of the defendants' attorneys. District Court Judge Paul Barbadoro ruled that this amounted to a violation of the defendants' right to counsel. In order for the hampered defense attorneys to get up to speed, the trial was continued to Nov. 7.
Riverstone probe
As for the Riverstone investigation, in a civil complaint filed Oct. 13 the SEC charged that Pereira, Riverstone's first CEO, and Robert Stanton, Riverstone's first CFO, conspired to inflate revenue, mislead the SEC and the company's own auditors
The alleged conspiracy also included L. John Kern, former executive of worldwide sales, Andrew D. Feldman, vice president of marketing, William F. McFarland, vice president of finance, and Lori H Cornmesser, director of sales operations. All, save McFarland, date their tenure at Riverstone when it was still a subsidiary of Cabletron, and all, save McFarland, allegedly enriched themselves at stockholders' expense.
The charges say that the defendants recorded phony sales with numerous companies, hiding secret side agreements from regulators that would have discredited the sales. The defendants then lied on reports filed with regulators, the complaint charges.
"As a direct result" of these deals, the company inflated revenue by nearly $30 million, the complaints charge. After Riverstone announced its investigation of the SEC in 2002, its stock price was cut in half, to $7.70 a share, a change in value of nearly $1 billion. After Riverstone eventually reinstated its earnings in August 2003, the company's stock price plummeted again.
But before the stock fell, the officials allegedly enjoyed the benefits of the artificially inflated price. Pereira, according to the complaint, profited the most, gaining $1.2 million from stock sales.
The civil trial of the six Riverstone defendants is at least a year away, if it is not settled beforehand, said Leslie Hughes, an SEC attorney. Hughes declined to comment further on the case.
Riverstone filed for bankruptcy in February, and the SEC halted trading in its stock shortly afterward. Although its assets were purchased by Lucent Technologies in May for more than $200 million, the company initially was only able to return to the shareholders $1.06 a share, compared to the $14 that it sold for during the spinoff. Few investors expect to receive more than a half-dollar more a share.
One of the delays in any subsequent distribution is the claim of the defendants (save Cornmesser) against RNI Wind Down Corp. With Riverstone's insurance policy exhausted, the defendants are demanding that RNI pay their legal fees.
Kern and McFarland have settled with RNI for a total of $1.5 million, but Pereira, Stanton and Feldman are asking for a total of $12 million, or $4 million each, according to Bill Baldiga, an attorney for the shareholders in bankruptcy court. RNI maintains it doesn't have to pay the officials.
In early pleadings on the matter, Pereira said he might need the money to defend himself against a criminal investigation. (The civil charges don't preclude criminal charges.)
A trial on legal reimbursement is now scheduled for Nov. 8 in Delaware bankruptcy court, the day after the trial of Enterasys officials is scheduled to begin in Concord.
Whatever money spent on the defense of these officials – for allegedly defrauding shareholders – will be deducted from any distribution from the bankrupt estate to the shareholders.