Dartmouth professor honored by British Crown
Eric Fossum received the world's top engineering prize for his work on the CMOS image sensor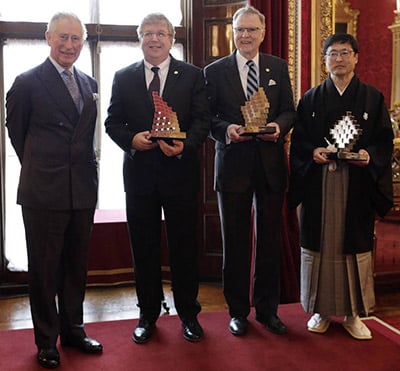 Dartmouth engineering professor and entrepreneur Eric Fossum has received the world's top engineering prize for his work on the CMOS image sensor that is at the heart of digital cameras found in today's smartphones. As an inventor, Fossum has received 161 U.S. patents, including the CMOS image sensor.
Fossum was one of four recipients of the international, 1-million-pound Queen Elizabeth Prize for Engineering in 2017. The prize celebrates groundbreaking innovations in engineering that have had a major impact. This year's award recognized the winners' work in digital imaging sensors over the past half-century.
Fossum received the prize from Prince Charles in a Dec. 6 ceremony at Buckingham Palace.
"It was humbling to be selected for this award, especially considering how many engineers around the world have since contributed to making this technology what it is today, and to receive the award along with the giants upon whose shoulders I stood when making my own inventions," Fossum wrote in an email from England.
"In a word, I was 'gobsmacked' with the reception in Buckingham Palace. His Royal Highness the Prince of Wales was very gracious and chatted with the winners and their wives. Meeting the future king at the palace was probably a once-in-a-lifetime experience," Fossum said.
"The Queen Elizabeth Prize honors individuals whose innovations have quite literally changed the world, and that is exactly what Eric Fossum has done," said Dartmouth President Phil Hanlon.
Fossum plans to donate most of the proceeds of his prize to Camp Invention, particularly its programs that offers services to underserved children in New Hampshire.
During its one-week summer camps, the organization encourages kindergarten-through-sixth-grade students to explore science, technology, engineering, and mathematics through hands-on activities.
Fossum's donation will also support the Talcott Mountain Science Center in Avon, Conn., where Fossum says he "spent many weekends in middle school and high school involved in the experiential learning of science and computing."
Fossum shares the prize with three others: Nobukazu Teranishi, a research professor at University of Hyogo and Shizuoka University, Japan, who developed the pinned photodiode (PPD), a device incorporated into most CMOS image sensors; and retired Bell Lab scientists Michael Tompsett and George Smith, who were among the inventors of the CCD image sensor that preceded CMOS.