Dartmouth prof shares international honor for online learning
2019 edX Prize awarded for C programming initiative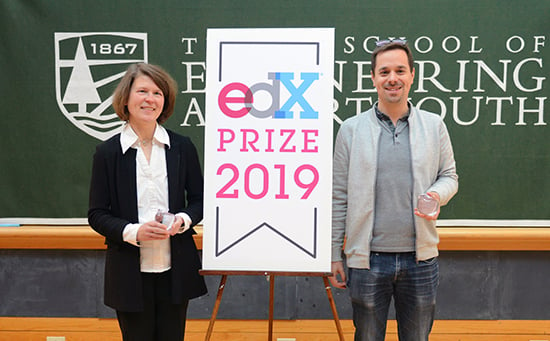 Dartmouth professor Petra Bonfert-Taylor and Rémi Sharrock of the Institut Mines-Télécom (IMT) of France have been named winners of the 2019 Annual edX Prize for Exceptional Contributions in Online Learning and Teaching. The pair were chosen from among 10 international finalists for their professional certificate program in C Programming with Linux, which launched in 2018 on the edX platform and will be offered again in March 2020.
Dartmouth and IMT were the first members of the edX Consortium to offer a joint edX.org Professional Certificate program – a series of courses designed by industry leaders and top universities to build and enhance critical professional skills needed to succeed in the most in-demand fields. More than 170,000 people have enrolled in the seven courses of the program.
The professors' self-paced program provides interactive learning tools to anyone interested in gaining an extensive foundation in C programming – a computer language widely used to build computer applications, operating systems, and supercomputers – with Linux, the software that runs a majority of servers today.
The tools used in the course can be accessed from an internet browser and do not require any installations. Skills taught in the seven-course sequence set learners on a path to become a skilled programmer with a career involving computer engineering or computer science.
"The world is a better place when knowledge flows freely," said Bonfert-Taylor. "One of my biggest passions is to transform education through the development of programs that provide accessible and high-quality student-centered learning opportunities across international and socio-economic boundaries," said Bonfert-Taylor, professor of engineering at Thayer.
Rounding out Bonfert-Taylor and Sharrock's team are: Joseph Beaudoin, senior video producer at Dartmouth; Michael Goudzwaard, DartmouthX lead; Delphine Lalire, MOOC program manager at IMT; Ella Hamonic, an independent instructional designer commissioned by IMT; and Mathias Hiron, developer at IMT.
For more information on the winning program or to sign up, visit edx.org.