Dartmouth-Hitchcock, Elliot team up with Harvard Pilgrim in shared-risk plan
The focus will be on coordinated care and a 'sustainable health system'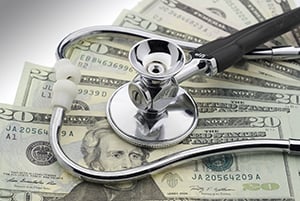 Two of the state's largest hospitals have teamed up with insurer Harvard Pilgrim Health Care in a shared-risk arrangement that they say promises to cut premiums by 10 percent for employers and workers willing to narrow their choice of providers.
ElevateHealth – established by Lebanon-based Dartmouth-Hitchcock health system and Manchester-based The Elliot Health System with Harvard Pilgrim – also would focus on coordinated care, which will further improve care and cut costs, according to the CEOs of all three nonprofits at a press conference Monday at the Business and Industry Association of New Hampshire's offices in Concord.
Eventually, ElevateHealth is expected to move into the individual market and New Hampshire's health insurance exchange under the Affordable Care Act, competing with Anthem, which right now is the only insurer participating in the exchange. But for now it will be offered to businesses that provide health benefits to their employees.
Anthem was roundly criticized earlier this month after it unveiled the network of hospitals offered through its exchange policies for individuals. The network omits several New Hampshire hospitals around the state, including Concord and Portsmouth Regional.
But ElevateHealth's 3,000-provider network – ready to go into effect Dec. 1 – is currently more limited than Anthem's, concentrating on southern New Hampshire and the upper Valley, along with Keene, Derry and New London. There will be no provider network in half of the state's counties, including the Seacoast and everywhere north of Concord.
It's not a matter of quantity, but quality, said Dr. James Weinstein, CEO of Dartmouth-Hitchcock.
Such a "sustainable health system" will consist of "taking care of people," "value, not volume" of patients, and a new shared-risk "payment model" said Weinstein.
"This has never been done between a payer and two provider systems," he added. "It will change the landscape in the way we live that needs to be changed."
Insurance companies and providers are usually in a tug of war, said Erick Schultz, CEO of Harvard Pilgrim. It is unusual for an insurance company to be "so intimate with providers. That's why this is so different."
The three groups would divvy up the pool of premiums paid through ElevateHealth. The plans will be offered by Harvard Pilgrim alongside its other health insurance offerings.
For the would-be customer, the benefits would be similar, and there will still be the high deductibles and co-pays that have become so prevalent in the field. A spokesperson for Harvard Pilgrim said that deductibles will range from $1,500 to $5,000 and primary care co-pays will range from $20 to $40 a visit.
Harvard Pilgrim did not release the premium range, but said it cost about 10 percent lower than other similar plans.
There will also be the ubiquitous primary care gatekeeper, but nurses will be more involved. Weinstein and Schultz called them "navigators" — a term used in a slightly different context with ACA exchanges — who will help patients deal with the variety of health care options.
Besides the medical center in Lebanon and affiliated hospitals, Dartmouth-Hitchcock's network of clinics, in Manchester, Nashua, Concord and Keene, will be in the network, as well as the Norris Cotton Cancer Center and its air ambulance.
As for Elliot, the state's third-largest hospital, will also include its physician network as well as the Visiting Nurse Association of Manchester and Southern New Hampshire.
Harvard Pilgrim currently covers 125,000 lives.
Other hospitals participating will be namely Southern New Hampshire Medical Center in Nashua, Cheshire Medical Center in Keene, New London Hospital and Derry Medical Center.
Catholic Medical Center in Manchester, the second-largest hospital in the state, is not on the list of participants. Neither are Concord Hospital, Portsmouth Regional Hospital, St. Joseph Hospital in Nashua, Wentworth-Douglass Hospital in Dover and Lakes Region Hospital in Laconia.
But Schultz said he will invite other providers to join and expects that they will.
"We are just out of the box," he said, although he added that even at its current size, the network was large enough for the state Insurance Department to approve it as a statewide offering.
Actually, state officials said that while ElevateHealth could offer the product anywhere in the state, they could only market it in the approved service area of Hillsborough, Merrimack and Cheshire counties, as well as southern Grafton County and western Rockingham County. The department did approve the rates, but won't release them until they go into effect in December.
Concord Hospital has already been invited to participate, but it declined to do so.
"We were not able to come to terms," CEO Michael Green told NHBR.
The deal offered might make sense to communities with two hospitals trying to capture market share, he said, "but we are very dominant in our market and they wanted a steep discount. How can we do that without losing money?"
And it is market share that this is all about, said Green.
"I don't really think it's about providing better care for the patient," he said. Concord Hospital already participates in various cost-sharing programs, including those with Harvard Pilgrim. "We already have care coordination in place today. Nothing to be offered by Elevate is different from what we already offer. This is simply an attempt to gain more insured patients."
But Elliot's CEO, Doug Dean – when asked if the state had too many hospitals – said that providers need to cooperate more than they have if they are to thrive.
"We need to begin working closely with other hospitals to be effective," he said. "If we just work as individual hospitals, the costs will escalate."