Dartmouth Health staff and Rwandan partners collaborate on gastrointestinal health
Healthcare professionals travel to Africa for 5th Rwandan Endoscopy Week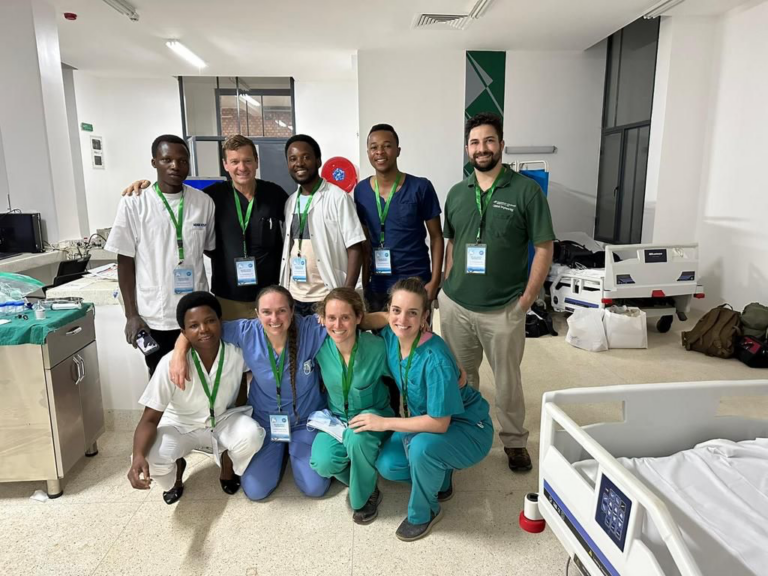 Medical staff from Dartmouth-Hitchcock Health and other healthcare facilities around the state traveled to Rwanda to take part in their fifth Rwandan Endoscopy Week (REW) to perform health checks and other procedures.
"Thirteen providers, endoscopic technicians, nurses, a biomedical engineer and a medical student from DHMC, New London Hospital and the Geisel School of Medicine at Dartmouth took part in this latest trip," said Steven P. Bensen, a gastroenterologist and hepatologist at Dartmouth-Hitchcock Medical Center, who led the group that was part of a 50-person international team.
According to the Journal of Gastroenterology, one in four adults around the world suffer from a gastrointestinal disorder, but some nations lack the equipment and skills to diagnose and treat these conditions, often leading patients to severe illness or death.
In a recent interview, Dr. Vincent Dusabejambo reported that 30 percent of patients in the East African nation of Rwanda have gastrointestinal complaints. After visiting Dartmouth Health's Dartmouth Hitchcock Medical Center in 2015 to gain a better understanding of gastroenterology and endoscopy, Dusabejambo later created a program that would bring American providers to Rwanda to train staff and deliver necessary care.
The first Rwandan Endoscopy Week took place in 2017, when Dartmouth staff provided care to Rwandan residents in need of their services.
"In 2017 we performed about 250 procedures at four sites," said Bensen. "This year we helped our Rwandan partners consult with 900 patients at eight sites. The event keeps getting bigger."
"In Rwanda, I primarily help nurses with endoscopic equipment problem solving and maintenance," said Kristin K. Sprenger, a senior advanced endoscopy technician at Dartmouth Hitchcock Medical Center. "I also perform endoscopic retrograde cholangiopancreatography, a complicated procedure that combines endoscopy and X-rays."
She continues, "Over the years, Dartmouth Health staff have gotten to know our Rwandan peers, learn how each other works and form close relationships. Nurses there have become more and more eager to learn, especially how to troubleshoot equipment issues."
Through their work, Dartmouth Health and Rwandan staff were able to diagnose and plan treatment for hundreds of patients. "Of the patients who benefit from endoscopic procedures during REW, more than 60 percent were found to have renal, intestinal or stomach problems," said Dusambejambo.
"It's a great feeling to know you're helping a community that really needs help," said DHMC biomedical electrical technician Joseph Romine. "And, it's important to broaden your perspective and realize how good we have it compared to many people in the world."