Custom-made coffins bring business to woodworker's door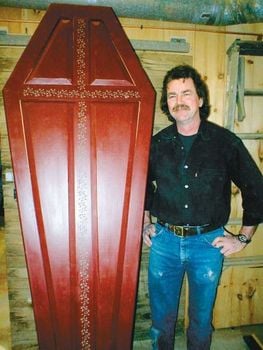 There are many crafts folk, sales personnel and customer service representatives who say they meet the most interesting people in their line of work, and Bill Hale is no exception.
For more than 30 years Hale has plied his craft as a custom woodworker, and he's met his share of satisfied customers. Says Hale: "I've met the best people doing coffins."
Yes, Hale makes coffins, an auxiliary pursuit to his normal line of kitchen cabinets, tables and other expertly finished hardwood products. But with a wry shrug of his shoulders — he's a transplanted New Yorker who's acquired a flair for Yankee understatement — he doesn't make a big deal of it. "It's just another product," he says.
Chichester-based Bay Woodworking is his major business, but it is The Down to Earth Coffin Company that generates the curiosity of reporters and, well, potential customers.
Even Hale admits that it's one thing to build a custom kitchen cabinet for someone and quite another to build a coffin for burial — though he's also made liquor case coffins, book case coffins, wine rack coffins, gun case coffins and coffee table coffins. Hale also has constructed a bed coffin, as in sleeping for the living — a request he admits was "strange."
But coffins for burial are his stock in trade. He figures coffins of the burial kind account for 70 percent of coffin requests.
The notion began when his aunt asked him to make a coffin for her. He declined at the time — "it was a little morbid when you think about it," he says — but the idea bugged him until he built one.
Personal and pragmatic
When Hale unveiled his first coffin in 1996 — and displayed it in a Contoocook art gallery — he says he was stunned by the media onslaught that followed.
His coffin-making prowess was featured on the "Regis & Kathy Lee" TV show. Wire services picked up the story as well. National Geographic planned (and then abandoned) a story. Foreign television crews showed up.
"I wasn't prepared for the media exposure," says Hale as he critiques the quality of his first coffin, which he laid out in his workshop for a visitor. "It's the most photographed coffin in the world," and likely the most traveled as well (from Maine to New York, he reckons). But this historical artifact has spatial and design flaws that would go unnoticed by laypersons.
What doesn't go unnoticed is the tastefully designed cross (a design necessity and not a religious statement, he says) and a stenciled quote from The Rolling Stones at the foot of the coffin: "I said, 'o no, don't you bother me no more.'"
Hale has since refined his approach. The seven-foot-long, 30-inch wide and 12-inch deep coffins feature stile-and-rail construction, in solid pine or hardwoods, and raised panels. They also include a variety of finishes, hand stenciling and other custom requests. (He once was asked to construct a coffin for a horse).
The burial coffins, Hale says, are popular for personal (custom handmade) and pragmatic reasons. They cost between $750 and $2,600 and are considerably less expensive than the run-of-the-mill funeral home caskets, which he says "a lot of people just don't like. People can get what they want from us."
He's built husband-and-wife sets, and he built one for his wife's uncle, one which he carried as a pallbearer.
The peak of the publicity and coffin-building phase came and went in the late 1990s. He can't remember exactly how many he's constructed, but he estimates "it's in the hundreds." With the exception of a Web site (downtoearthcoffin.com), Hale says he hasn't promoted his coffins: All of his sales have been word of mouth.
But that is changing. He's working with a marketing consultant and is thinking about licensing agreements to put logos — such as Harley Davidson's — on them. "We might go to the bike races in Loudon and see how that goes," he says of potential, leather-clad, motorcycle-devoted clients.
A few years ago Hale acquired a partner in Goose Bay Lumber and they have plans to install a Bay Woodworking retail shop at Goose Bay's Route 4 site in Chichester later this year. The displays will include kitchen cabinet prototypes and, Hale suspects, a coffin or two.