Creative and adaptable, Salem firm leads the way in photo booth market
In the U.S. alone, the company owns and operates close to 3,000 self-service photo booths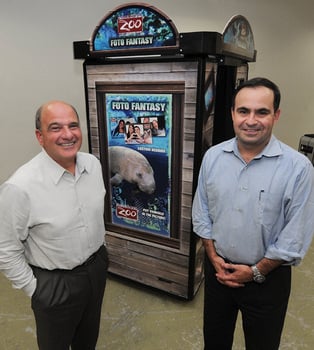 They can be found everywhere, from the San Diego Zoo to the Mall of New Hampshire to Disney World: curtained photo booths, designed and built in an unassuming facility that hugs the New Hampshire border.
The facility is the home of Innovative FOTO of Salem, which in less than two decades has become the largest operator of photo booths in the country.
In the United States alone, the company owns and operates close to 3,000 self-service photo booths, found in malls, movie theaters, amusement parks and tourist venues in all corners of the country. Internationally, it's sold upwards of 10,000 more, with photo booths in 29 countries around the globe.
In fact, the company has grown so substantially that it now corners the U.S. photo booth market. But its road to success hasn't always been such a pretty picture.
Founded in 1994 by a Russian immigrant who built photo booths in his basement, the company was backed by private equity and grew rapidly in its first five years. But the growth was "probably a little too fast," said Dale Valvo, who is now CEO. "They got a little ahead of their skis."
In 1999, the company and its largest competitor became entangled in a lawsuit that eventually made its way to the U.S. Court of Appeals. It won the lawsuit after a drawn-out legal battle, but incurred significant legal costs in the process.
Coming on board in 2005, Valvo immediately set out to fix what he saw as shortfalls in the company's operations. For one, there was no standardization when it came to building the booths. Also, software development was being outsourced, which Valvo wanted to bring in-house so the company could control its intellectual property.
"We changed the entire company," he said. "It's been a long process, but we're finally there."
'Evolutionary process'
Today, the 800-pound booths are completely standardized, down to each last component and bit of wiring, making it easier for technicians in the field — with whom the company contracts several hundred — to quickly make repairs whether the booth is in Duluth, Ga., or Albuquerque, N.M. The kiosks are even intelligent enough to call a technician themselves if they encounter a problem.
And all the functions that had previously been outsourced have been reined in so that the company is totally vertically integrated, said Valvo. With a full-time staff of about 75 employees, it has a graphics department, employs a team of engineers to design software, does all its own printing and builds every booth on-site. The company even retains ownership of its photo booths in the U.S., paying a percentage — typically 35 percent — of gross revenues to the leasing property, which needs only to provide 18 square feet and an electrical outlet.
For customers, Innovative FOTO's real forte is its ability to customize, whether that means designing a colorful double booth for M&M's World in Times Square or a decked-out dinosaur kiosk for the American Museum of Natural History.
"You don't want a generic photo booth; you want a memory of being there," said Valvo. "That's what we do best."
To take advantage of social media, the company also recently rolled out Blababooth, an interactive online photo booth that lets patrons access their kiosk photos on the Web and share them through sites like Facebook. In fact, it was Blababooth that helped Innovative FOTO to finally land a customer it had courted for a long time — Cinemark Theatres, which saw the marketing value in an interactive photo booth.
"The wonderful thing about that is we'll work in partnership with them on certain movie releases — have the graphics installed, run trailers on the video screen, and that's really been a big part of our growth," said chief financial officer Carl Annese.
"It's neat how they have evolved the booths over time," said Tim Whitaker, Citizens Bank's relationship manager for Innovative FOTO. "They learn as they go — it really is an evolutionary process."
Part of that evolution meant entering the events market by designing a portable photo booth that is sold directly to DJs and wedding planners — a business that has done well for the company, said Valvo.
Next on its agenda is breaking into retail markets. It's already developed a test program to design and build glass-walled photo booths for retail giant Forever 21, and the company hopes to land more in the future.
"The challenge of operating almost 3,000 self-service retail kiosks has its complexities," said Annese. "But it's fun — it's a great deal of fun. There's a lot of creativity going on each and every day."