Creating communities is Starter's business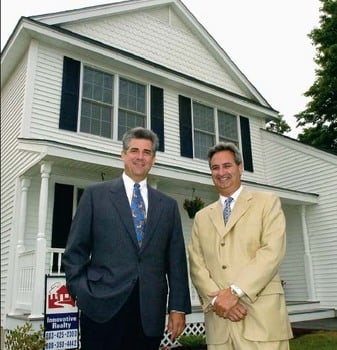 Like many business ventures, Starter Building & Development of Londonderry began almost by accident, when four small developers came together in 1989 to rescue a floundering housing project in Merrimack.
The real estate downturn had begun in earnest, and the 84-lot subdivision project "was too big for any of us to handle, but we came together," says Christie "Chris" DeRosa, one of three original partners – along with his cousin Robert Pace, Starter's president, and his brother Steven DeRosa – who remain at the helm of Starter.
It took more than three years to complete, but the Mallard Point development in Merrimack was the start of a remarkable and successful run for the company, which tapped in to the voracious southern New Hampshire market for affordable single-family homes mostly aimed at first-time buyers. Starter has since developed such major housing projects as Rolling Acres in Litchfield, Bedford Woods in Bedford, Patch Hill in Milford, Majestic Heights in Nashua, Dearborn Road in Pembroke and Sandwood Crossing at Thirty Pines in Penacook.
"We've built and sold literally thousands of homes — too many to count," DeRosa says of Starter Building & Development's legacy of offering more than 50 different models of homes in the $200,000-to-$600,000 price range.
Along the way, Starter has created a winning business plan that includes Innovative Realty, its own real estate agency, and approaches to managing money, logistical planning and employee retention that are worthy of a business school case study.
Starter has been recognized by Builder magazine as one of the fastest-growing builders in the country, but growth itself isn't a goal, says DeRosa.
"No one builds finer homes for the money. And it shows when you see the eyes of our first-time customers light up when they see their new home. More often than not, they want to hug us."
Building neighborhoods Allison Chandonnet, a vice president with Citizens Bank New Hampshire's commercial real estate group, says Starter Building & Development's commitment to community and its colleagues make it a worthy recipient of the Not Your Typical Business Award.
For instance, Starter "demonstrates its ongoing commitment to its colleagues by providing its employees the opportunity to achieve home ownership through its unique benefits program." That program, DeRosa explains, gives each of Starter's 50 employees a 5 percent discount on a Starter-built house once every five years. It's proven to be an extraordinary and popular benefit, says DeRosa.
Starter has been a Citizens Bank customer for about a decade and Citizens has provided financing for Starter's singlefamily subdivisions. Chandonnet adds that "Starter has also shown its commitment to families outside of its organization through its development of affordable homes within subdivisions that the company specifically designs to promote a family atmosphere and strong neighborhood community."
"It's our philosophy that we are building neighborhoods and creating communities of friends and neighbors," DeRosa says, adding that Starter employs Planned Urban Development practices.
The company bases its land purchases on the needs of customers by placing their family homes in communities, for example, with good school systems and many recreation opportunities as well as within convenient access to shopping areas and major highways.
"We insure these neighborhoods have sidewalks, plenty of street lights and lots of open space," says DeRosa.
Starter has earned a reputation for sterling house building with a simple company credo, Chris DeRosa says: "We have a passion for quality, and we have one way, and that is to do it right, to pay attention to every detail. Everything we do, we put into writing, and this solves potential problems right from the start."
That attention to detail covers a wide range of building practices that include adding two inches of wall structure, a less flood-prone foundation system, high-quality shingles and using the latest and most comprehensive energy-saving procedures.
Starter is a U.S. Environmental Protection Agency Energy Star partner, and its homes under this banner come equipped with such energy-efficient features as state-of-the-art insulation, ventilation, appliances, lighting and heating and cooling systems. Starter also works in conjunction with some of the finest building contractors in New England.
In addition to creating new communities, Starter Building & Development donates time, employees and contributions to a wide range of charities.
These include an innovative approach to donating scholarship funds to entire school systems, along with traditional donations to organizations such as St. Jude's Children Research, Muscular Dystrophy, Big Brothers/Big Sisters of Nashua, Boys and Girls Club of Manchester and the Michael Dunleavy Foundation.
Since its inception, Starter has supported public television by giving employees paid time off to work the phones for the WGBH Channel 2's auction in Boston. Starter also has donated land to towns throughout southern New Hampshire, including the entire Weston Park in Merrimack.
DeRosa says Starter "has 25 developments in the works" in the region, and at any given time has more than 250 homes in various stages of construction.
One recent customer was DeRosa himself, who recently had a home built using all Starter specifications. He says he "couldn't be happier" with it. NHBR
The Citizens Bank Not Your Typical Business Award is presented in partnership with New Hampshire Business Review. Businesses are selected each month based on the company's commitment to community, colleagues and customers.
Visit Citizens Bank online at www.citizensbank.com.