Crafting an economy
Holiday fairs are big business for artisans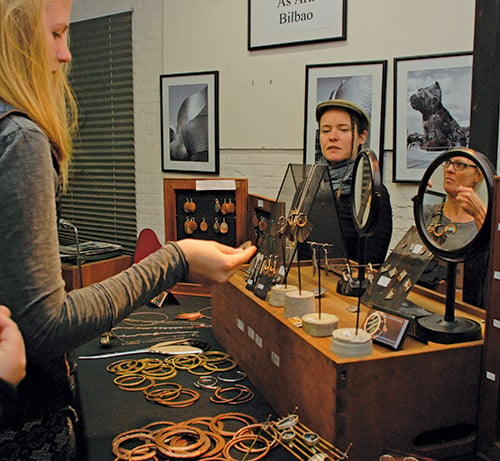 When Amanda Roseberry hears the words "Black Friday," she's not thinking about 4 a.m. doorbusters at the mall. She is strategizing how to get her handmade leather goods from her studio in Kittery, Maine, to the various open studios and craft fairs she's showing at that weekend.
Roseberry, of Portsmouth, is founder of Nomad Leatherwork, a one-woman operation that produces wallets, handbags, laptop bags and other leather items. She has an online Etsy shop that features her goods all year-round, but it's the holiday season that keeps her busiest, working seven days a week to keep up with supply.
Artists like Roseberry depend on these bustling holiday craft fairs to sell their wares and show off their goods. Craft fairs may be stereotyped as the domain of older ladies shopping for doilies and ceramic teapots, but the limited economic data available on arts and craft fairs show these events produce sizable sales.
According to the League of NH Craftsmen's 2012 annual report, the group's 79th Annual Craftsmen fair, which is held in the summer, drew more than $2 million in sales for the participating artists and craftsmen. The Evergreen Fair, held in Durham the first weekend of December, attracts roughly 4,000 visitors over its three days.
Eve Huston of Raymond specializes in hand-made fiber arts, often recycling buttons and fabrics from gently used clothes she finds at thrift stores into small animals, hats and other items. Huston estimates that about 85 percent of her annual sales happen during the holiday season.
"This is my busy time for shows right now," she said. "I don't do as well in the other part of the year just because of the materials I use. People don't want to touch wool in July." The money she makes during that time is budgeted throughout the year, and in the slow months she focuses on making more items to sell during the fall holiday fairs.
Pearl Kontarinis plays with a puppet made by Deb Poplasky of Stage Struck Puppets.
Anna Prather, the founder of Firelight Pottery in Portsmouth, says she attends fairs across New England throughout the year, but that her sales double to triple during the holiday season.
"People are thinking about buying gifts then and people like to buy local," said Prather.
Nonprofits' fairs
While holiday fairs have long been a New Hampshire tradition, local artists and craftspeople are especially poised to use these events to benefit from the growing "buy local" movement.
Megan Stelzer, a jewelry maker from Portsmouth, founded Craft Fix, her own quirky craft fair in Kittery, seven years ago, to feature artists and craftspeople she knew were making unique products.
"I think the hunger for original, cool craft definitely has made these shows successful," said Stelzer. "I think that hunger was also shared by the craftspeople themselves. I, for one, try to make jewelry I haven't seen before, and I think that's probably a common starting point for a lot of people."
Craft fairs have the appeal of supporting not only local artists but also local causes. Hundreds of nonprofits, schools and other organizations sell tables or booth spaces to artisans, who in turn use the space to sell their wares. The table fees are then used to support programming for organizations like the New Durham Recreation Department, which hosted a craft fair on Nov. 21.
Two women look at Donna Harkins' paintings in her studio in the Button Factory.
Director Nichole Hunter said the funds they raise pay for a number of programs and events for the department and that the fair has become a way for other groups to raise money with their own booths and fundraisers, such as the New Durham Elementary School 5th grade class trip and the New Durham Food Pantry.
A tale of two craft fairs
Anyone who has been on the holiday craft fair circuit knows that each event is different. Like Stelzer's Craft Fix, some are focused on unique gift items, while others seek quantity and variety. Then there are the fine art fairs and open artists' studios that feature work from professional, well-recognized artists.
The Button Factory in Portsmouth hosts a three-day open studio event to highlight the painters, jewelry makers and woodworkers who have studios in the refurbished mill complex. Held the first weekend in December, it's known for large crowds and a wide range of high-end offerings, including oil paintings and gemstone jewelry.
The Evergreen Fair, run by fiber artist Suzanne Connor, features 50 artists, including R.P. Hale, a well-known instrument maker whose harpsichord was a featured exhibit at the Smithsonian Institute in 1999; basket maker Stephen Zeh, who spends hours on each piece using traditional tools and materials; and Fran Michaels, who specializes in bronze casting.
Connor said she's strived to invite artisans who produce high-quality work, but that she doesn't want people to think the event is stuffy or unwelcoming.
"The goal of Evergreen Fair is to put on a show that is well balanced, where people can feel unhurried and welcome and amazed," she said. "I think that every show has its own flavor. The farmers market has its own flavor compared to Evergreen Fair. It's all good. It's just different."
A little girl takes up Suzanne Connor's (background) offer to touch her underwater work, at the Evergreen Fair.
Artists want to showcase their best work at a holiday fair, but a number of artists said it's also important to have a supply of small, affordably prices items for the gift-minded shopper.
Roseberry's table always includes a selection of affordably priced wallets, as well as a few big-ticket items, like her Nomad Weekend Tote, which sells for $385 on Etsy.
Prather has also found bringing a mix of ceramic items, from a $6 set of earrings to a larger $150 pottery piece, is the best way to keep shoppers at her booth.
"I try to make sure I have items to fit into the price range for anyone who comes," said Prather.
Secret to success
Networking is the key to building any successful business, and artists and craftspeople are no exception. With so many craftspeople and artists in one room, fairs are a good way for people to connect to other artists and with buyers.
"It's important as an artist to connect to the customer," said Connor. "I can produce something I think is wonderful, but it has to be accepted for me to make a living. The feedback you get from people who see your work (at shows) is necessary. I have to see the reaction to my work in order to grow. If you let it, it might lead you down a path you might not have gone otherwise."
Face-to-face interactions also develop brand awareness and loyalty. Roseberry said she's given her card to potential customers at a show, only to hear from them a year later when they contact her online about a purchase.
"You build your client base through doing these over the years," she said.
The owner of Blackbird Soaps sells handmade felted soap
to customers.
Craft fairs require retail skills, too. After six years of selling her jewelry at craft fairs around New England, Marsha Neal of Rochester said she's learned having a display that highlights the "wow factor" of her work has helped grab the attention of craft fair shoppers. She changes the décor to match the season and uses risers and boxes to show off her work on various eye levels.
"People do not like leaning over and looking down at your table," said Neal. "When it's more at eye level they will linger a lot longer."
Most artists agreed that keeping at it is the key to long-term success.
Craig Shippee, a woodworker from Laconia started doing the craft fair circuit last year, but made only enough to cover his booth rental costs. In 2015, Shippee will do four shows in New Hampshire and Vermont, selling handmade wood items ranging from $35 to $200.
After selling at the Dover Parents Music Club Craft Fair at Dover High School in November, Shippee said he made as much money at that fair as he did all of last year.
"My biggest problem now is keeping is supply up," he said.