County attorney called up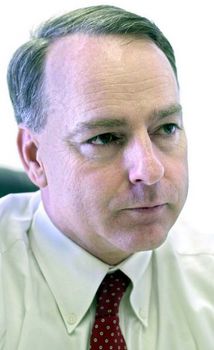 Hillsborough County Attorney John Coughlin expects to step down as the county's top law enforcement officer once his unit in the New Hampshire Army National Guard is mobilized for a mission to Iraq.
"I am going to resign. I am trying to plan my transition," Coughlin said.
Coughlin serves as a judge advocate general in the Headquarters Battery, 197th Field Artillery.
The Manchester-based unit is to be deployed for more than a year starting in early January, forcing Coughlin to leave the elected post he has held since winning a disputed 2002 election.
He is one of some 520 men and women from three New Hampshire units to be activated for deployment
That does not include the 140 soldiers from the 744th Transportation Company who will leave for the Middle East this month.
Coughlin, a Mont Vernon resident, downplayed the significance of his departure.
"If you talk to 500 soldiers, you'll get 500 stories. This is a disruption in their lives. Soldiers have dedicated themselves to this commitment. They all leave friends, family and jobs behind," he said. No date has been established for the resignation to go into effect, he said. The date will be determined by the definite mobilization date, Coughlin said.
"Military orders change without notice," said Coughlin, a major in the New Hampshire Army National Guard.
As a member of the JAG, Coughlin is responsible for legal advice to the command staff, soldiers' rights, re-employment laws, wills and powers of attorney.
The other military units to be activated are the National Guard's 1st Battalion, 172nd Field Artillery and the 2nd Battalion, 197th Field Artillery.
For now, the unit is to report to the Manchester home station on Jan. 3 and then ship to Fort Drum in upstate New York a few days later. There will be about a month of training before shipping out to Iraq.
Residents of Hillsborough County narrowly elected Coughlin, the Republican candidate for county attorney, in November 2002, ousting longtime Democratic County Attorney Peter McDonough.
The state Supreme Court finally decided the election after a Ballot Law Commission ruled in Coughlin's favor. He won by about 120 votes out of the nearly 120,000 cast.
About his elected position, Coughlin said, "I knew that it would be a challenge. It has been a challenge. I've enjoyed the time that I was there."
He hoped the improvements he started in the office would continue after a replacement is named. Coughlin said the county's legislative delegation would pick his successor.
The deployment will be Coughlin's first in a combat zone. He served in the Marine Corps as a lawyer for nearly four years.
"I'm no different then any other Guard member or Reserve member that is being mobilized. We knew the risks of possible mobilization. We are there to serve," he said, adding he would rather go oversees then have his 20-year-old son be in harms way.
Soldiers in the National Guard consider themselves as tight-knit as a family, said Coughlin. At the same time, the military would pay special care to the well-being of family members stateside, he said.
He called it essential the military units complete their jobs as quickly as possible so the soldiers get home safely.