Coronavirus takes a big bite out of New Hampshire Lottery's handle
No sports, no bars and limited store hours make future sales look bleak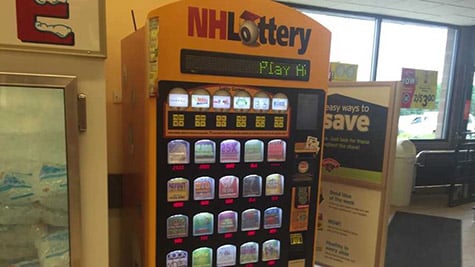 The year dawned as a banner one for the New Hampshire Lottery. Keno 603, introduced at 40 locations in 2018, more than tripled its revenues and sales to $27 million last year. On New Year's Eve, Gov. Chris Sununu took a flyer on the Patriots, the first of a million wagers totaling $28.6 million placed by 36,923 bettors in the first six weeks of the year.
In FY 2020 the state lottery is projected to generate $100.4 million of revenue for the Education Trust Fund, which contributes to funding the state's share of the cost of public education. But, with the onset of Covid-19 all bets are off.
Maura McCann, marketing manager at the Lottery Commission, said that in February lottery sales were about $2 million ahead of the same month a year ago, but fell off the pace by some $3 million in March. She pointed out that in March 2019 a $750 million jackpot swelled sales of Powerball tickets.
Instant scratch tickets represent nearly two-thirds of total sales and totaled $250.5 million in 2019, followed by Powerball with sales of $37.6 million, or 9.6%, and Mega Millions with sales of $31.6 million, or 8.1%. Most outlets for all three of these products — convenience stores, supermarkets, liquor stores — continue to operate under the executive order requiring "nonessential" businesses to close, though some may have limited their hours or closed altogether.
McCann said sales of traditional products at these locations have also have fallen somewhat as the public has responded to guidance to limit travel and remain indoors. Meanwhile, lottery sales will likely be adversely affected by the economic dislocation stemming from the Covid-19 virus, which will squeeze the discretionary income of many households.
On the other hand, McCann said Keno 603 and sports betting are both "down substantially." Keno 603, which posted $26.9 million in sales in 2019, accounts for 6.9% of lottery sales. The game is played at more than 200 bars and restaurants around the state, including in ten of the 13 cities, which have been restricted to providing takeout service by executive order.
On its website, the Lottery Commission reminds consumers that if they have ordered food from a restaurant with a Keno kiosk, they may be able to play while waiting for their order.
While there are no obstacles to betting on sports, there are precious few sports to bet on. After the auspicious start to the season, marked by $2.3 million in wagers on the Super Bowl and high hopes of a bonanza from March Madness, the games were suddenly over, overtaken by the ghastly numbers game of Covid-19.