Cook: Two appreciations for the spring
Rudman Center, congressional delegation are there for New Hampshire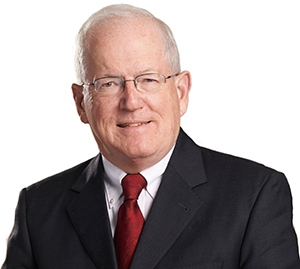 On April 2, the Warren B. Rudman Center for Justice, Leadership and Public Service at UNH Law School co-sponsored one of its "Justice and Journalism," events along with New Hampshire Pubic Radio. NPR's Tamara Keith spoke about her experiences covering the White House, with a healthy dose of presidential politics thrown in.
Keith, a youthful and vivacious reporter, made some interesting comments about the style of the Trump White House, the intrigue that can surround foreign travel, such as a trip to Iraq last Christmas night – a trip shrouded in secrecy and literally in darkness as she was the pool reporter for radio on the trip with the president on Air Force One.
In describing the 2016 election, Keith reported a remark her editor made after Trump's surprising victory. The editor said, "We stepped over a lot of dead canaries," meaning the "canaries in the coal mine," and no one noticed that there was something going on. The specific example Keith cited was a Hillary Clinton rally in northern Florida at a community college where the dominant force was Trump supporters protesting Clinton. It was a contentious rally and yet no one realized this was a portent of things to come, namely Trump's fairly easy win in Florida.
The Rudman Center is an important contributor to New Hampshire's legal and civic environment. Earlier in the day, its advisory committee met and heard about all the events and programs the center is sponsoring.
John Greabe, director of the center, reported on the activities of Rudman summer fellows, who receive stipends to perform internships at nonprofits and governmental agencies each summer. There are corporate sponsors for 16 of these bright young people, and donors can specify what agencies are going to receive the assistance of them. Many organizations have received this assistance, which they otherwise would not be able to afford.
Other Rudman Center activities include upcoming forums with presidential candidates, a "moot court" project that is being planned to allow attorneys who have upcoming oral arguments to practice in front of retired judges who can critique their arguments and put them through their paces, and joint programs with other parts of the university on public policy and health studies programs.
The Rudman Center also is doing important work helping teachers train to provide civic education, inspired by former Supreme Court Justices David Souter and Sandra Day O'Connor.
The previous week, a number of representatives of Easterseals New Hampshire, including this writer, went to Washington, D.C., to help celebrate the 100th anniversary of Easterseals as a national organization helping people with disabilities. In addition to those festivities, a "Capitol Hill Day" took place with the New Hampshire volunteers visiting our congressional representatives as well as those from Maine and Vermont. Easterseals New Hampshire also runs the Easterseals organizations in those states.
Two things struck me about the visit.
First, the life of a congressman or senator is demanding and, at least in this writer's opinion, unfair and debilitating. There are literally hundreds of people, lobbyists, constituents, representatives of organizations, seeking to have "just a moment" of a congressperson or senator's time. Our visits, which took about a half-hour each, involved Senators Shaheen and Hassan, and Congressman Pappas, all graciously taking some of their time to meet with us.
That was wonderful, but it also pointed out that if they give only 10 minutes to each person wanting to see them, their entire day will be taken up with nothing else. Various strategies are used by the senators and congressmen to address this issue. Most meetings are held with staff, and at least once a week the representatives hold a coffee reception early in the day when constituents can meet with their senator or representative. Still, the pressure on their time and unreasonable expectation of constituents that they will actually get the senator or congressman's time is a real impediment to their getting their jobs done.
Combine this with the fact that the congressional work week generally is Tuesday, Wednesday and Thursday, and then everyone expects senators and congressmen to be at all the events they can attend back in their home state or district, and it makes one wonder how Congress gets anything done, at all!
Second, the impression the Easter Seals representatives had, I know, was, regardless of whether they were of the same party as the senators and congressmen, or had voted for them or not, our congressional delegation is made up of very nice people. They are gracious, they are friendly, they know their constituents, they know the organizations, they know the issues and they are genuinely interested and approachable.
One side note was that as most of the Easterseals representatives returned to New Hampshire on a Thursday afternoon flight, Senator Shaheen, Congresswoman Kuster, Congressman Pappas and former Congressman Paul Hodes all were on the plane. Having a chance to talk in the airport gate area reinforced the impression that these are our neighbors and fine people we have representing us in Washington, regardless of agreement or disagreement on all the issues, and New Hampshire is a small state where we actually have a chance to get to know them.
(In case anyone is wondering, Senator Hassan had to stay in Washington for a Friday meeting and came home at noon that day.)
Brad Cook, a shareholder in the Manchester law firm of Sheehan Phinney Bass + Green, heads its government relations and estate planning groups. He can be reached at bcook@sheehan.com.