Conn. firm to purchase Nashua Corp. for $44m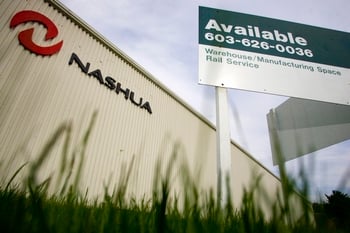 NASHUA – One of the city's oldest companies has been acquired by a Connecticut printing industry giant.
Nashua Corp., which has corporate offices in Trafalgar Square and a plant off of the Daniel Webster Highway in Merrimack just over the Nashua line, has entered a merger agreement with Cenveo Inc., company officials announced Thursday.
As with many mergers, it's uncertain whether the acquisition will provide a boost for the company, the city of Nashua's economic development director said.
"It's too early to tell. It's not known what the results are going to be," Thomas Galligani said.
Such a merger could open new markets and help a company to expand its product line, Galligani said.
He added, "I'm not sure if that's the case here."
Mergers and acquisitions "happen with great frequency," and the acquisition of a company like Nashua Corp. isn't surprising given the state of the economy, Galligani said.
Founded in 1848, Nashua Corp. manufactures labels and specialty paper products, including duct tape. The company also has operations in Illinois, Nebraska, Tennessee and California.
Some of the company's most recognizable products include movie theater tickets, receipt paper and deli labels. Nashua Corp. has about 750 employees nationwide.
Cenveo, based in Stamford, Conn., is the third largest graphics communication company in North America.
"By becoming a part of the third largest graphic communications company in North America, Nashua is better positioned to reach the next level of performance and market share growth in the attractive niche markets we serve," Thomas Brooker, Nashua Corp.'s chairman and CEO, said in a release.
"Nashua will become part of a much larger business, a business better able to meet the growing and full service needs of Nashua's customers, and use this expanded scale to deliver increased efficiencies and a wider service offering to them," Brooker said.
Nashua Corp. will be acquired through a stock and cash transaction valued at approximately $44.4 million, including the assumption of the company's debt, company officials said. Officials estimated that Nashua Corp. shareholders would own 11 percent of the combined company when the deal is closed.
Both boards of directors have approved the merger, which is expected to close this summer, company officials said.
"The acquisition of Nashua brings together two of the nation's most respected printers to strengthen our label platform and expand our product offerings," Robert G. Burton, Cenveo chairman and CEO, said in a statement issued by his company.
Nashua Corp. has been struggling financially. In 2008, the company's net loss was $19.8 million. The company lost $300,000 in the first quarter of 2009, according financial information released Thursday.
It implemented cutbacks, including closing two U.S. facilities, cutting jobs and suspending contributions to some employees' 401(k) retirement plans. Despite those cuts, the company lost nearly $20 million last year.
"We're impacted by the economy, as is everybody else," John Patenaude, chief financial officer, said in August, when the company cut about 25 jobs, including a few in Nashua. "You have to look at all the factors and try to sustain a profit."
The cuts were made to offset a decline in sales and increasing fuel, materials and distribution costs, Patenaude said.
Also in 2008, the company closed facilities in Cranbury, N.J. and Jacksonville, Fla. The Jacksonville operations were consolidated into the company's Tennessee and Nebraska facilities.
Cenveo's purchase of Nashua Corp. comes at a time when paper production and usage isn't what it used to be.
Tom Runiewicz, an industrial economist for the financial analyst firm IHS Global Insight, declined to comment on the merger. But he offered insight on the paper manufacturing industry, and it's a grim outlook.
Paper product manufacturing will see a 15-percent drop in output this year, compared with a 12-percent decline in overall manufacturing, Runiewicz said.
The recession has slowed the production of goods that require packaging, he said. "If you produce less, than you need less boxes," he said.
Also the obvious use of computers has hurt paper manufacturing, Runiewicz said. "If you physically don't have to move one product from one end to another, you're saving on fuel costs and envelopes. That's a trend that will continue," he said.
The financial industry has capitalized on the electronic medium with online banking and other computerized transactions, Runiewicz said. Although the medical industry has yet to take advantage of computers, President Obama's plan to move the "archaic record keeping" of medical files to electronic systems will hurt the paper business more in the future, he said.
"If you're a paper producer, that's not a good idea," he said.
The paper manufacturing industry might not have a bright future, "but it doesn't mean it's totally gone," Runiewicz said. Packaging for products will be in demand when the economy recovers, he said.
Next year will bring flat, or maybe small, growth, and not until the tail end of 2011 will the industry see a recovery of 4-to-5 1/2 percent growth, Runiewicz said.
It's unclear if the Nashua Corp. name will change or remain the same.
Nashua Corp.'s stock was up 3.98 points, or 157.94 percent, Thursday, closing at $6.50.