Congressional candidates on business issues
1st, 2nd District hopefuls offer stances in NHBR survey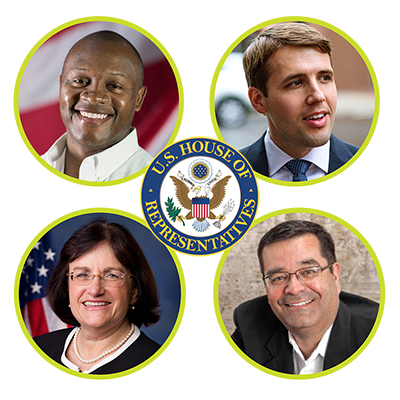 While Washington seems far away, decisions made there hit close to home, when it comes to trade, healthcare, energy, the workforce, taxes, labor and much more. NH Business Review asked the major party candidates in both the 1st and 2nd Congressional Districts the same questions with the same wording and required answers to fit the same word limit. The answers we received were very different.
1st Congressional District
International Trade
Q. What is your position on the Trump administration's stance on tariffs and trade negotiations and what would you do about it?
Edwards: I am a free-trade conservative who is generally opposed to tariffs. However, I support giving the administration the latitude to negotiate the best possible trade deals for our country. For too long, American workers have been left behind. It is time that we focus on ensuring that our trade policies put Granite State families first.
Pappas: President Trump's trade war is creating chaos for New Hampshire businesses, raising prices for consumers and jeopardizing our relationships with some of our most trusted allies. The latest round of tariffs on China demonstrate why we need a more coherent strategy, and as a member of Congress I'd push for trade talks to address these concerns. The newly announced trade agreement with our North American partners made some strides to help New Hampshire businesses, and hopefully it demonstrates that the Trump administration is interested in a constructive dialogue. That said, this administration's unnecessary escalation has done a great deal of damage that still needs repairing.
Healthcare
Q. What changes would you make to the Affordable Care Act? Please add any other healthcare reforms that you would propose.
Edwards: The Affordable Care Act, also known as Obamacare, has driven up costs for individuals, created uncertainty for employers, and reduced patient choice. We must replace it with a plan that provides greater consumer choice, protects people with pre-existing conditions, allows for the purchase of health insurance across state lines, grants individuals the same tax benefits as businesses, and fosters more truth in billing transparency for patients and employers.
Pappas: A top priority as a member of Congress will be to stop the political sabotage of the Affordable Care Act. This is causing premiums to skyrocket and threatening protections that are essential for people with pre-existing conditions which is half the adult population of New Hampshire. At my family restaurant business, we offered insurance to our employees long before it was required by the ACA because it was the right thing to do.
I will work in a bipartisan fashion to lower premiums and out-of-pocket costs. I will also work to expand healthcare access and choice by adding a public option to the exchange and allowing individuals and businesses to opt into the Medicare program. We must provide oversight to ensure that drug companies do not artificially raise the prices of life-saving medications.
Energy
Q. What changes, if any, should be made when it comes to federal policies on renewables and energy efficiencies? What should the federal policy be on large energy projects like large fuel pipelines and transmission lines?
Edwards: I strongly support an all-of-the-above energy policy that includes the development of alternative energy sources like wind, solar, hydropower, nuclear, geothermal, and biomass, while also focusing on clean coal, oil and natural gas. A comprehensive plan like this helps protect the environment, but also improves economic growth and benefits our natural security. Our government must allow for the expansion of energy production, storage, and delivery.
One of the biggest burdens on families and small businesses is the high cost of energy. By allowing the free market to drive down the price of energy, we will foster greater job growth across every industry.
Pappas: We should end subsidies for fossil fuel companies and open up our shorelines for offshore wind, not offshore drilling. New Hampshire has a burgeoning clean energy sector, including 1,400 jobs in solar energy. We should incentivize further transition away from fossil fuels to green technologies, and our government should lead by example and derive 100 percent of its energy for local, state and federal office buildings from clean sources. We should also invest in energy efficiency and weatherization programs that will reduce consumption and save money over time.
As a member of Congress, I would insist that the United States rejoin the Paris climate accord, push New Hampshire to adhere to those standards by joining the U.S. Climate Alliance, and urge state leaders to maintain our membership in the Regional Greenhouse Gas Initiative.
Immigration
Q. What policies would you support to restrict or increase the availability of immigrant labor?
Edwards: Our borders are in crisis as career politicians in both parties have failed to do their jobs for decades. We must build a wall on our southern border where appropriate and use new technologies to protect our nation wherever a physical barrier would not be prudent. In addition, our leaders need to stand with our border agents, our law enforcement officials and others who are both on the front lines and in our cities protecting our country. We already have existing laws that allow for immigrants to temporarily enter our country to do temporary work, however we know that even that system is broken and being abused. We are a nation of laws, and it is imperative that we enforce them before we have any further discussions about increasing immigrant labor.
Pappas: We are a nation of immigrants. Like most Americans, my family came to this country in search of opportunity. We can't close that golden door to the next generation of immigrants — we must live up to our American promise. New Hampshire has a severe workforce shortage. That's why I support expanding availability of visas for workers who are an integral part of our agricultural and tourism industries, embracing our refugee communities, and supporting funding for language skills and job training programs. We need comprehensive immigration reform that provides citizenship to Dreamers who know no other country than the United States.
Taxes
Q. Did you favor the latest round of tax cuts, and would you favor extending them or rolling them back? What would you do about the internet sales tax?
Edwards: Granite Staters should be allowed to keep more of what they earn, which is why we must work to reduce taxes and simplify the tax code for families and individuals. I strongly support the recent tax reforms passed by the current Congress and signed into law by the president. If elected, I would work to make them permanent and build on them for New Hampshire families. I will work to permanently simplify the tax code to create three tax brackets and will fight to cut the marginal rates on personal income taxes. I believe that we must eliminate loopholes and subsidies that favor special interests and will pledge to oppose any new taxes or increase in existing taxes, including the internet sales tax.
Pappas: I did not favor the latest rounds of tax cuts. The process was not fair and deliberative, the benefits were skewed to the biggest corporations and wealthiest Americans, and the bill puts the long-term fiscal stability of the federal government at risk. Any future extension of these cuts should be targeted to working people, middle class families and Main Street businesses.
I strongly oppose an internet sales tax, spoke out against the Wayfair decision, and voted to support a special session to protect New Hampshire businesses. I will support federal action to mitigate the decision.
Workforce
Q. What is your specific stance on a family and medical leave insurance program? Would you favor increasing the minimum wage, and if so, by how much?
Edwards: Mandating family and medical leave insurance would be a tax on employers to fund a regulation that would further burden small businesses. These are decisions that should be left up to small business owners and the free market place rather than bigger government. Career politicians and unelected bureaucrats have too much power to create and enforce regulations on businesses. It has led to a business climate that is intimidating, arbitrary and uncertain.
Businesses face higher costs from regulations and have been hesitant to expand. By reducing regulations, we will allow businesses to create jobs and grow our economy. I am opposed to raising the federal minimum wage. Supporting such efforts would be to apply a one-size-fits-all approach where laws written for New York and California would be applied New Hampshire.
Pappas: As a small business owner, I know it's important to invest in employees. I support a family leave insurance system so that workers don't have to choose between taking care of themselves or a loved one and losing out on wages. I support increasing the federal minimum wage to $12 an hour. It's been a decade since the last increase, and we should be rewarding hard work. New Hampshire is losing out on qualified employees to neighboring states because our pay scale has not kept up with the cost of living.
2nd Congressional District
International trade
Q. What is your position on the Trump administration's stance on tariffs and trade negotiations and what would you do about it?
Kuster: President Trump's trade policies have rightfully concerned many businesses, industries, and individuals in New Hampshire. I've visited businesses across New Hampshire and met with management and employees who are worried that escalating trade disputes will undermine their competitiveness and could lead to job losses. I agree that we must modernize and rebalance our trade relationships to bolster American jobs and hold China and other countries accountable for serious trade abuses.
But I am concerned that the president's heavy-handed approach could have negative consequences for Granite State businesses. Congress should do more to carefully scrutinize the president's trade orders, including his national security justification for imposing tariffs on steel and aluminum under the trade act. I am optimistic about some provisions of the recent revisions to NAFTA, including greater access to the Canadian market for U.S. dairy and look forward to reviewing the details of full proposal.
Negron: I believe what President Trump has done with bringing balance and fair trade back into focus is exactly what this country needed. For far too long we have been dealing in a global economy from a disadvantageous position, a position which the U.S. was out on over years of bad trade deals. We are now getting to a point of leveling the playing field and some believe these moves are draconian. These moves may seem draconian only because that was what was required to bring the bubble to level. I would continue to work and support any trade or tariffs which puts the U.S. on equal footing with anyone in this global economy
Healthcare
Q. What changes would you make to the Affordable Care Act? Please add any other healthcare reforms that you would propose.
Kuster: The Affordable Care Act has made immense progress in promoting access to care for millions of Americans across the country. In New Hampshire, Medicaid expansion has enrolled over 52,000 people, strengthening our ability to provide treatment for substance use disorder in a way that helps address the human and economic costs this crisis has inflicted on New Hampshire businesses.
That being said, the Affordable Care Act is not perfect. I was a member of a group of Democrats who were the first to propose a comprehensive set of improvements to the law. Our plan would create a reinsurance program to help stabilize costs in the individual marketplace, provide regulatory relief for small businesses and allow states to try new innovative approaches. We should also allow near retirement-age individuals to buy into Medicare and permit Medicare to negotiate directly with drug manufacturers for lower costs for prescription drugs.
Negron: When it comes to healthcare, I want what all Americans expect: lower costs, better quality and more choices. Congress needs to release its stranglehold on healthcare so that providers, insurers and job creators can participate in a more dynamic range of options for every need, not just the one that experts in Washington have imagined for everyone.
However, it isn't the government's role to be managing providing healthcare. The government shouldn't be in the healthcare business at all. But if the government were to have a role I would replace the ACA with a consumer-driven health savings account coupled with a high-deductible plan, complete transparency of costs to the consumer, and lastly, I would work towards companies being able to compete across state lines which will ensure a free market system delivering the most cost-effective options to the consumer.
Energy
Q. What changes, if any, should be made when it comes to federal policies on renewables and energy efficiencies? What should the federal policy be on large energy projects like large fuel pipelines and transmission lines?
Kuster: Promoting renewable energy and energy efficiency will not only help cut carbon emissions and combat climate change but is also good for our economy and job creation. We have seen amazing progress for solar energy in New England and other renewables like biomass. As the co-chair of the Congressional Biomass Caucus, I have advocated for ways to promote this energy source that is particularly important to New Hampshire. I support maintaining and strengthening federal tax incentives that help renewable energy technologies like wind, solar, and biomass.
For large energy projects, we need to reform the permitting process so that the voices of affected community stakeholders are heard. I introduced legislation that would ensure that the Federal Energy Regulatory Commission listens to local communities by assisting residential stakeholders in participating in FERC proceedings, making sure the public has a strong role in decisions that directly affect communities.
Negron: Federal policies as they pertain to renewables and energy efficiencies are contained in the Federal Energy Management Program (FEMP). Even though the FEMP provides guidance and reference materials, we should ensure it acts as a framework for the states to work within. These policies should be viewed as guidance vice directives.
The Federal Energy Regulatory Commission, or FERC, is intended to be an independent agency that regulates the interstate transmission of electricity, natural gas, and oil. The federal policy should be to work in conjunction with the states to ensure any state unique issues are vetted. It should be a collaborative effort and not be a downward directed methodology.
Immigration
Q. What policies would you support to restrict or increase the availability of immigrant labor?
Kuster: Ensuring that businesses in New Hampshire, particularly seasonal employers, have access to workers is important to our overall economy. In 2013 I strongly supported the bipartisan immigration reform legislation that passed the Senate with the support of both Senators Shaheen and Ayotte. In addition to increasing border security, the bill created a new renewable work visa for low-skilled workers with annual quotas that depend on market demand. This program would allow the appropriate number of temporary workers into the country to meet the demand of certain industries. The workers would then be able to easily return to their home country when their work is done. The bill would have also increased the number of high-skill workers under the existing H1B program. I continue to support this type of bipartisan reform that will address immigration challenges in a comprehensive way that helps New Hampshire businesses access the workers they need.
Negron: Even though New Hampshire touts one of the lowest unemployment rates in the country, there is a severe shortage of labor which still exists. Part of this shortage is the current way the H1-B visa program is working. A complete review on how we manage these visa programs needs to be undertaken.
Taxes
Q. Did you favor the latest round of tax cuts, and would you favor extending them or rolling them back? What would you do about the Internet sales tax?
Kuster: We need tax reform that simplifies the system and reduces taxes for the middle class and small businesses first. I voted no on the tax bill because it failed to achieve either of these goals. The bill actually made the system more complex while providing a huge giveaway to wealthy corporations and individuals. By 2027, 83 percent of the tax benefits in the Republican tax plan would go to the top 1 percent of income earners. This effort was a missed opportunity to modernize our tax code by cutting taxes and giving employers the tools to train a modern workforce by including legislation like my Workforce Development Investment Act.
I am a vocal opponent of forcing businesses in New Hampshire to remit taxes across state lines and have co-sponsored legislation that would exempt all businesses with revenue of less than $10 million from having to collect taxes for other states.
Negron: I do favor the latest round of tax cuts and am in favor of extending them or making them permanent. All one has to do is look at the result of the tax cuts and realize the strength of the cuts and how they are helping over 90 percent of New Hampshire families.
I believe states should not be able to impose their tax structure on any other state. I would put in place protections for our companies to ensure no out of state imposes any tax burden in our Live Free or Die state.
Workforce
Q. What is your specific stand on a family and medical leave insurance program? Would you favor increasing the minimum wage, and if so, by how much?
Kuster: Earlier this year I introduced my jobs and opportunity agenda that focused on policies that will help American workers compete in the global economy. Included in the agenda are pro-working family measures like paid sick leave, maternity leave, equal pay and affordable childcare that are critical to creating a committed and effective workforce. Families face real challenges like treating illnesses, caring for children and addressing substance use disorder. Successful businesses support working families and the federal government should help employers better meet their workers' needs.
I also strongly support raising the minimum wage. Today the real value of the federal minimum wage is only two thirds of its real value in the 1960s. I have supported legislation that would gradually increase the minimum wage to $12 an hour. Increasing the minimum wage will help ease the burden on taxpayers when workers seek public assistance because their wages are too low.
Negron: A Family and Medical Leave insurance program is only required for a company with 51+ employees. However, for companies 50 and below, FMLA can be provided only if the employer chooses to do so. This program can be beneficial if it is utilized in the spirit and intent in which it was intended. One must have policies in place so abuse of the FMLA is kept to a minimum.
At this time, I am not in favor of increasing the minimum wage for the following four reasons:
1. It would result in job loss. Evidence of job losses have been found since the earliest imposition of the minimum wage.
2. It would hurt low-skilled workers. Evidence shows minimum wage increases disproportionally hurt the people they're supposed to help.
3. It would have little effect on reducing poverty. Evidence suggests that minimum wage increases don't reduce poverty.
4. It may result in higher prices for consumers. The costs of minimum wage increases must be paid by someone.